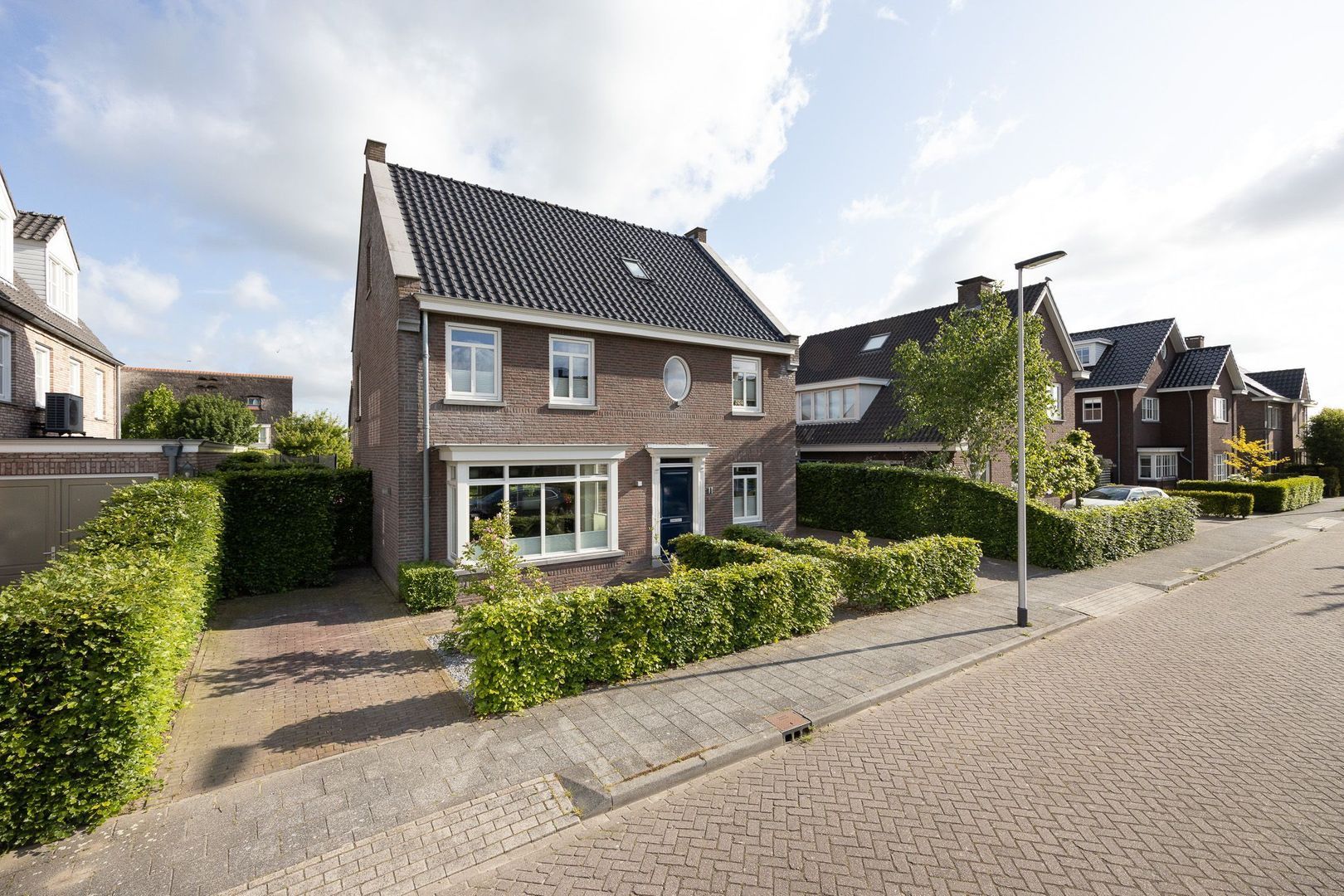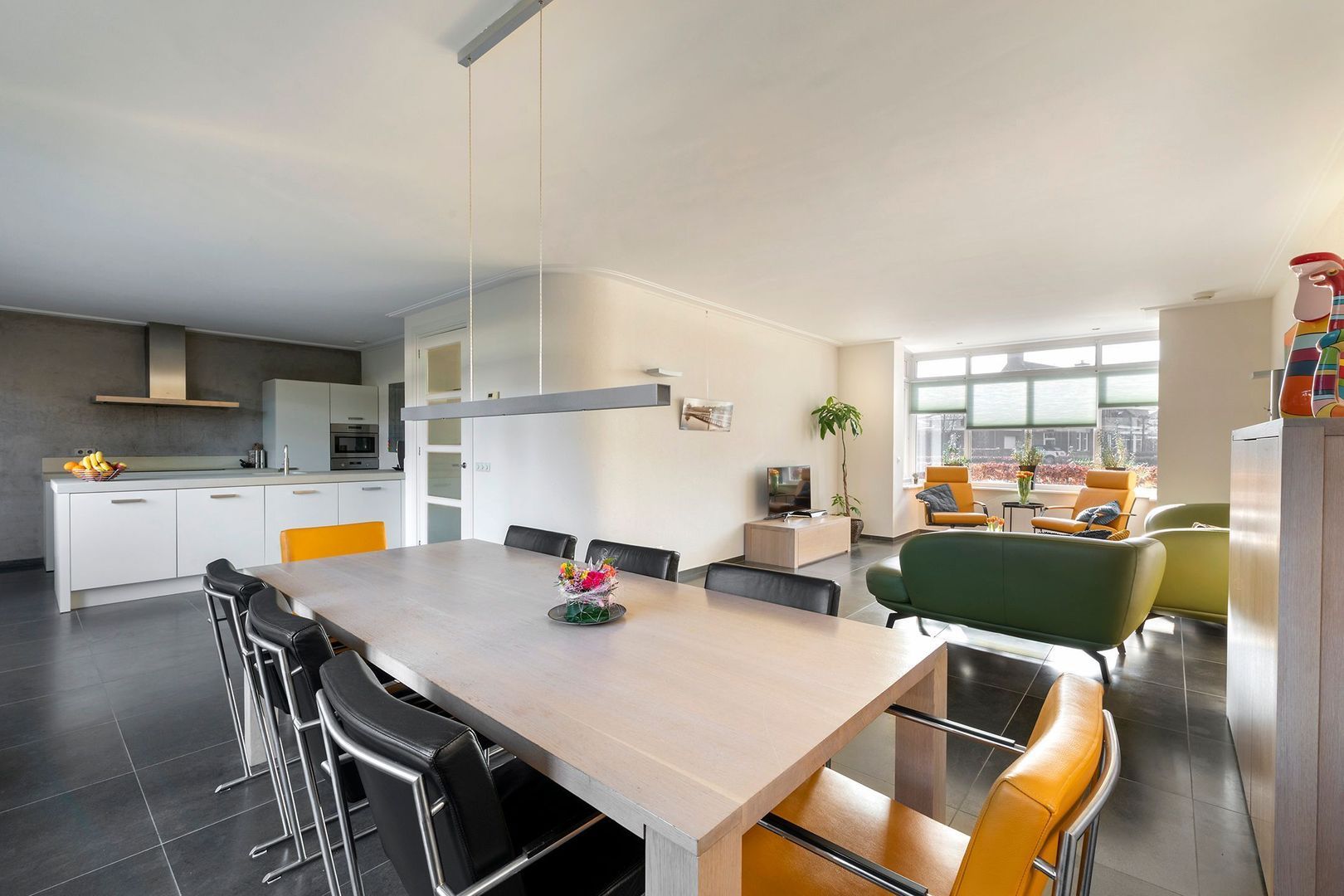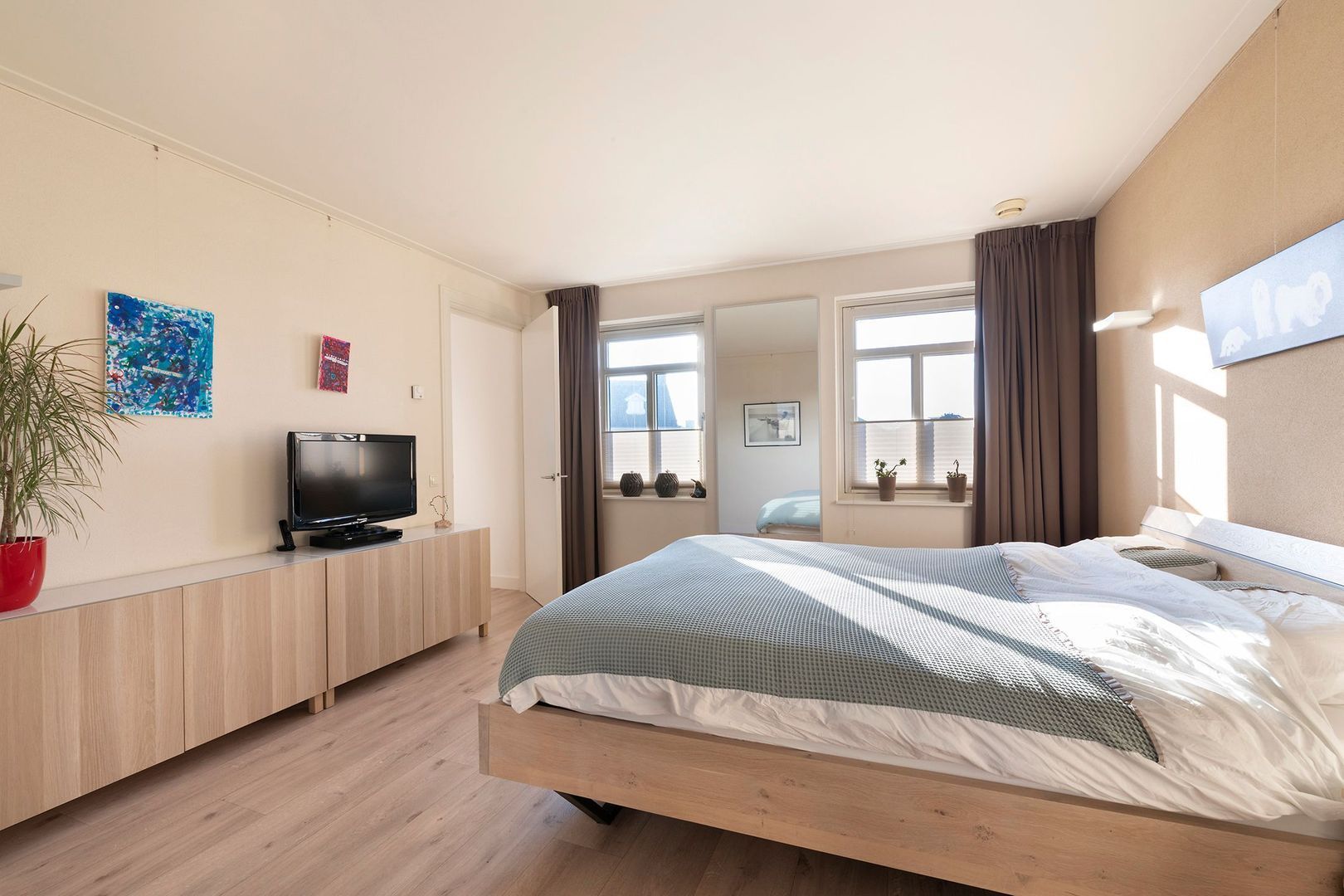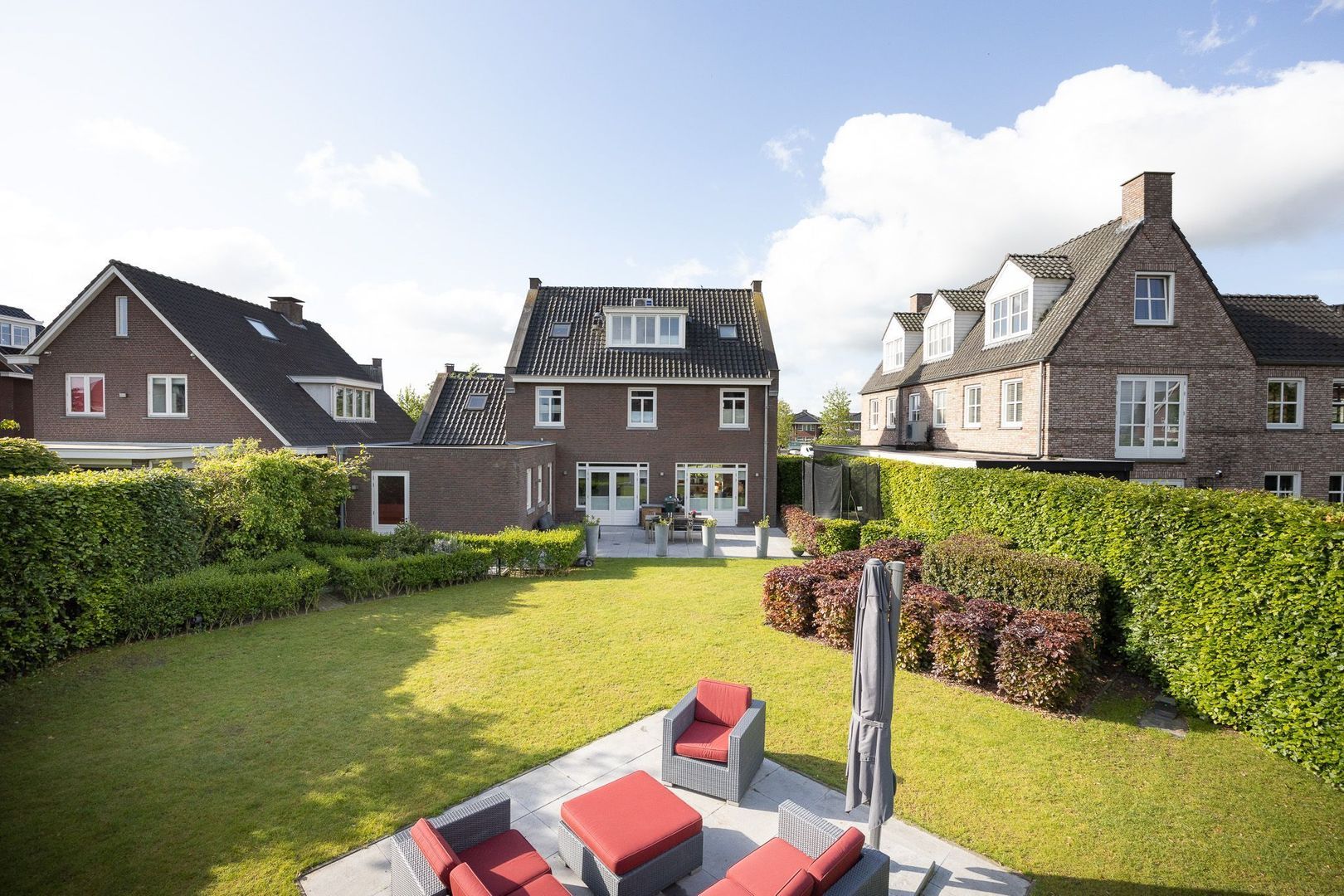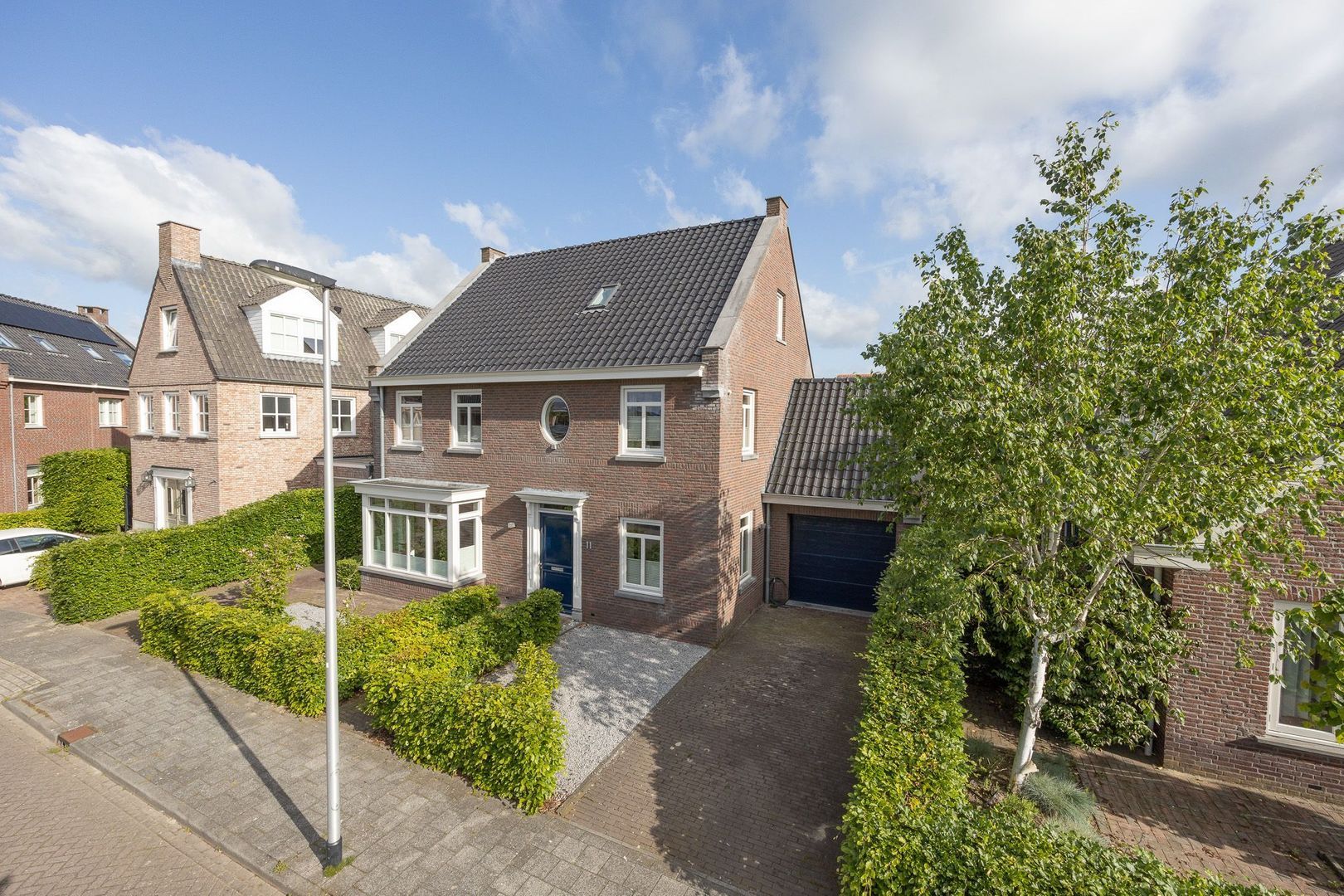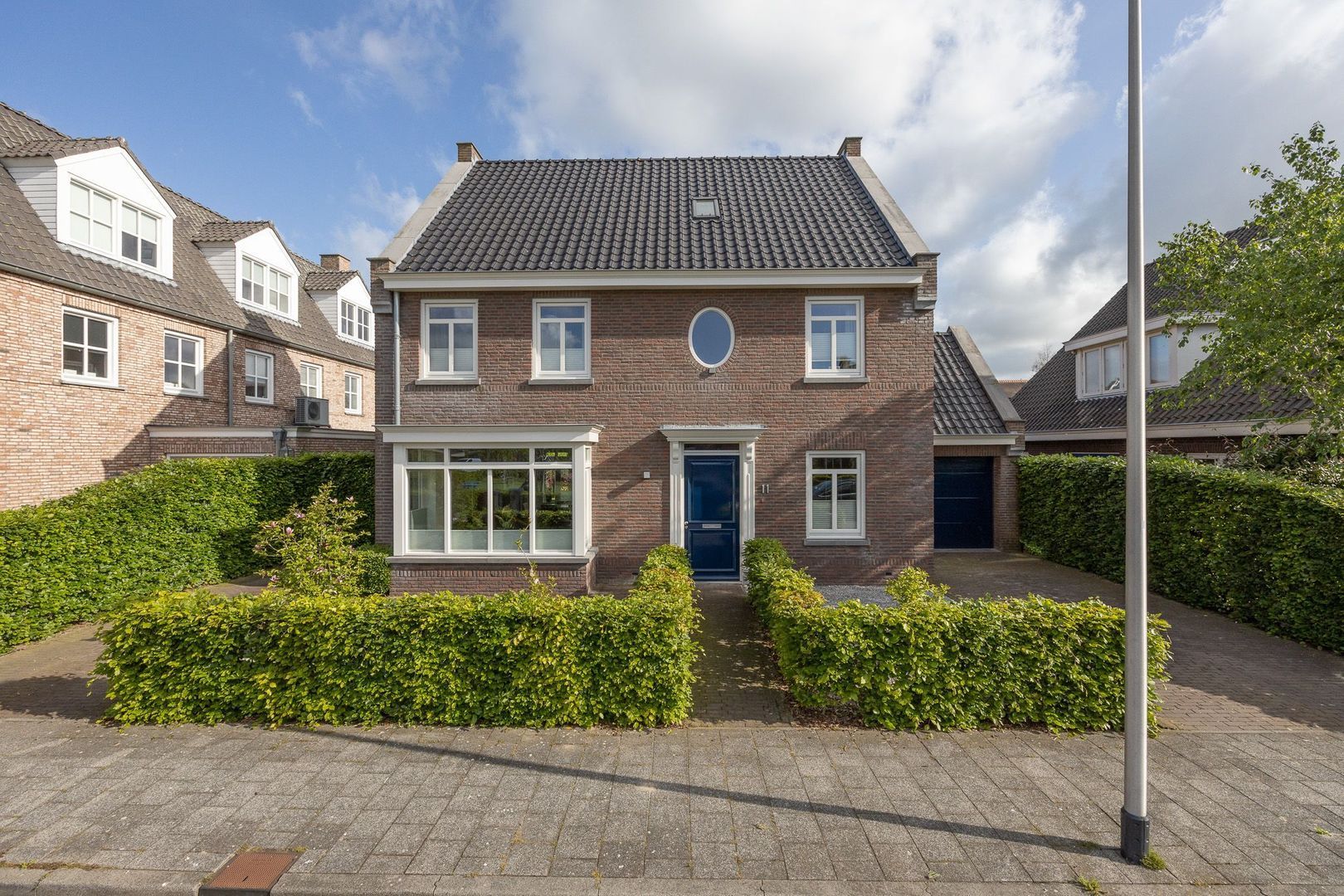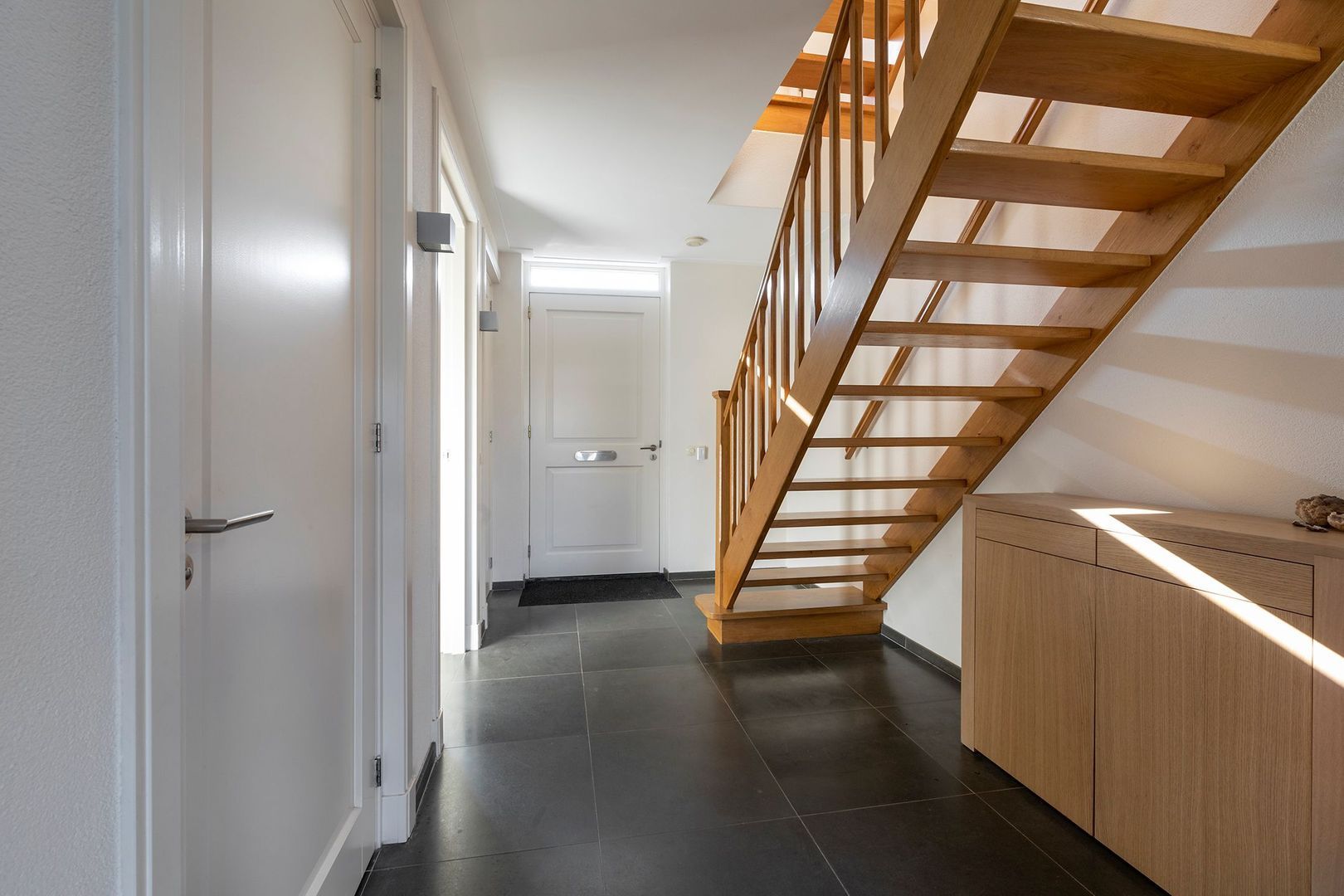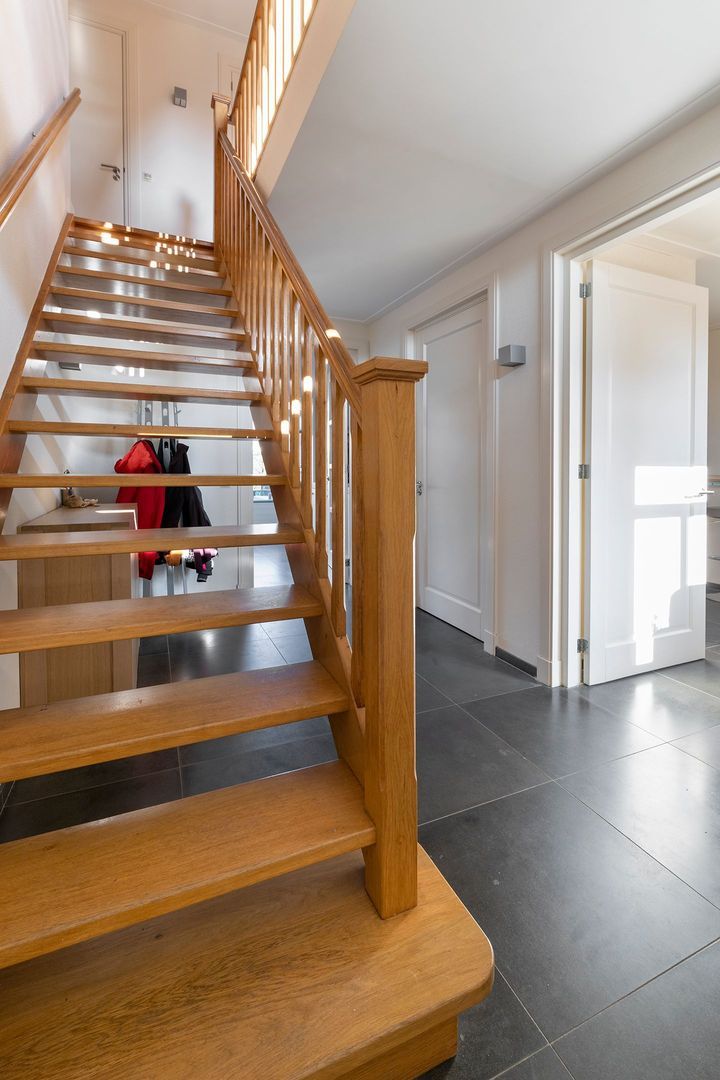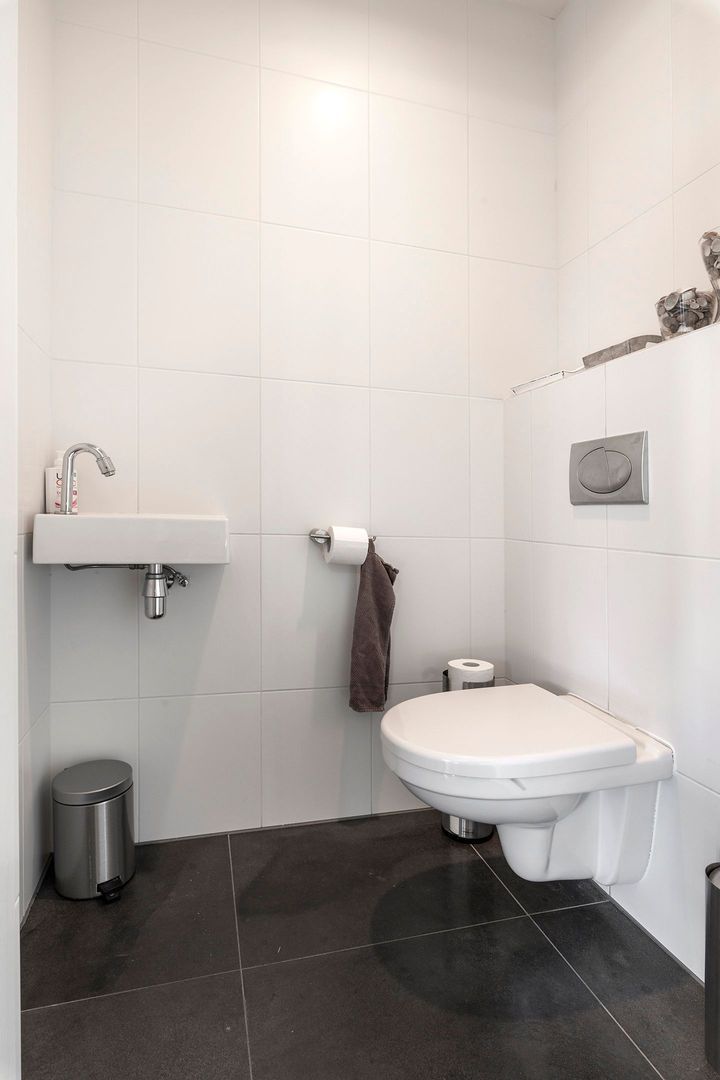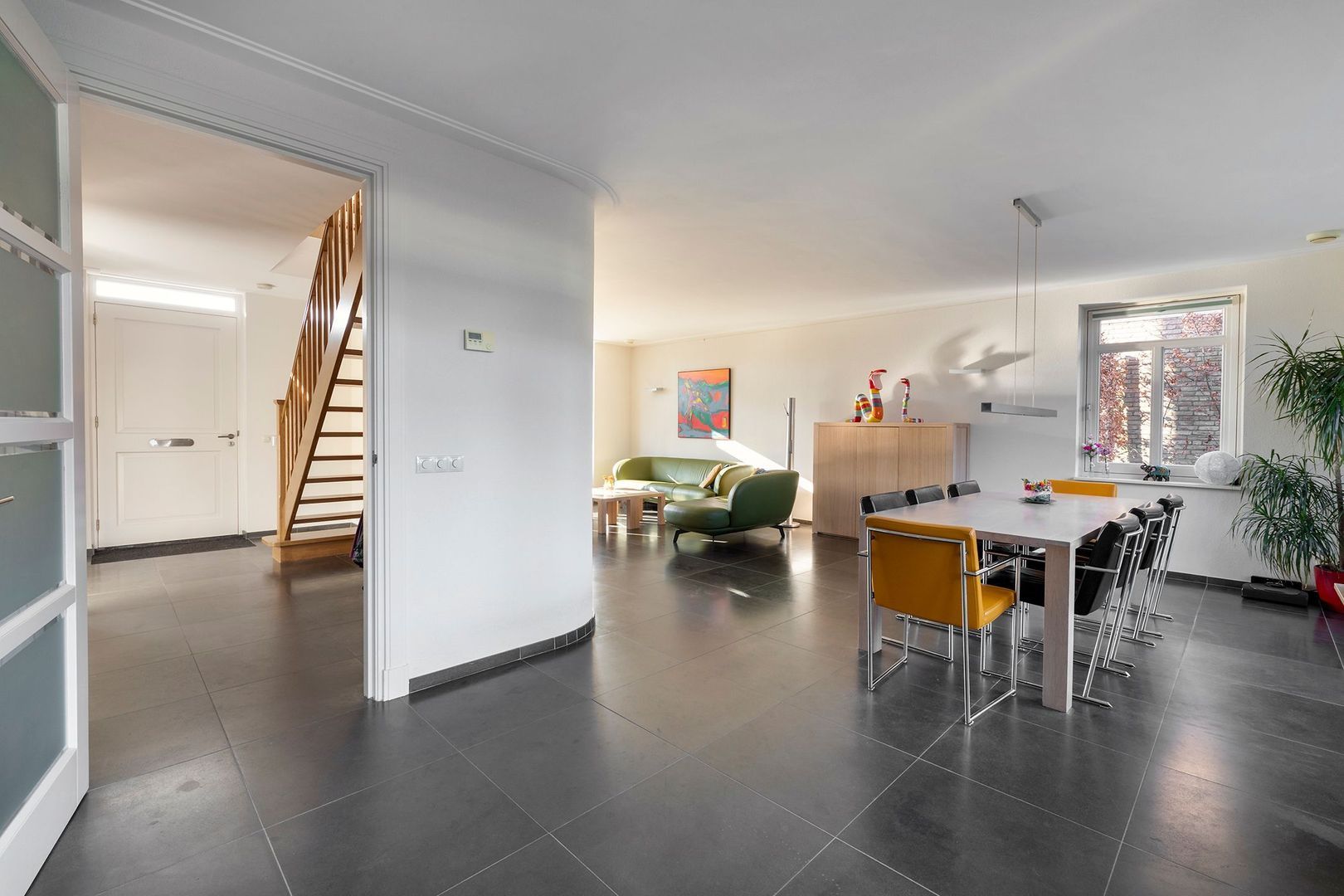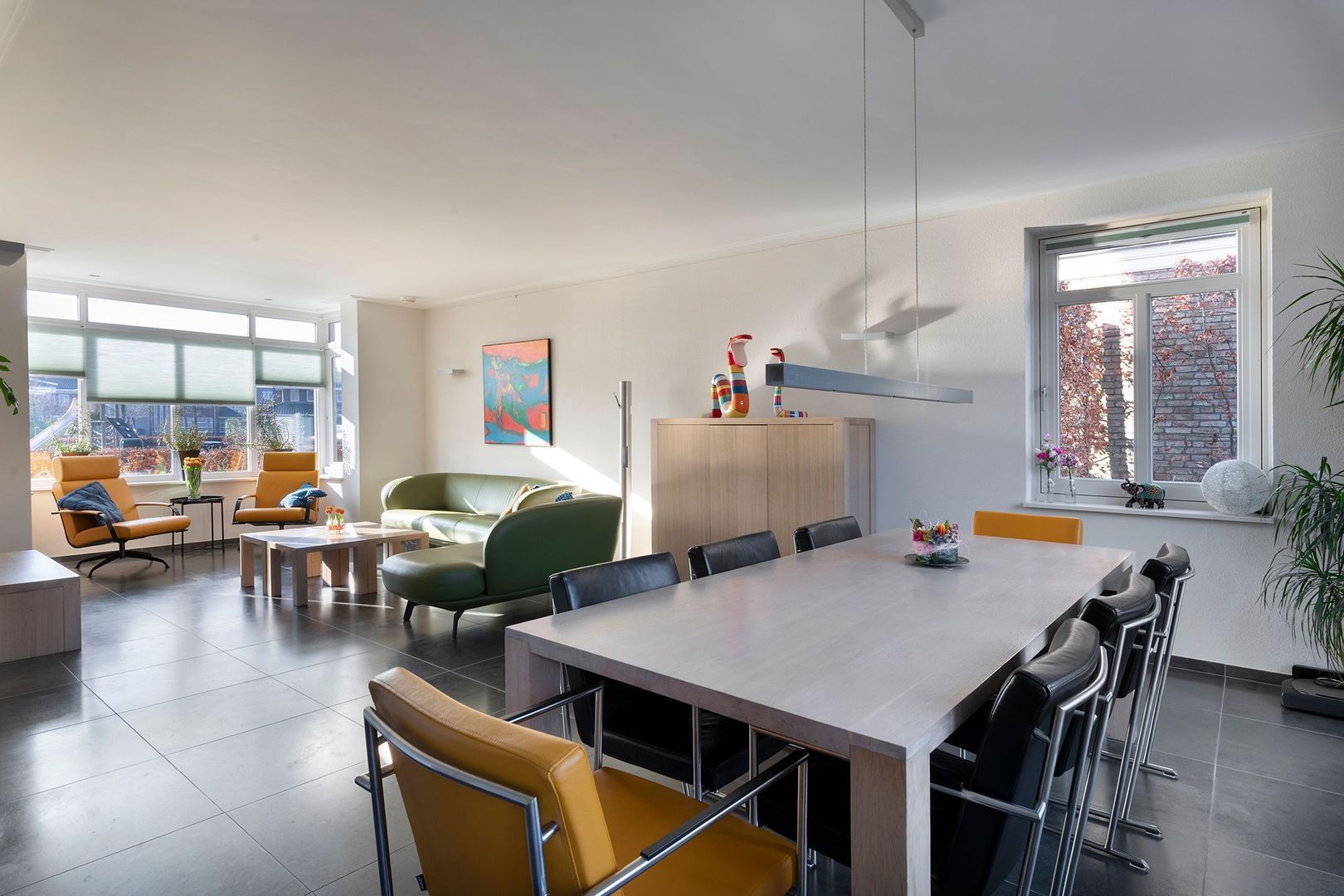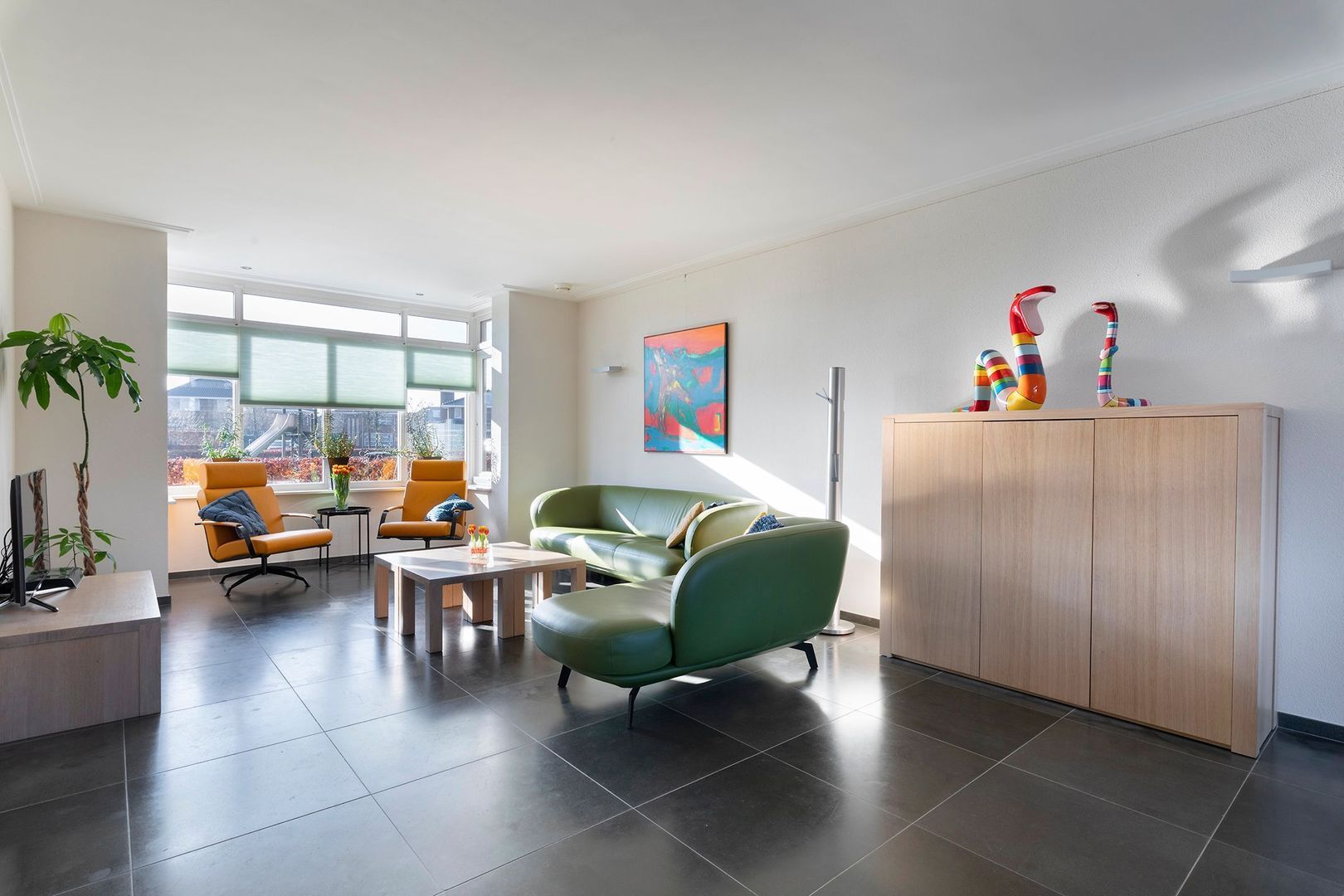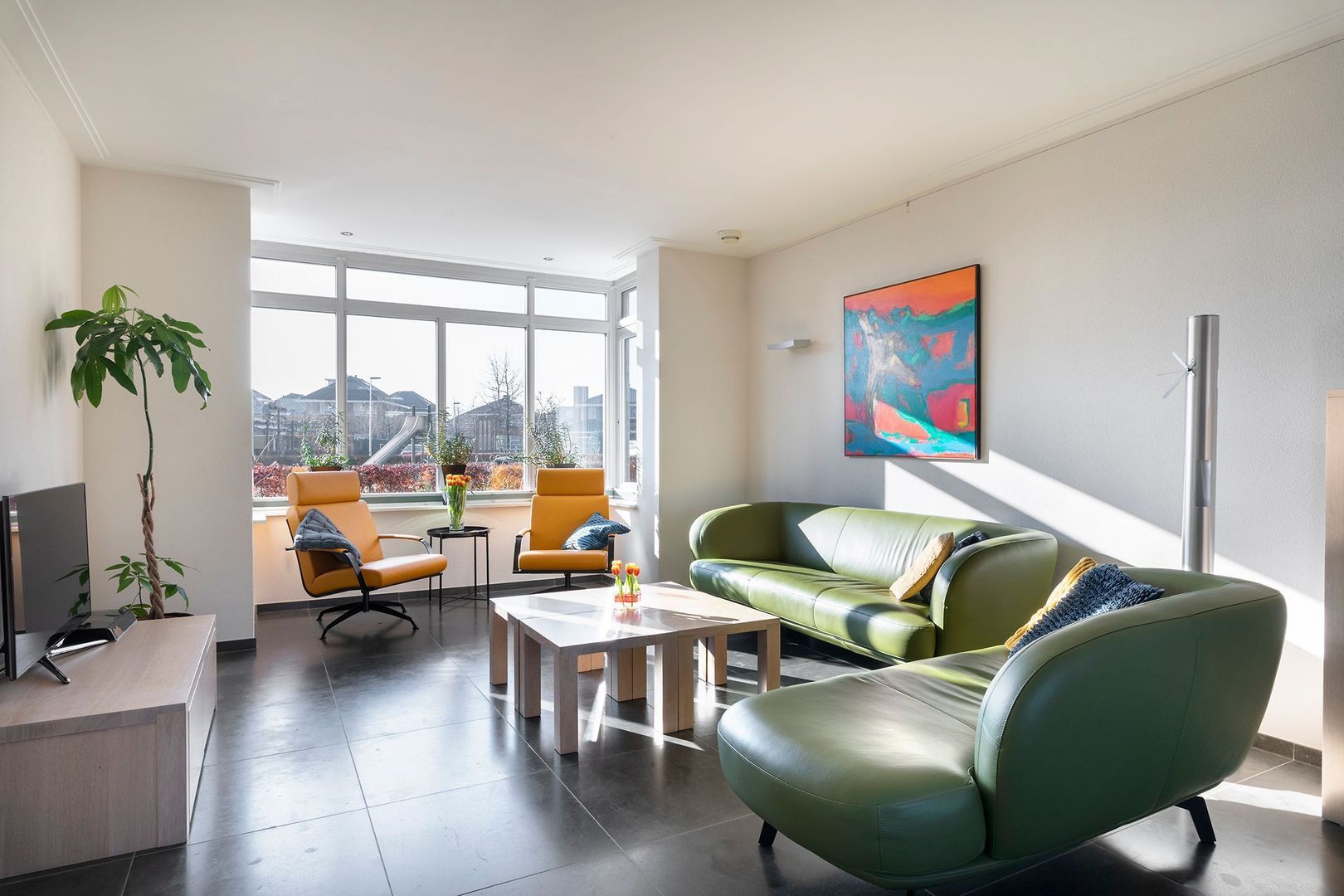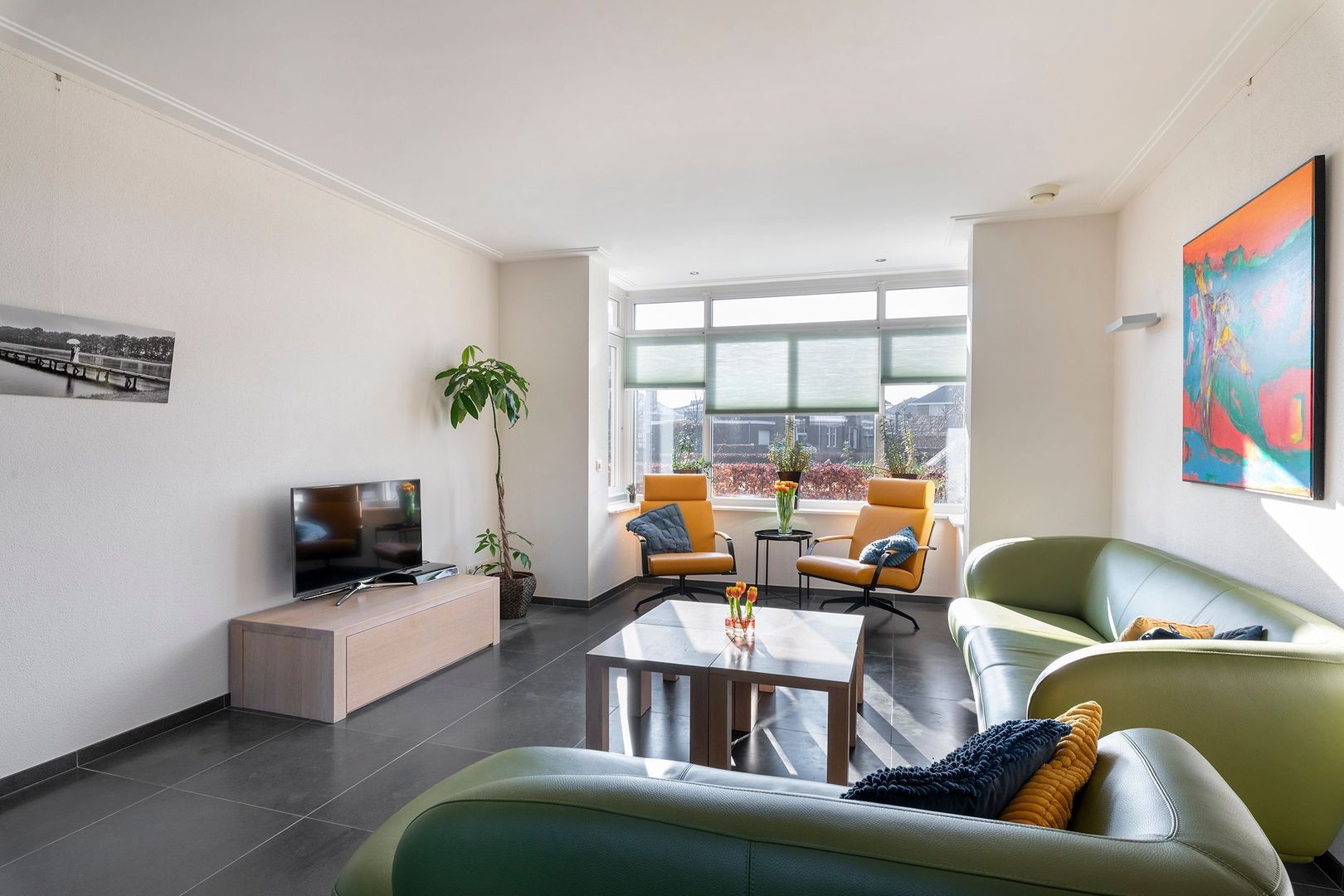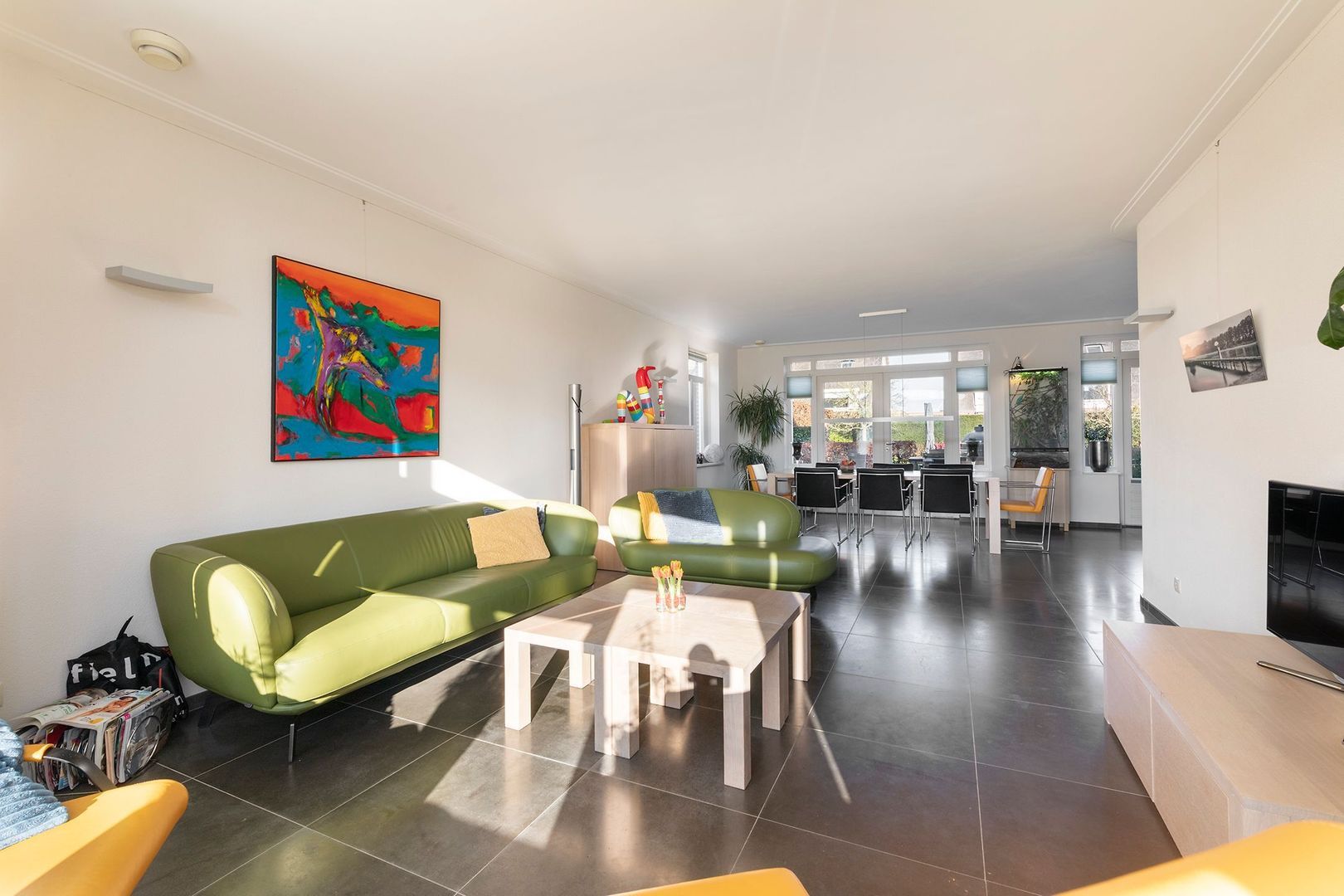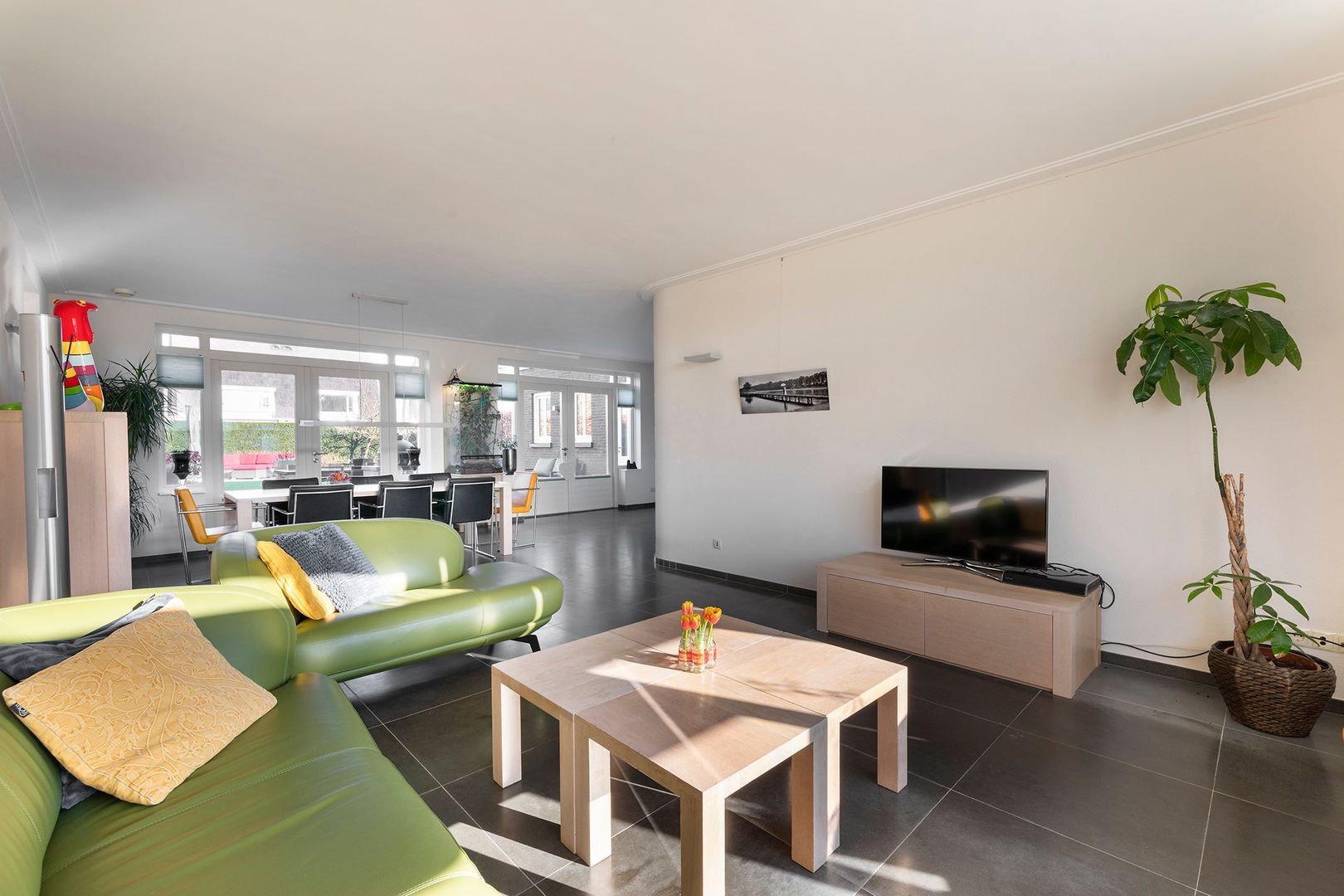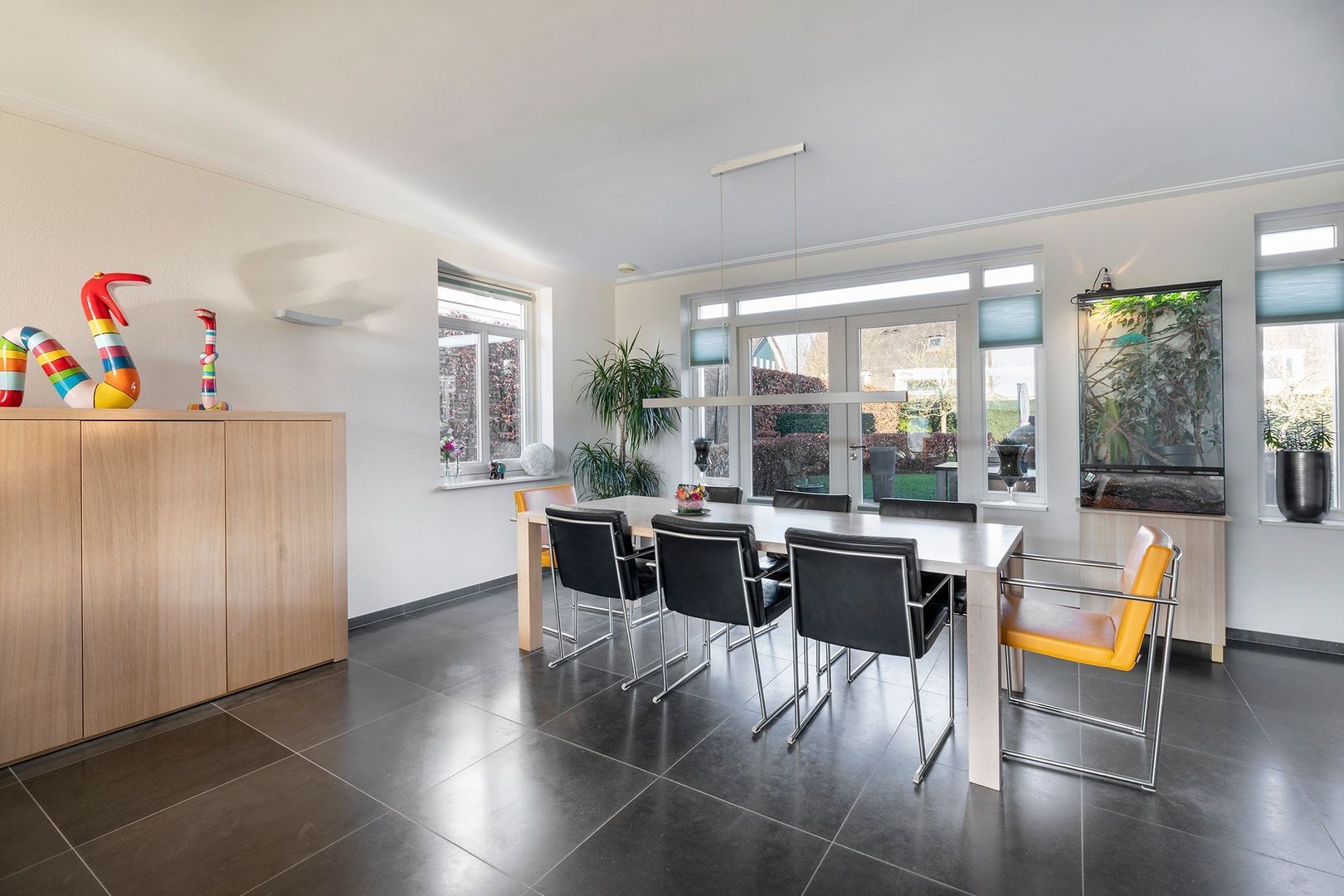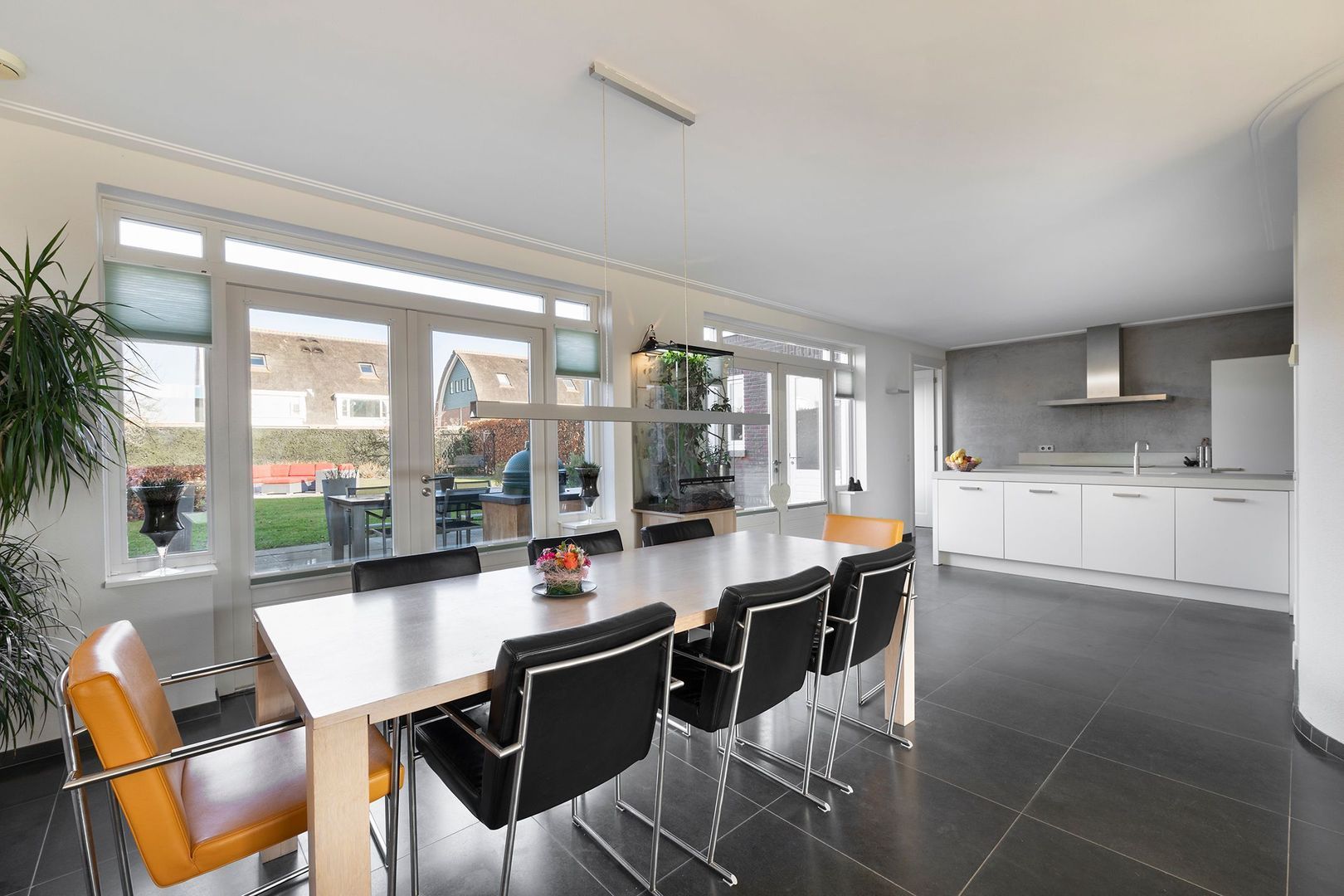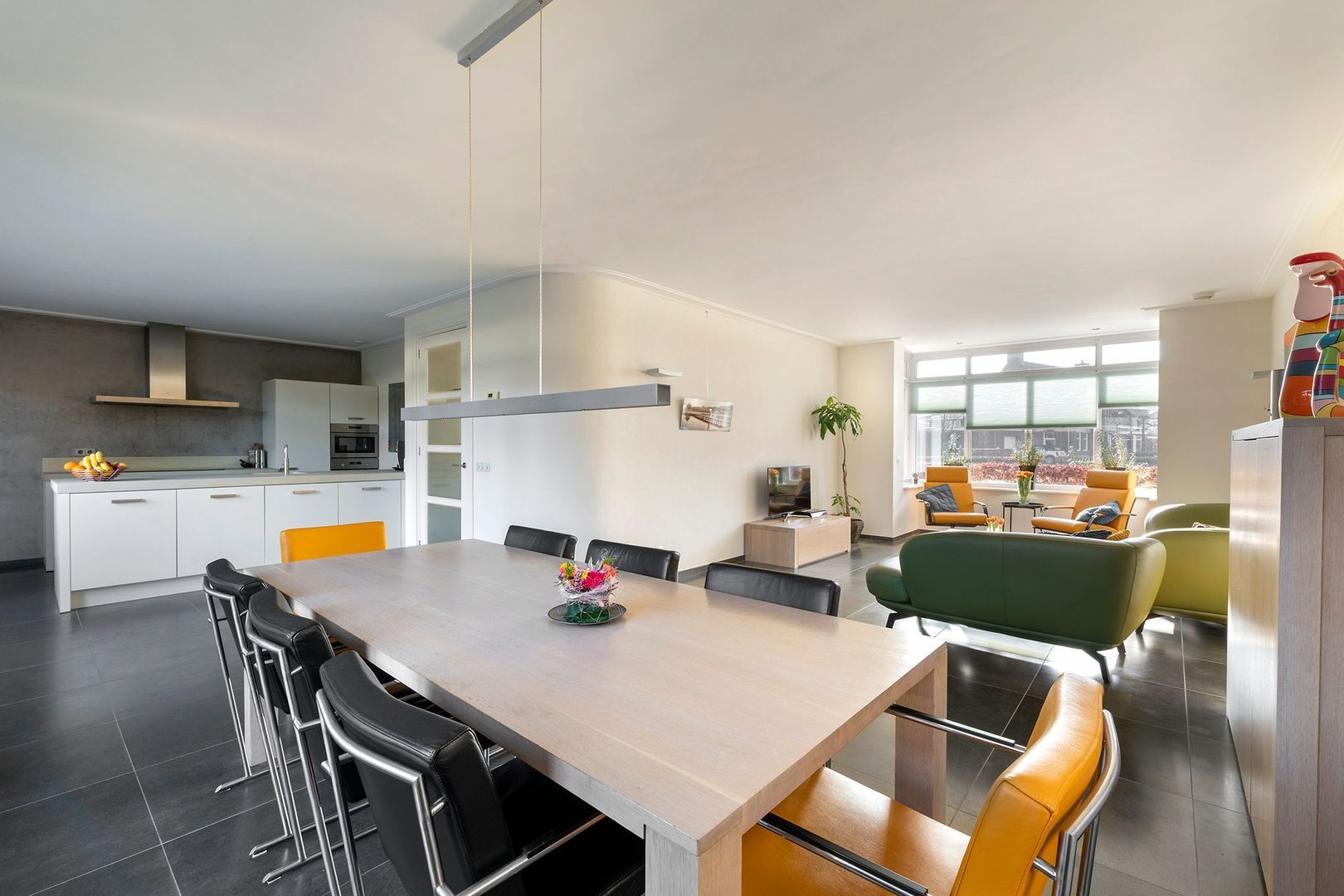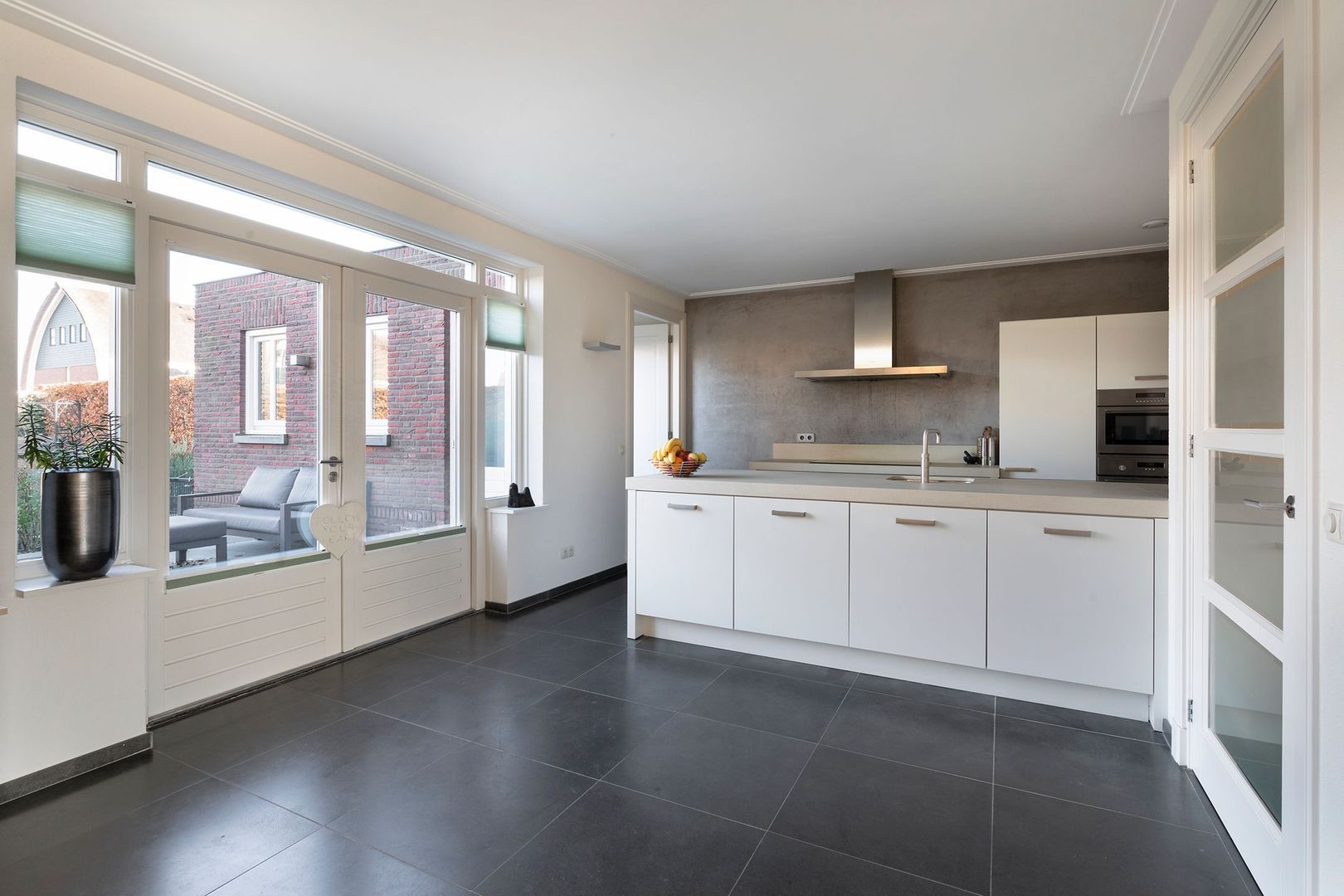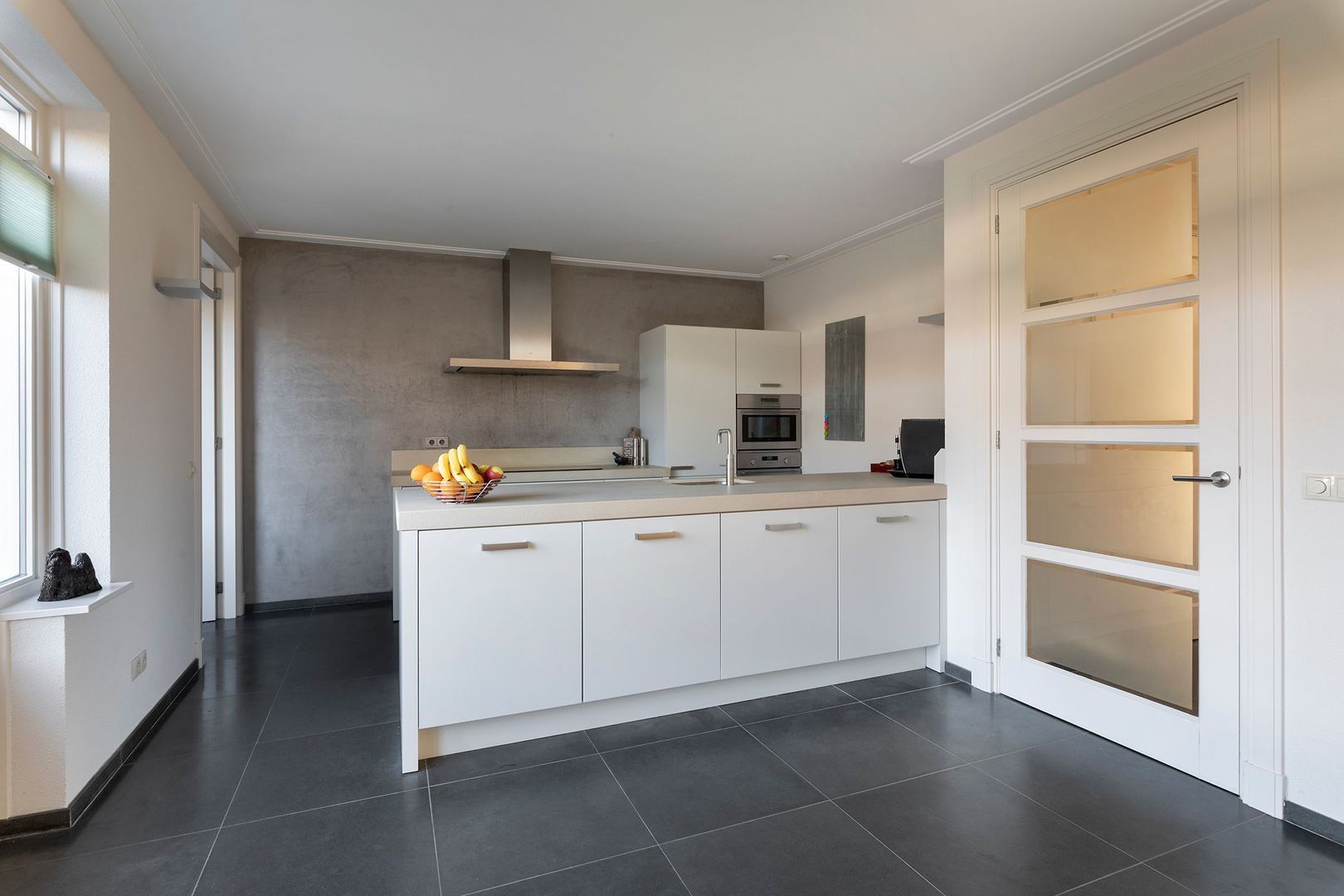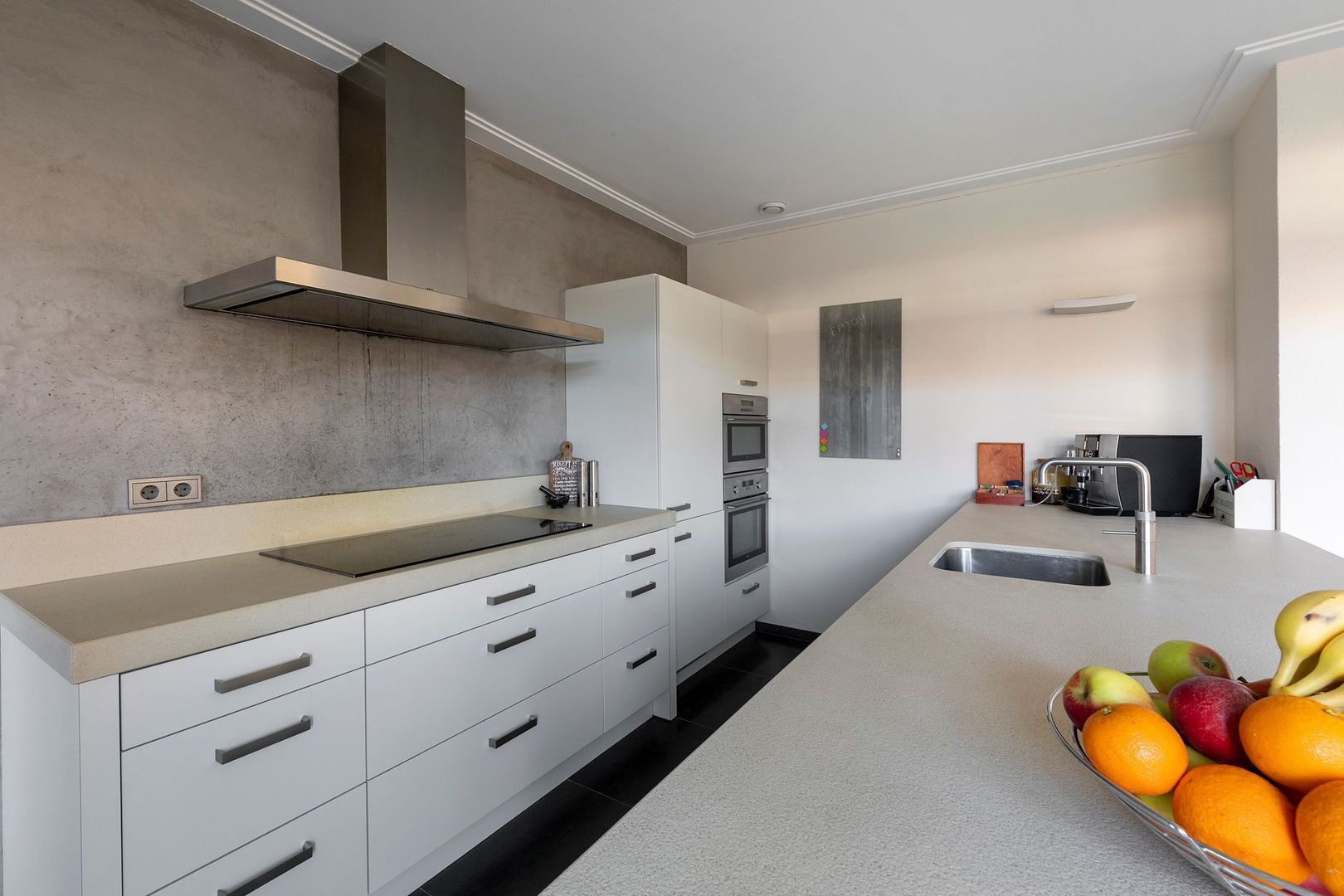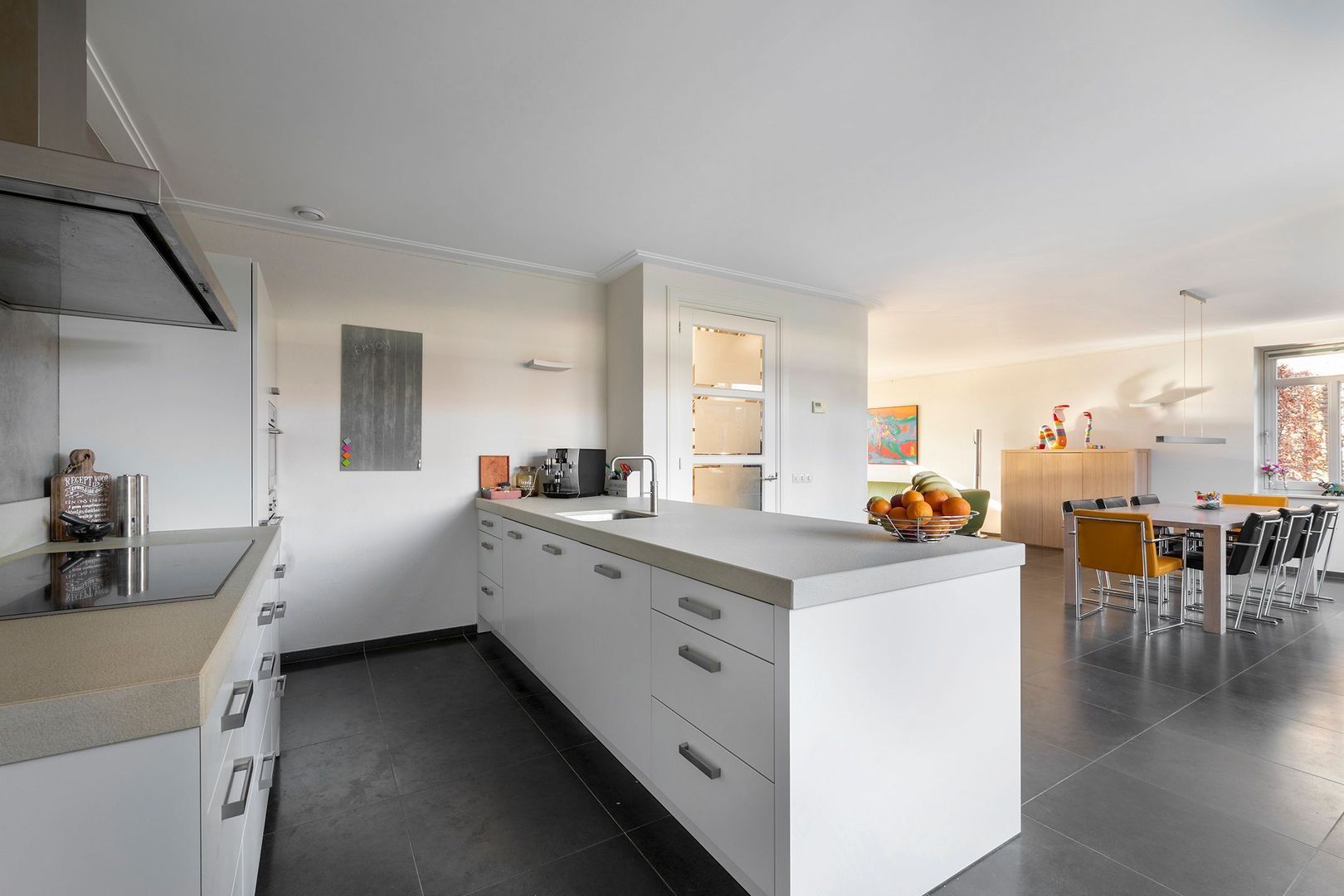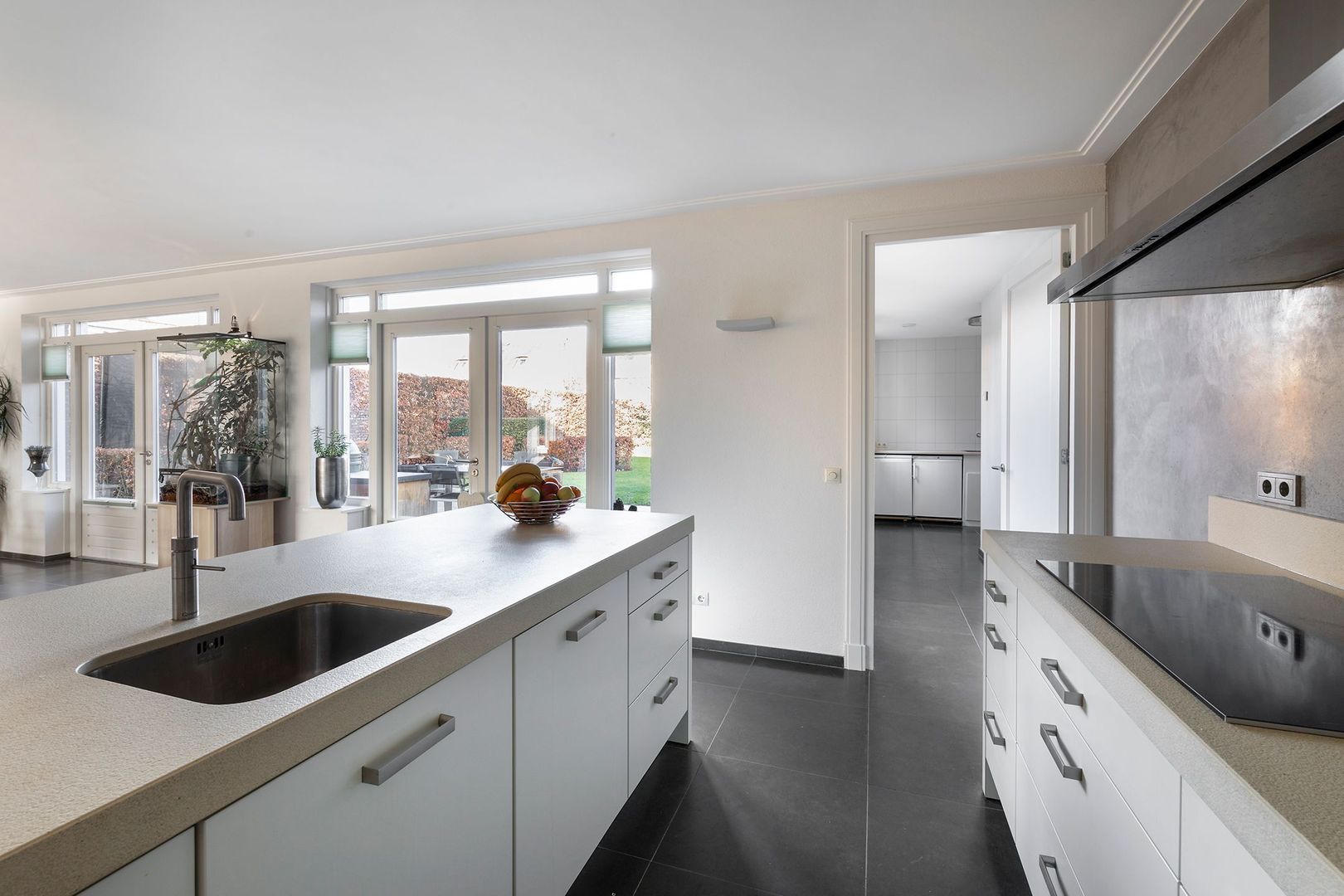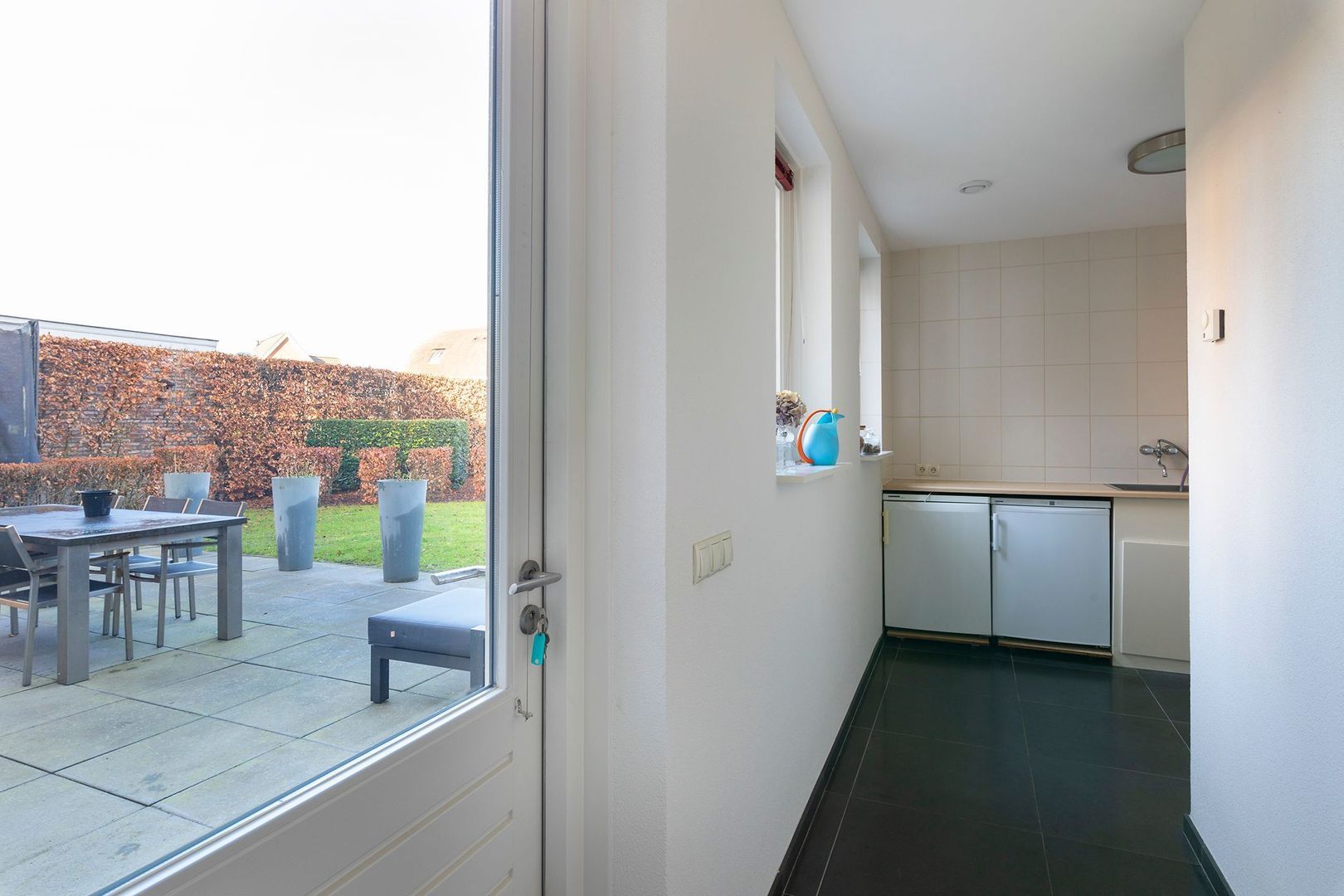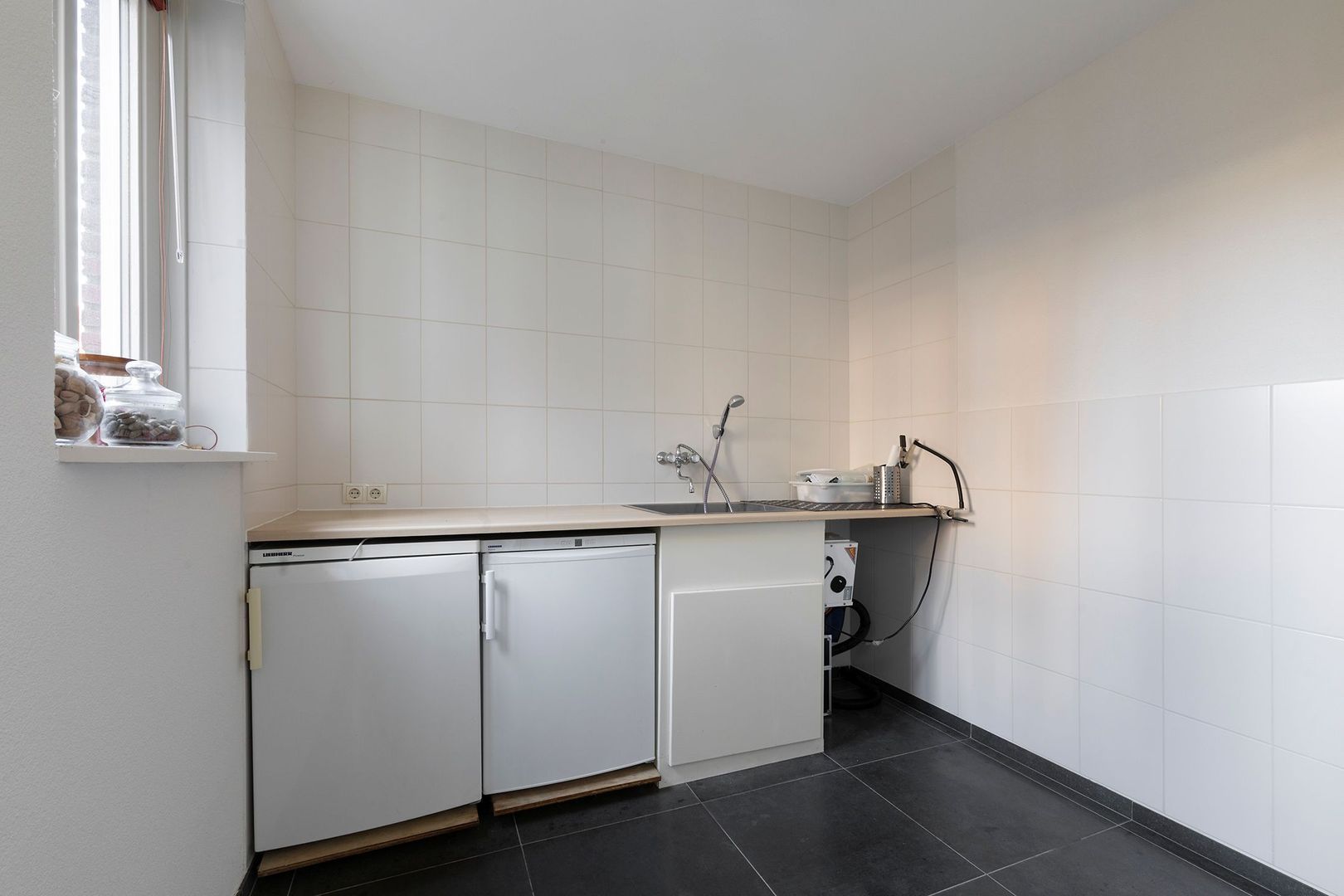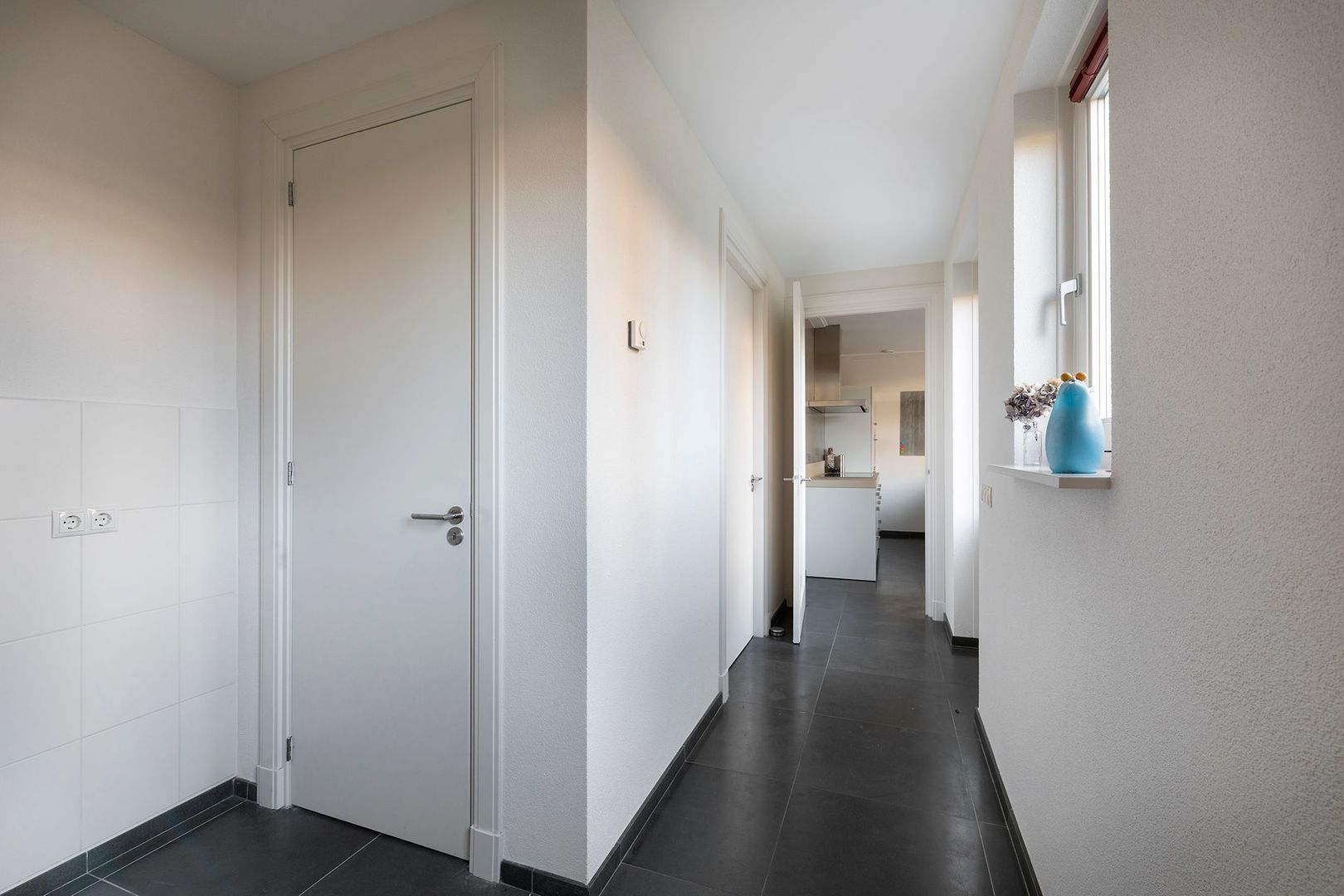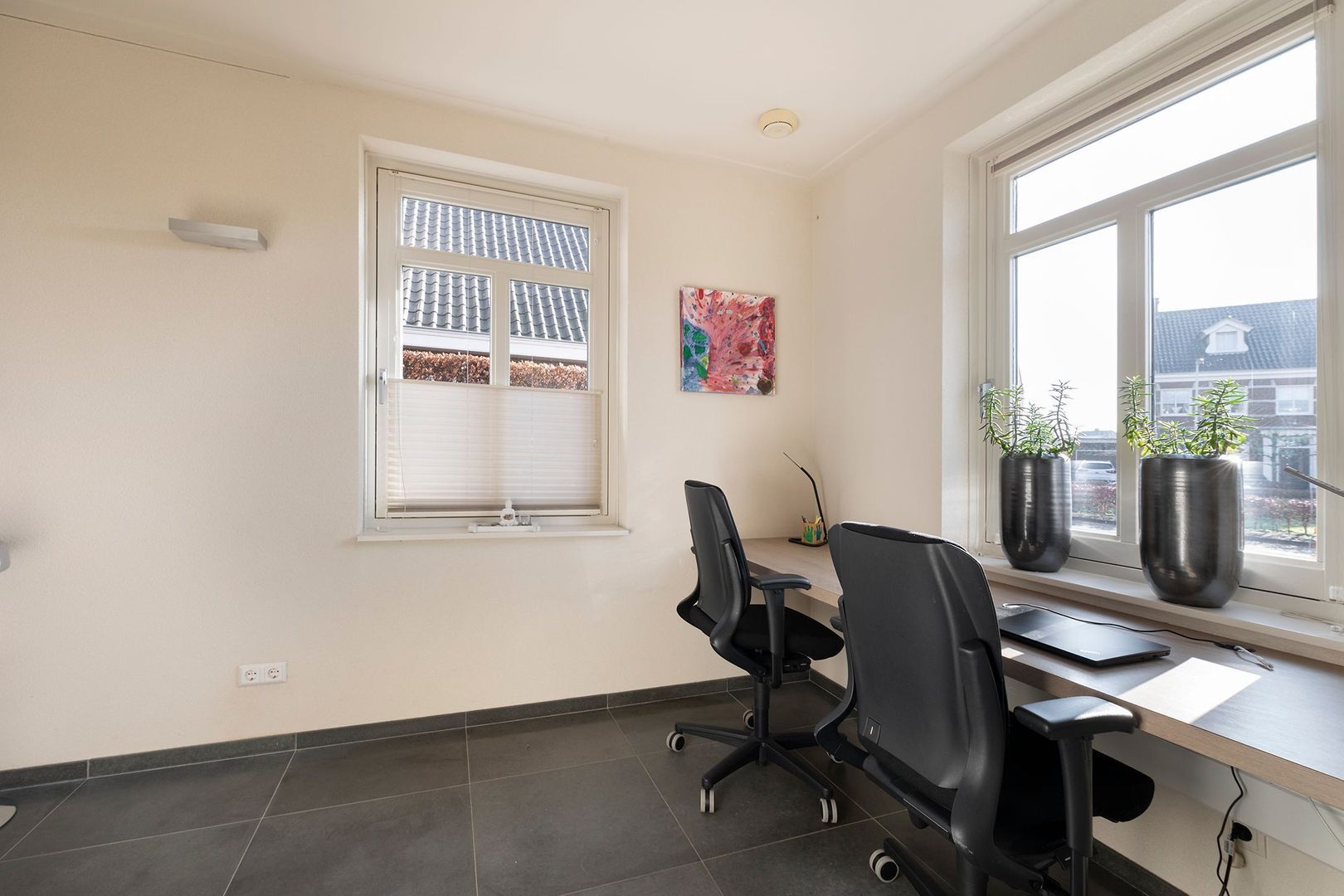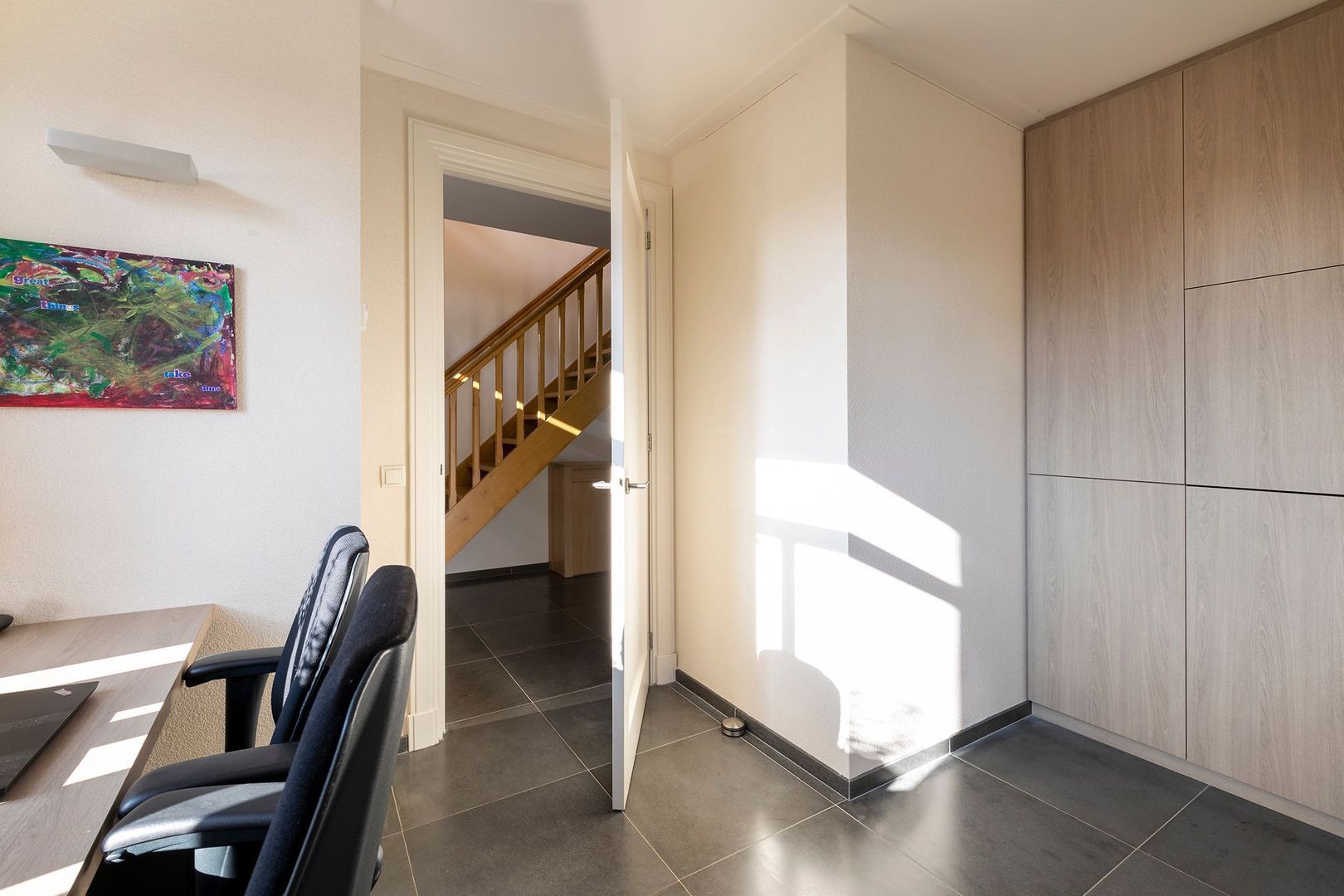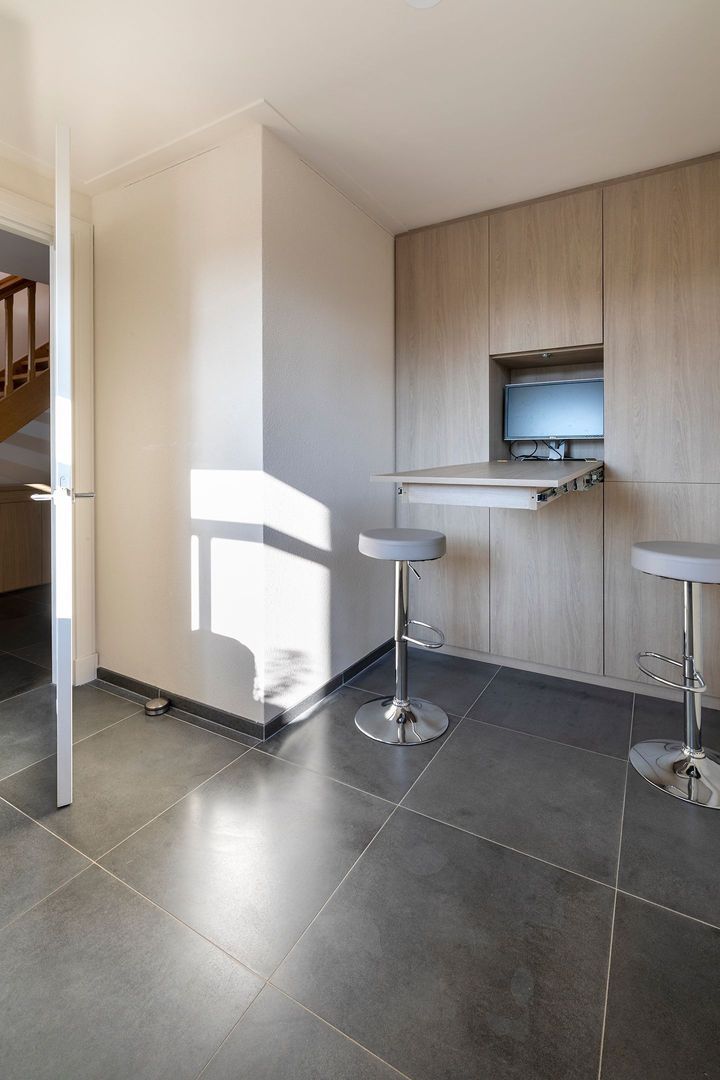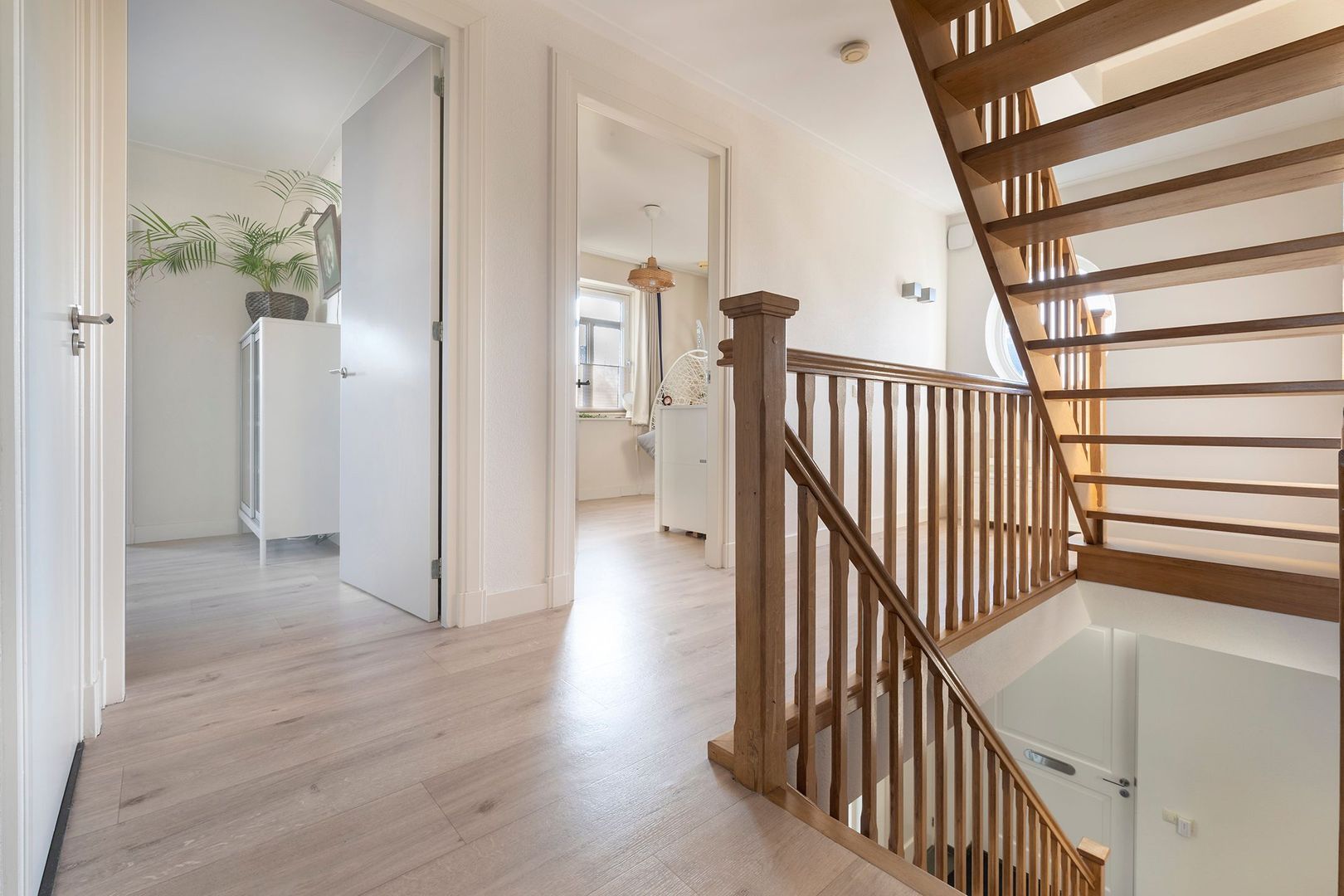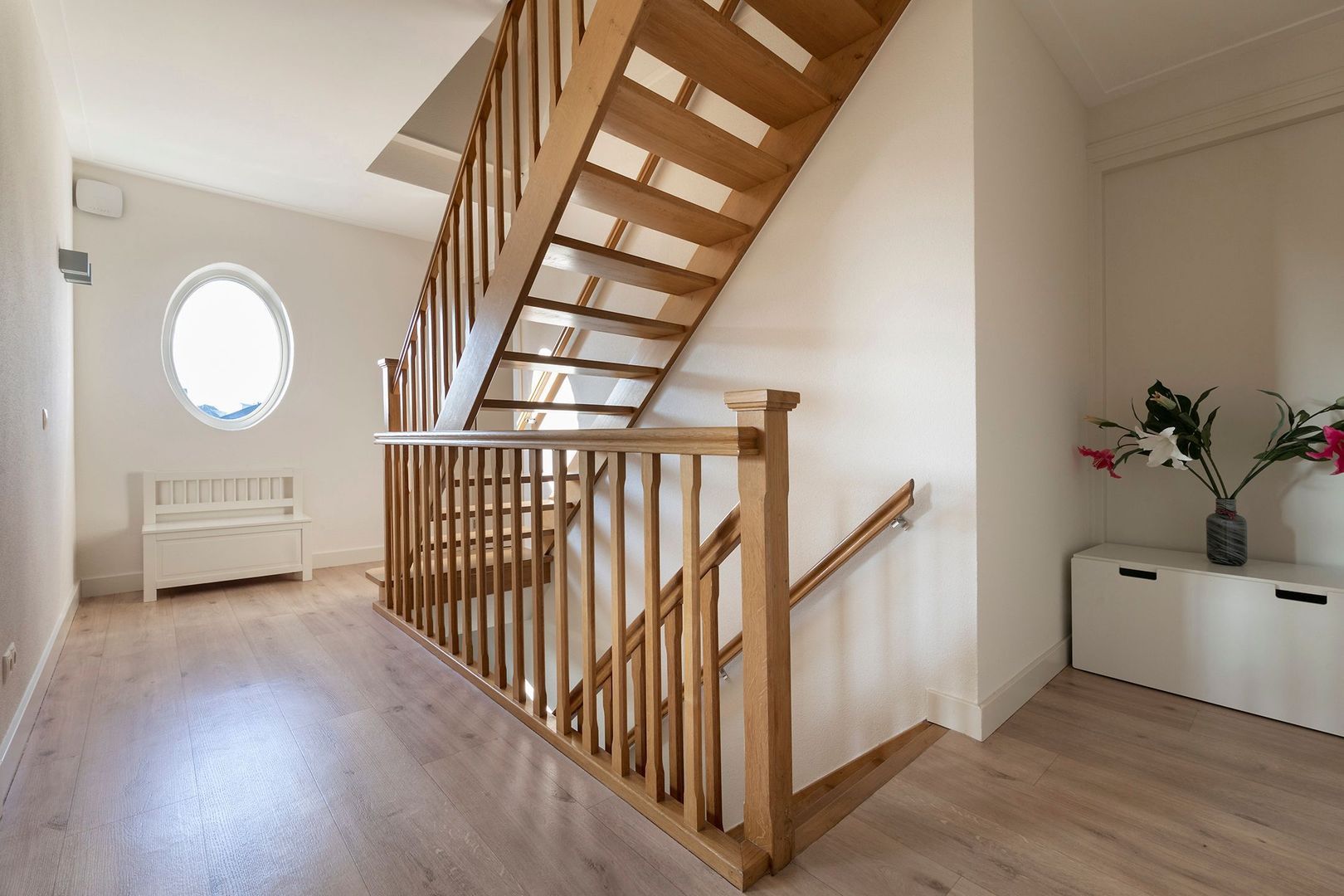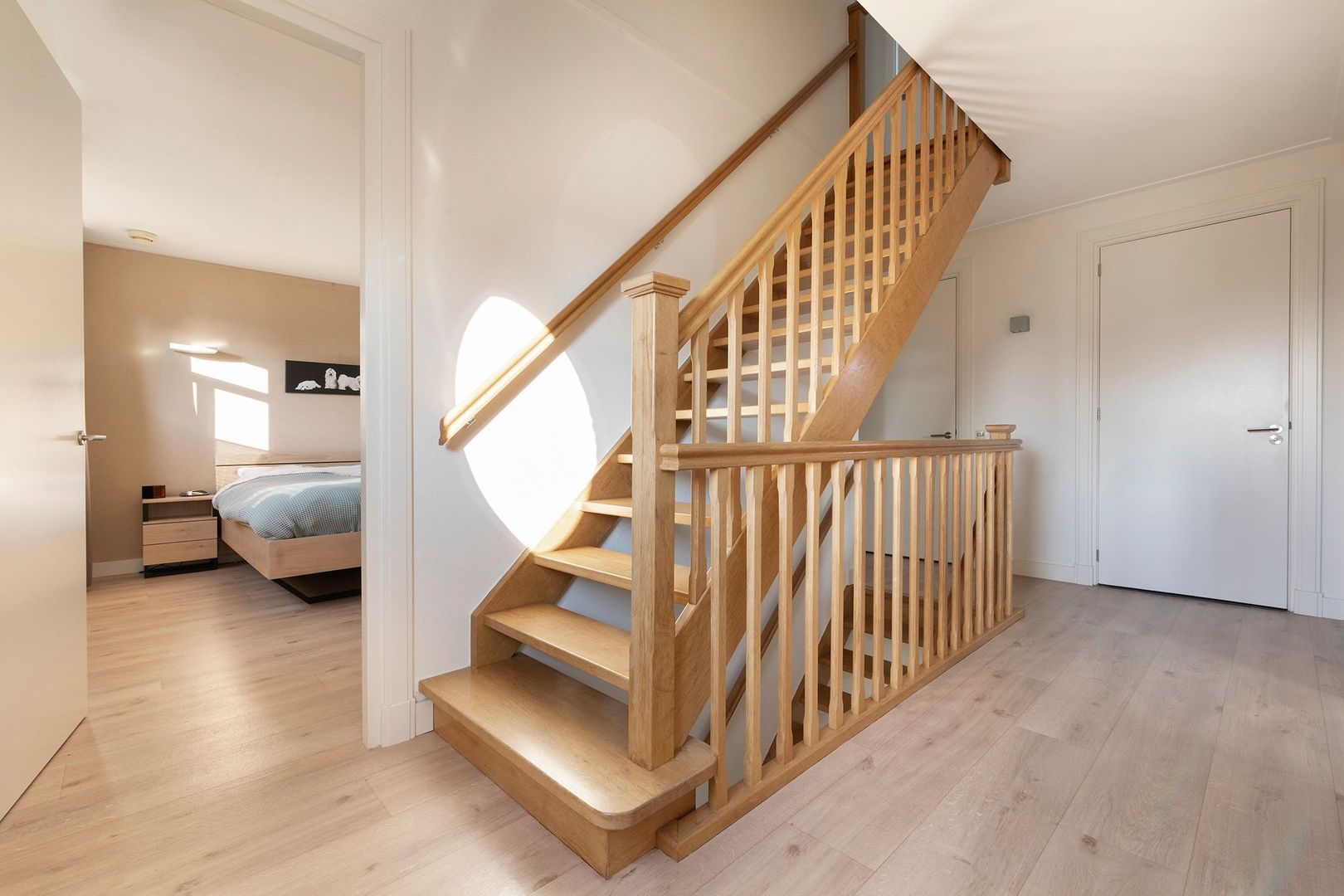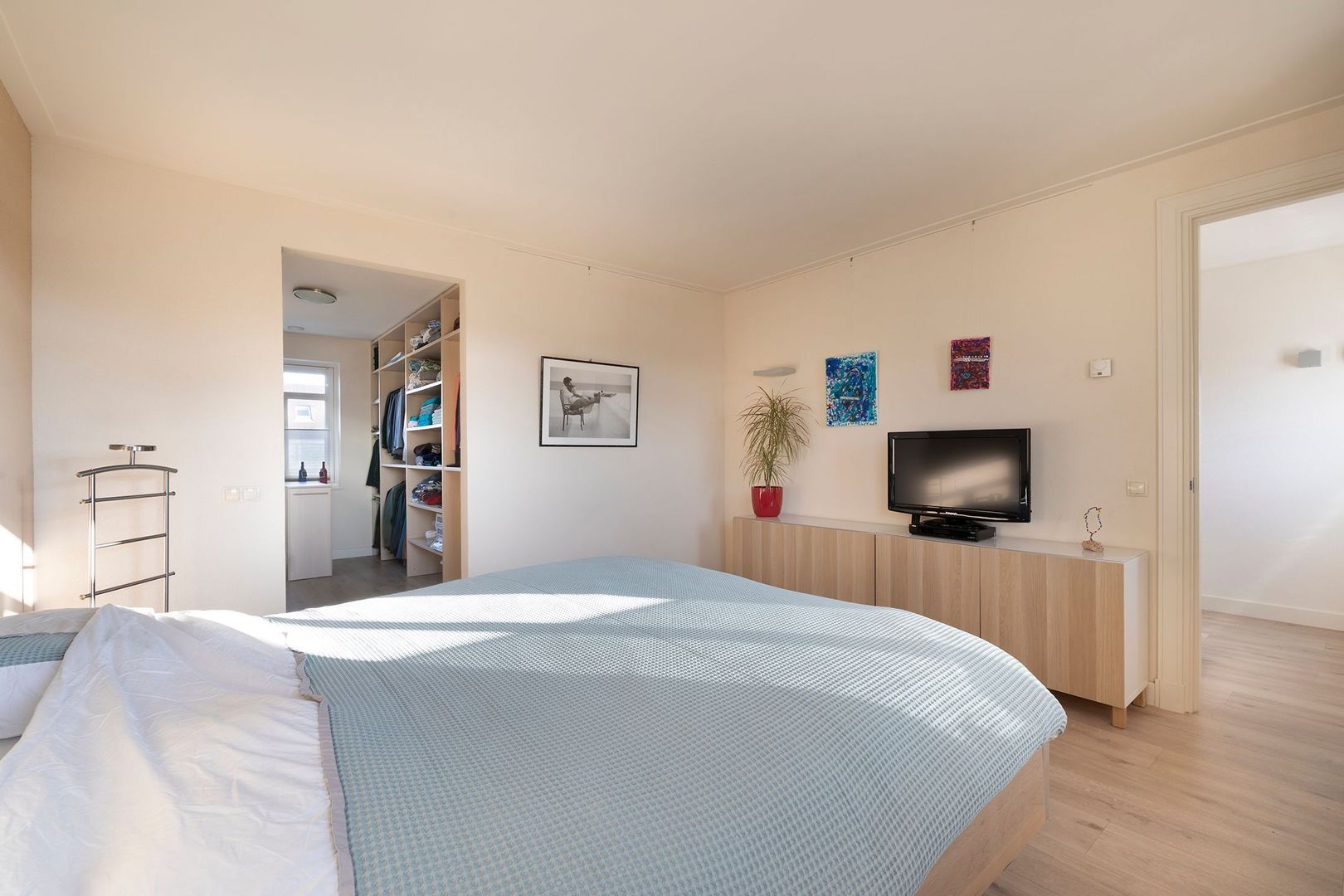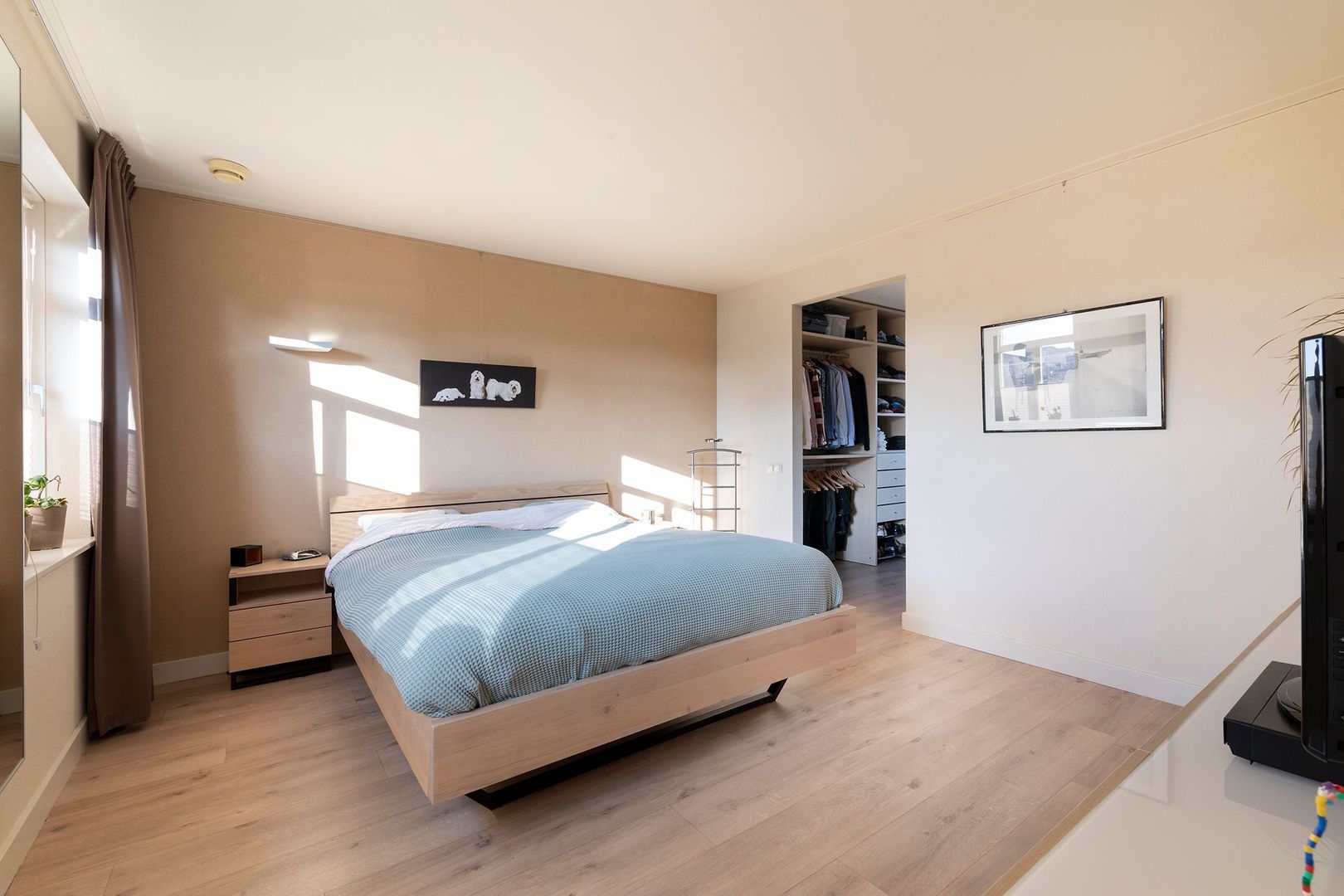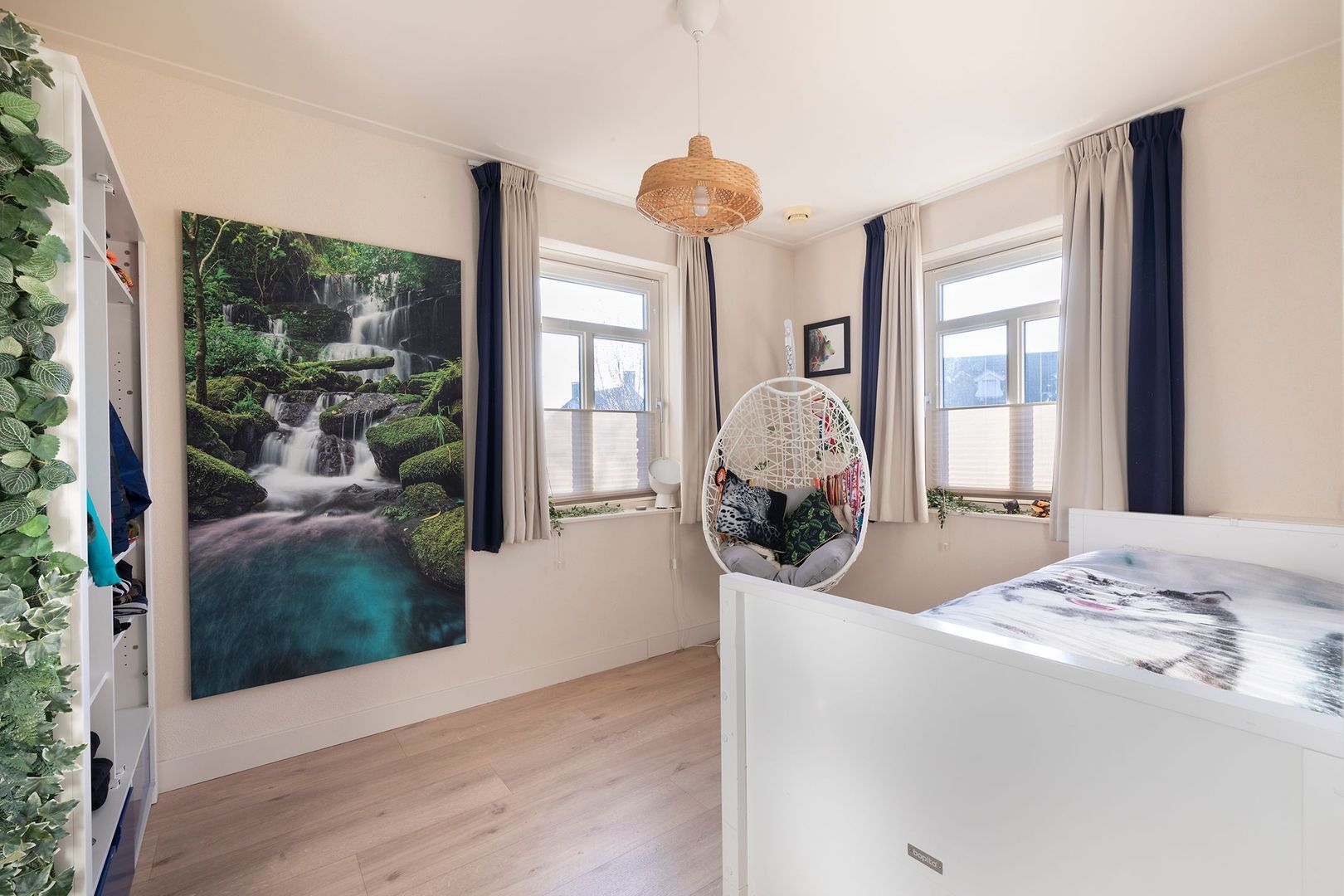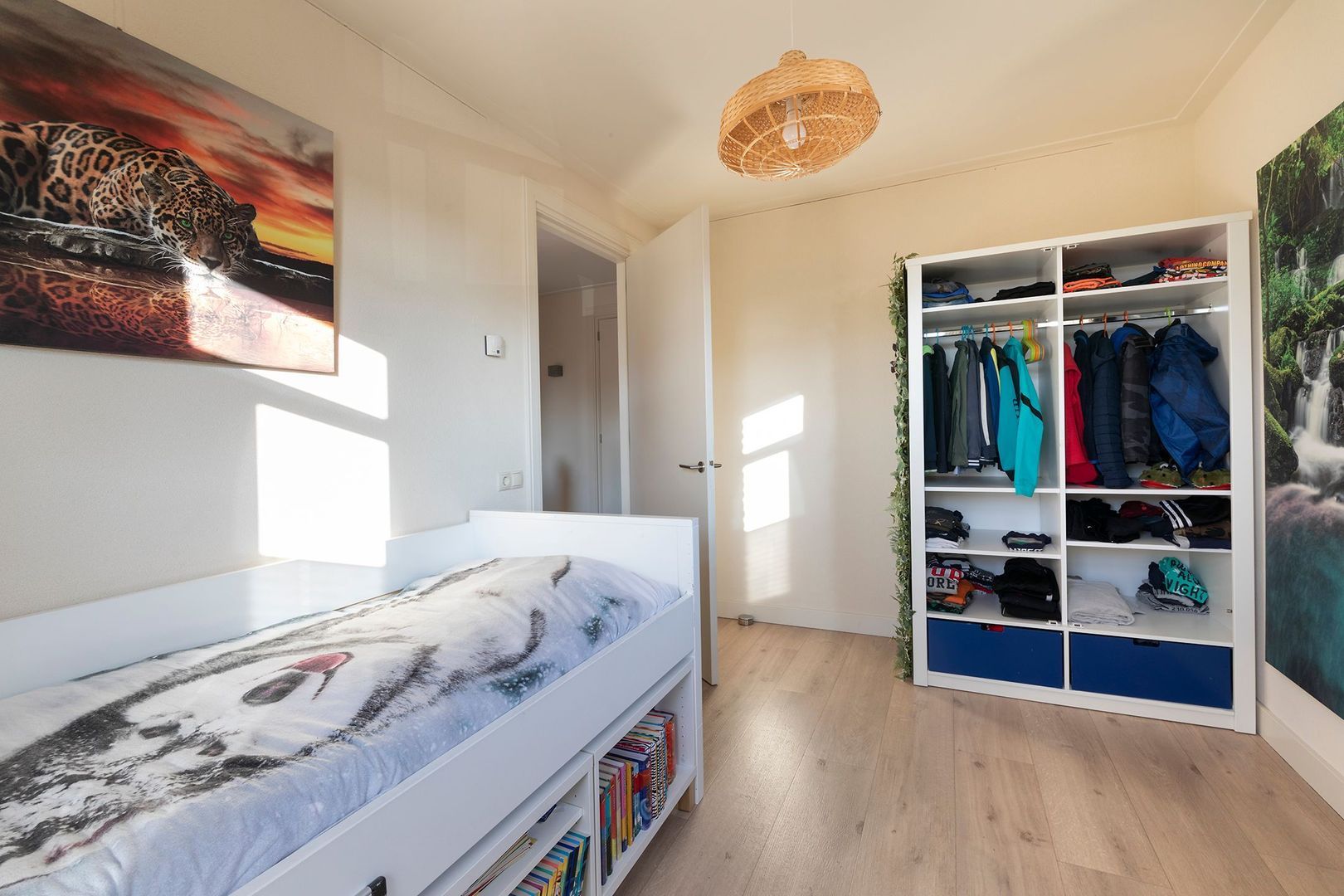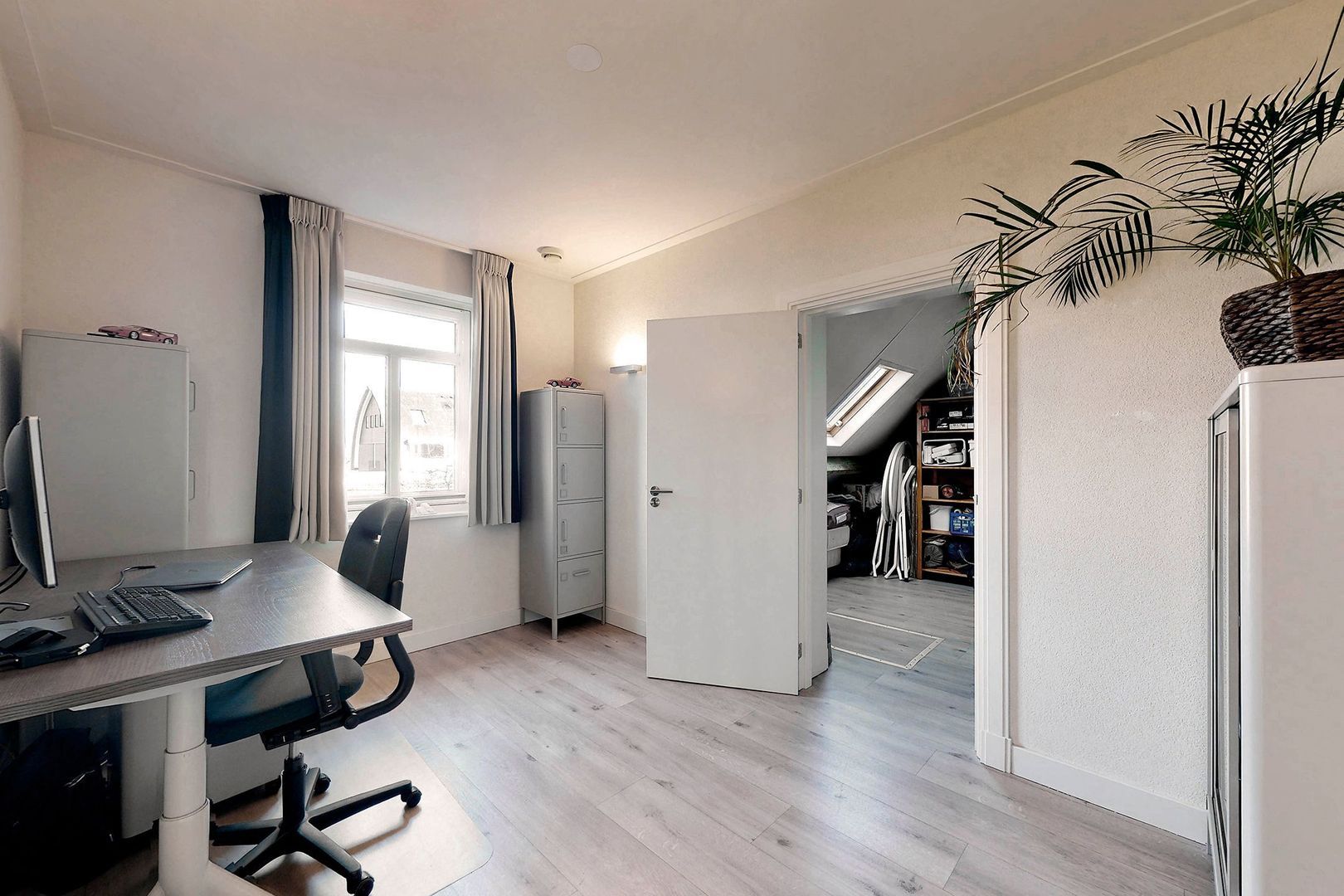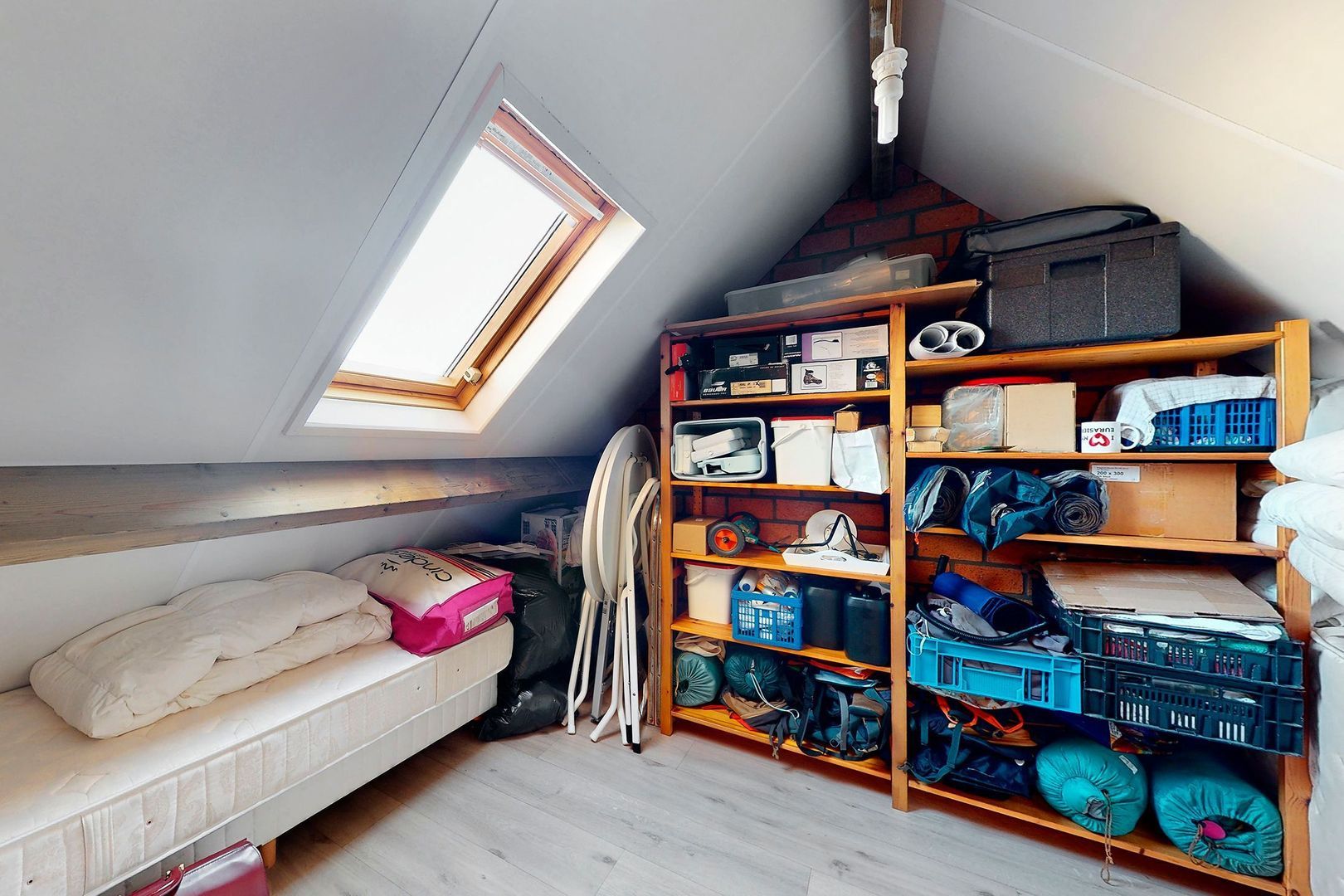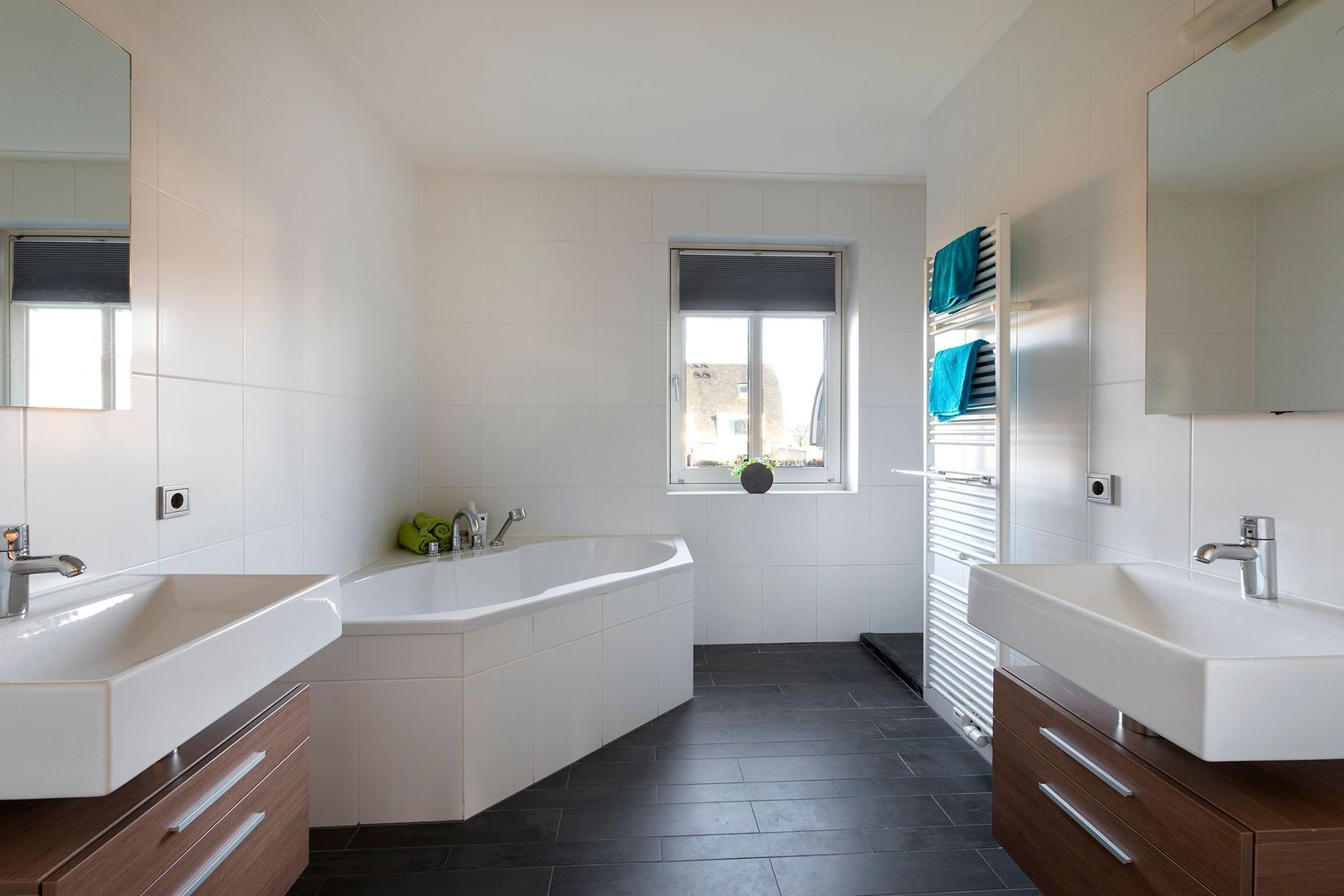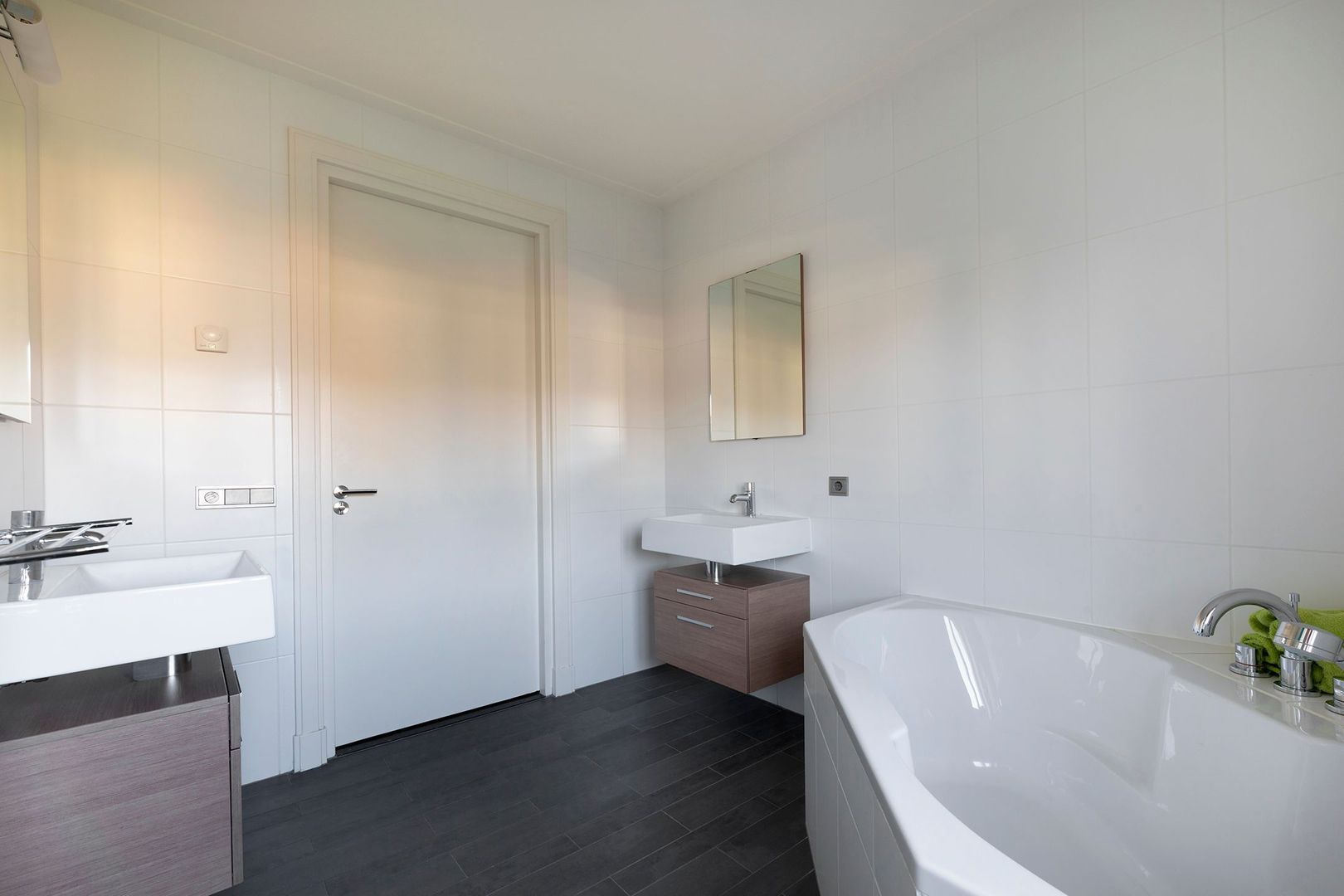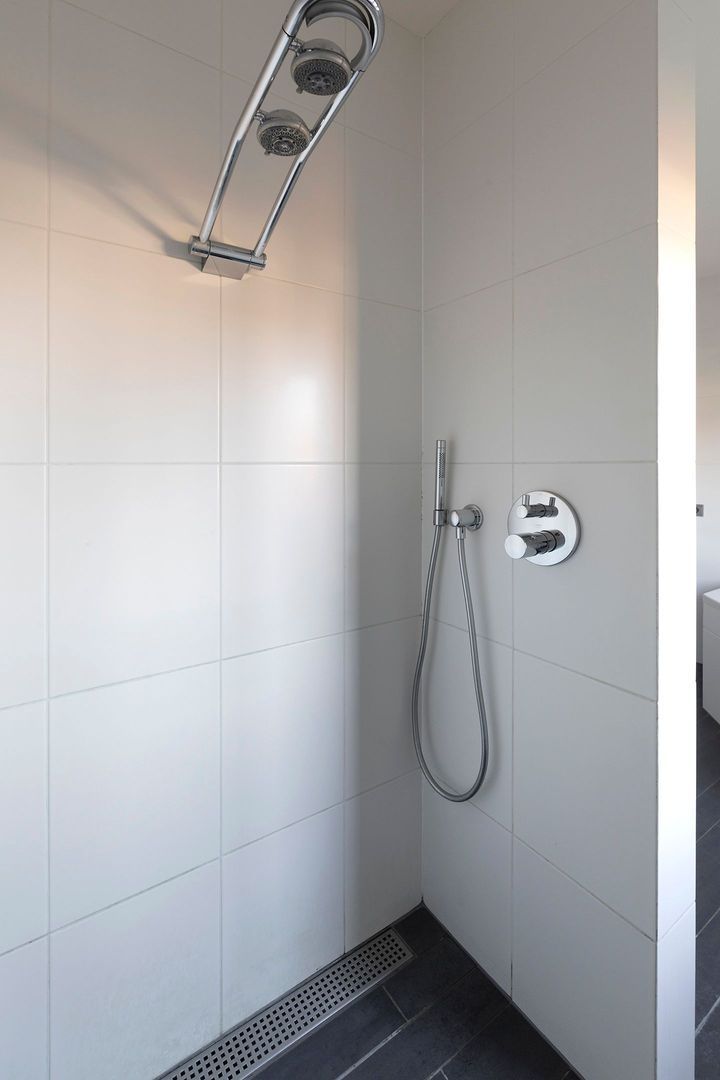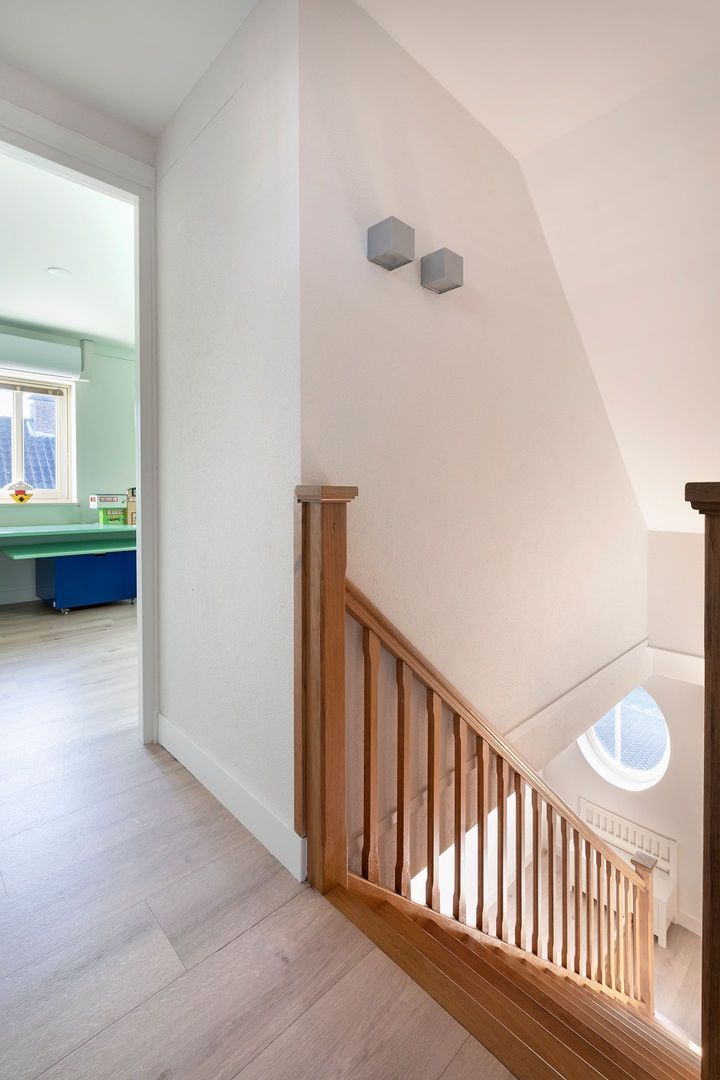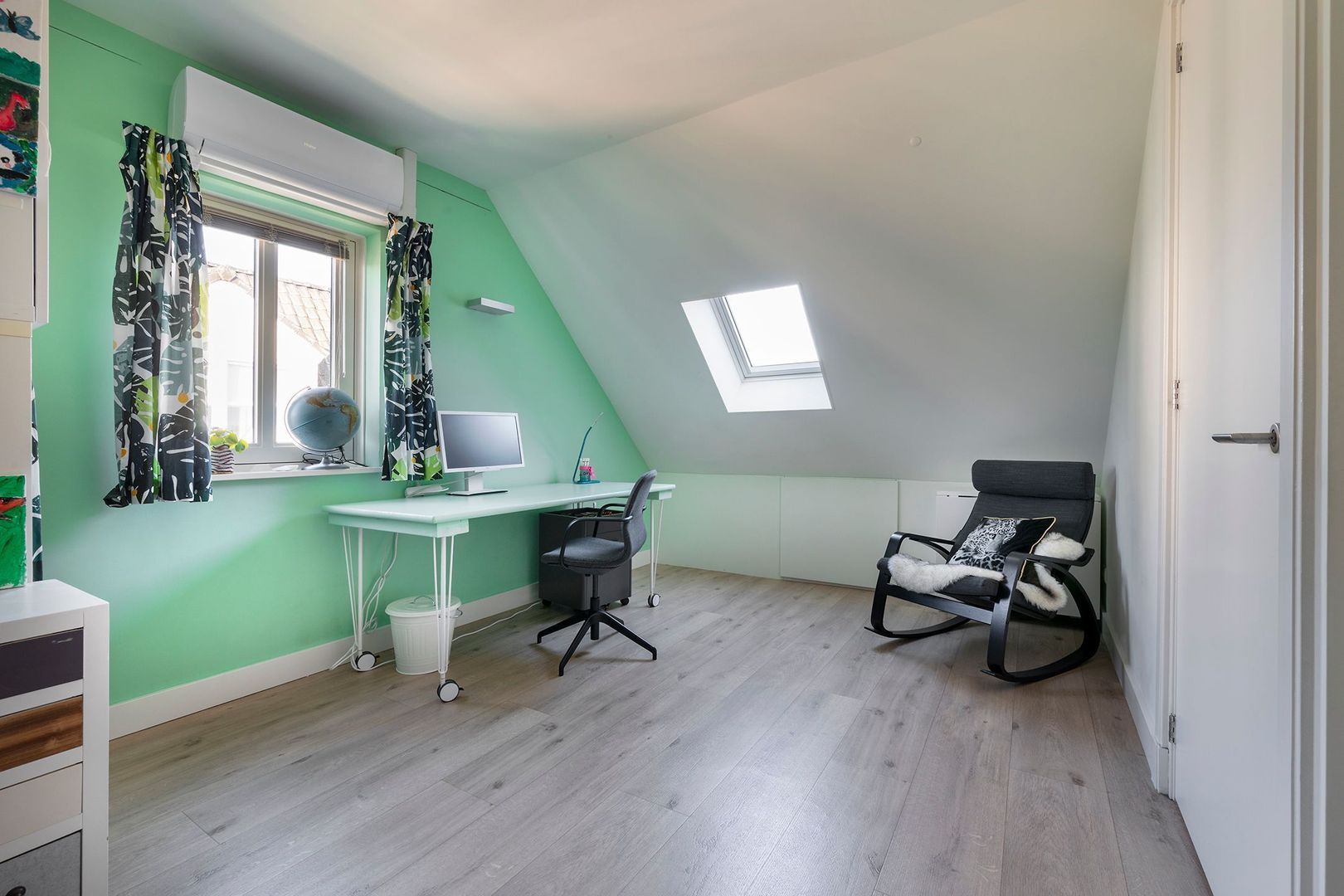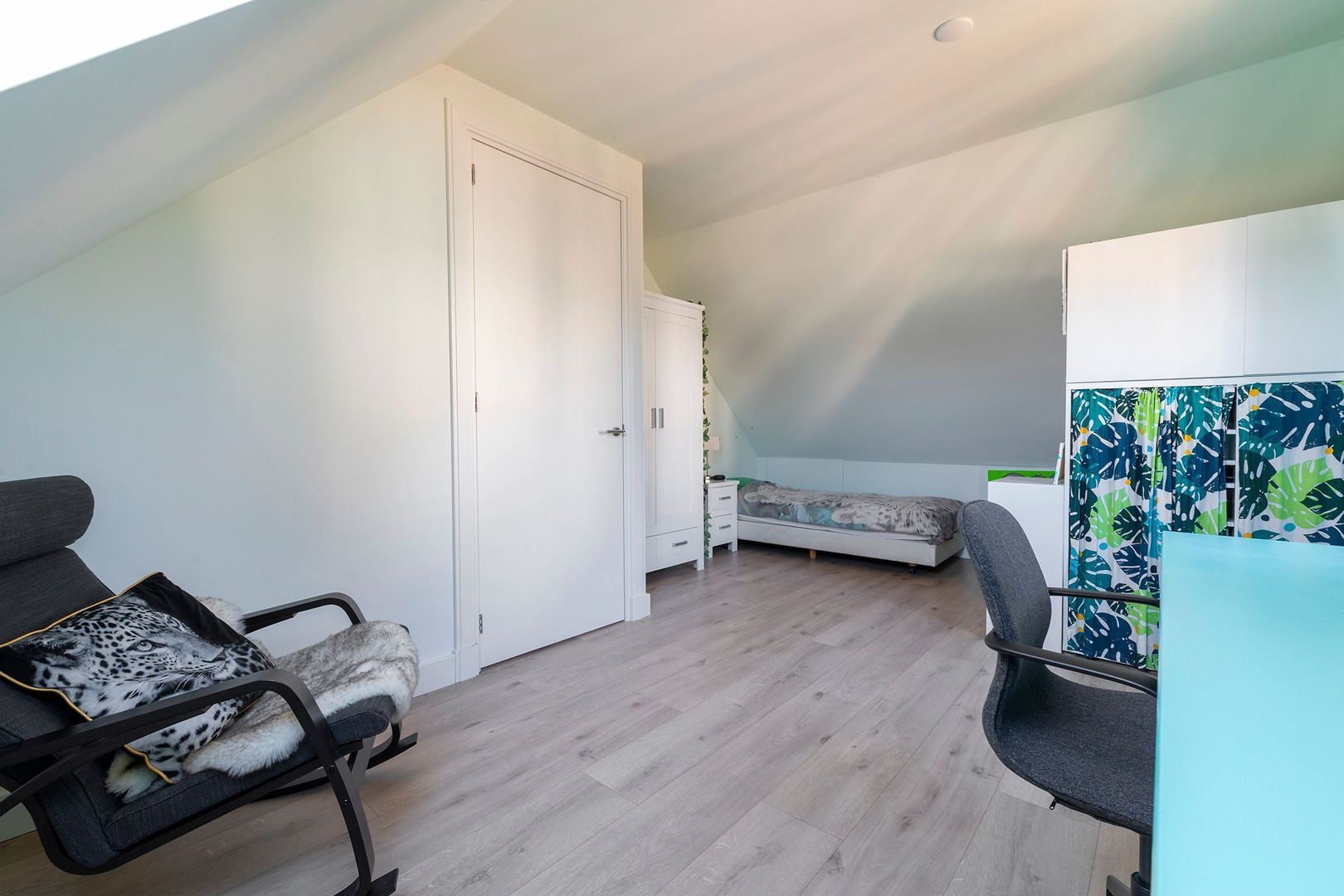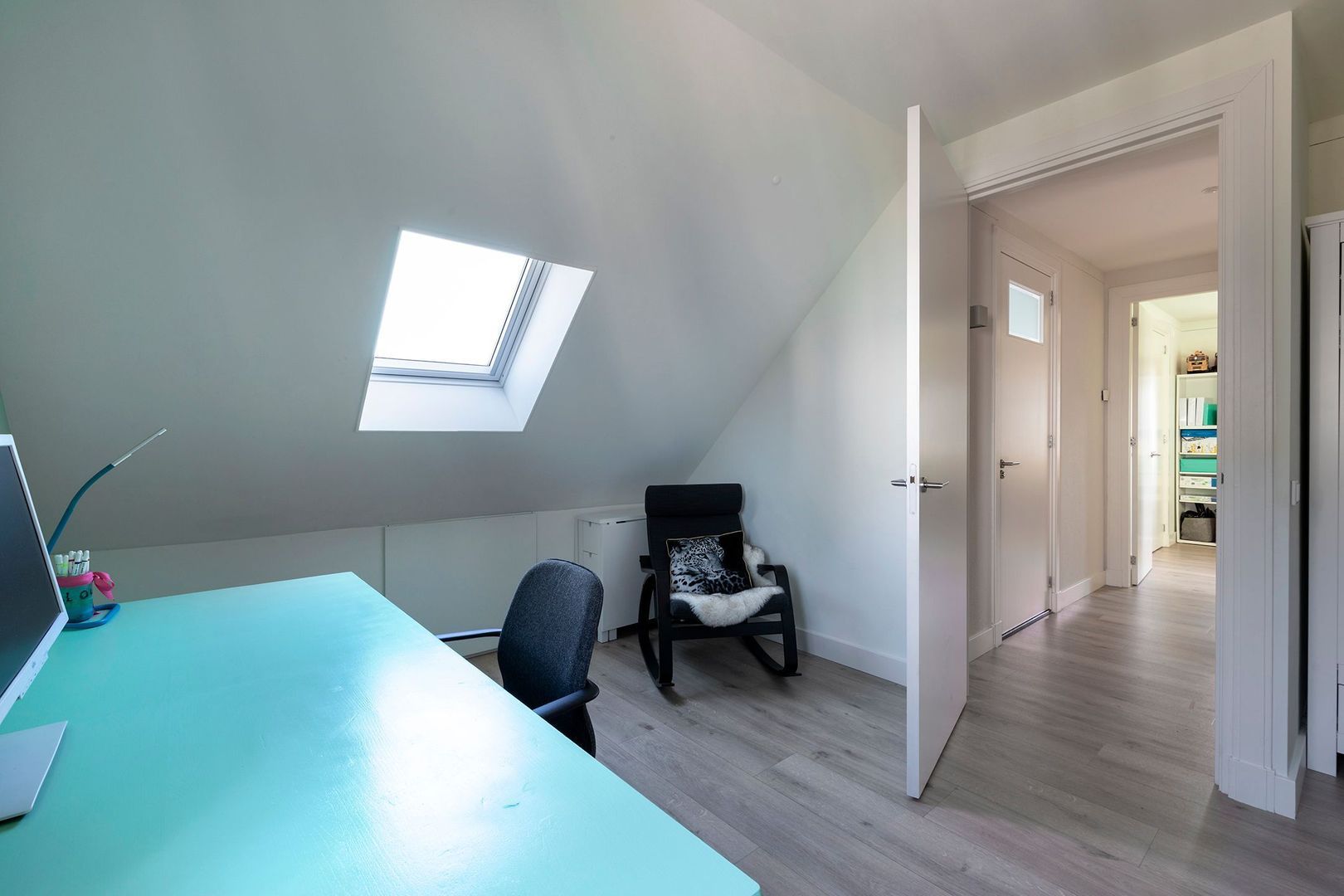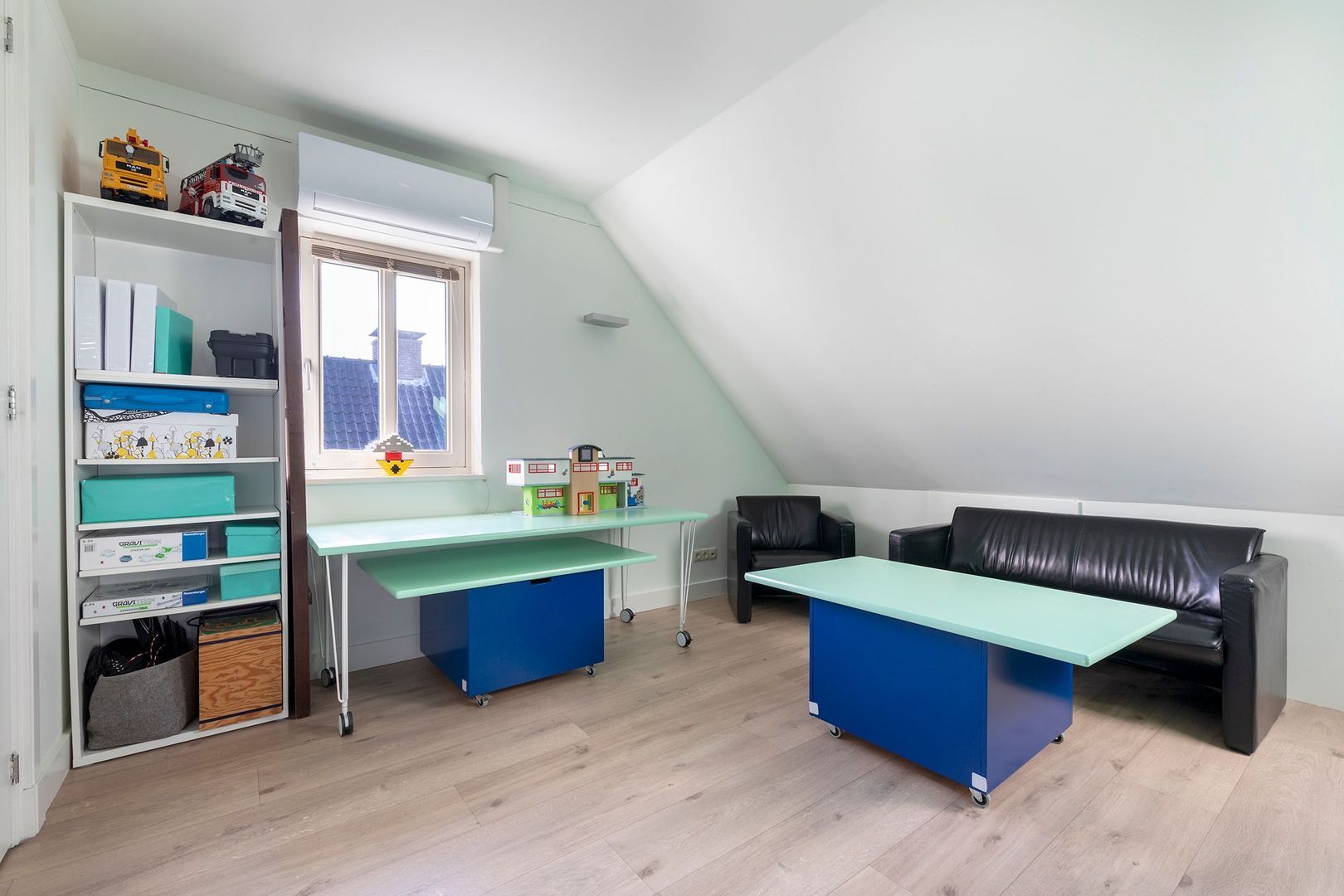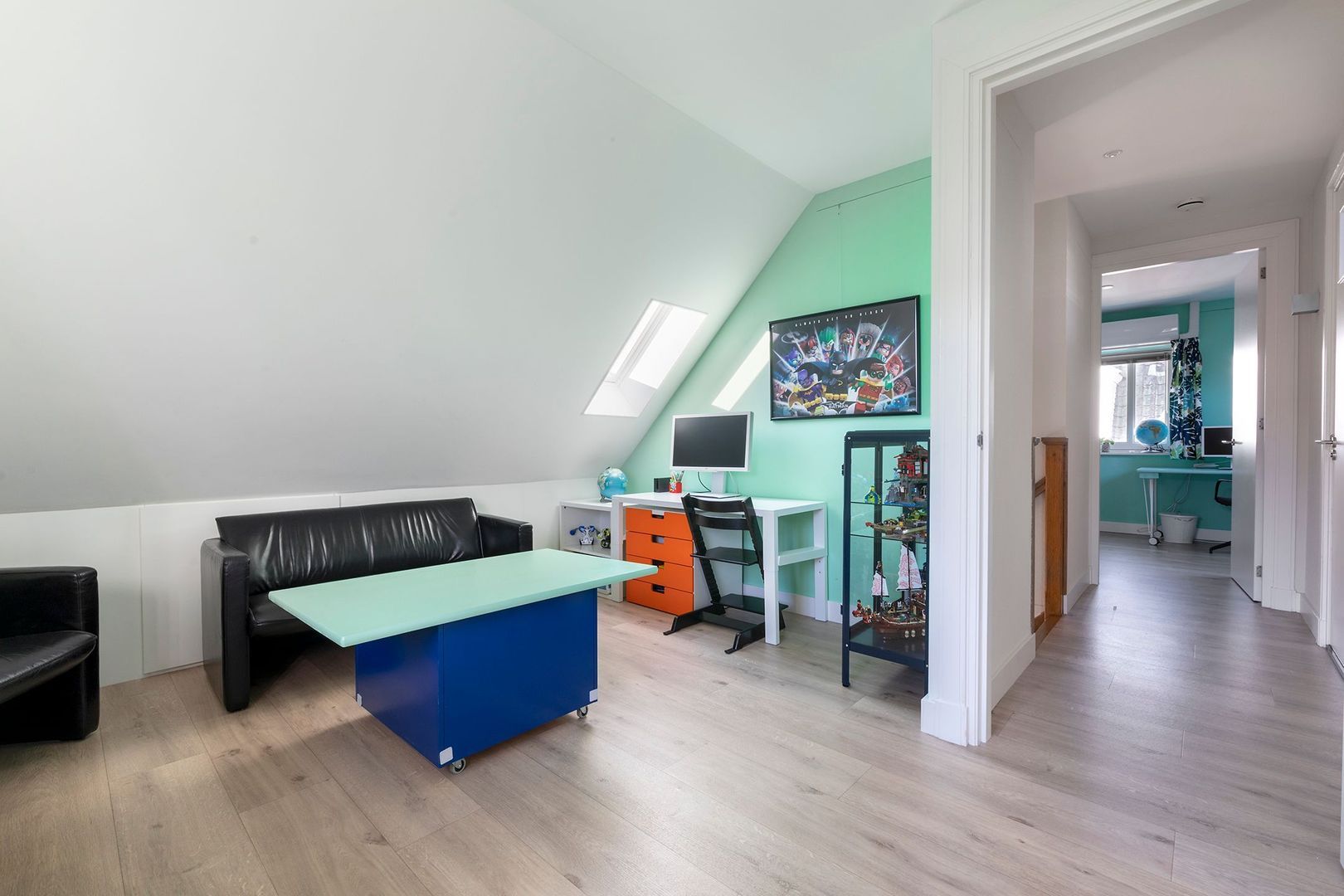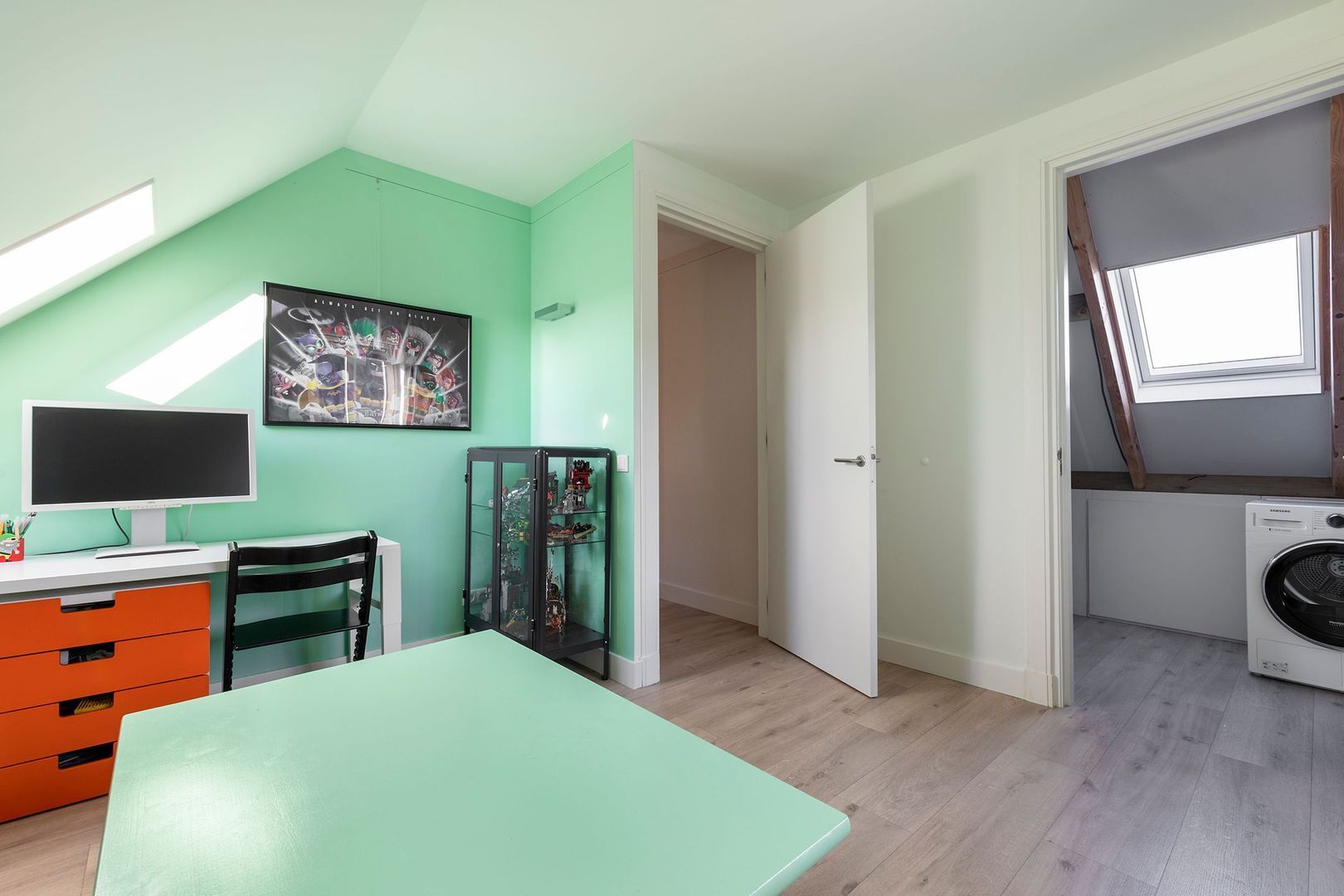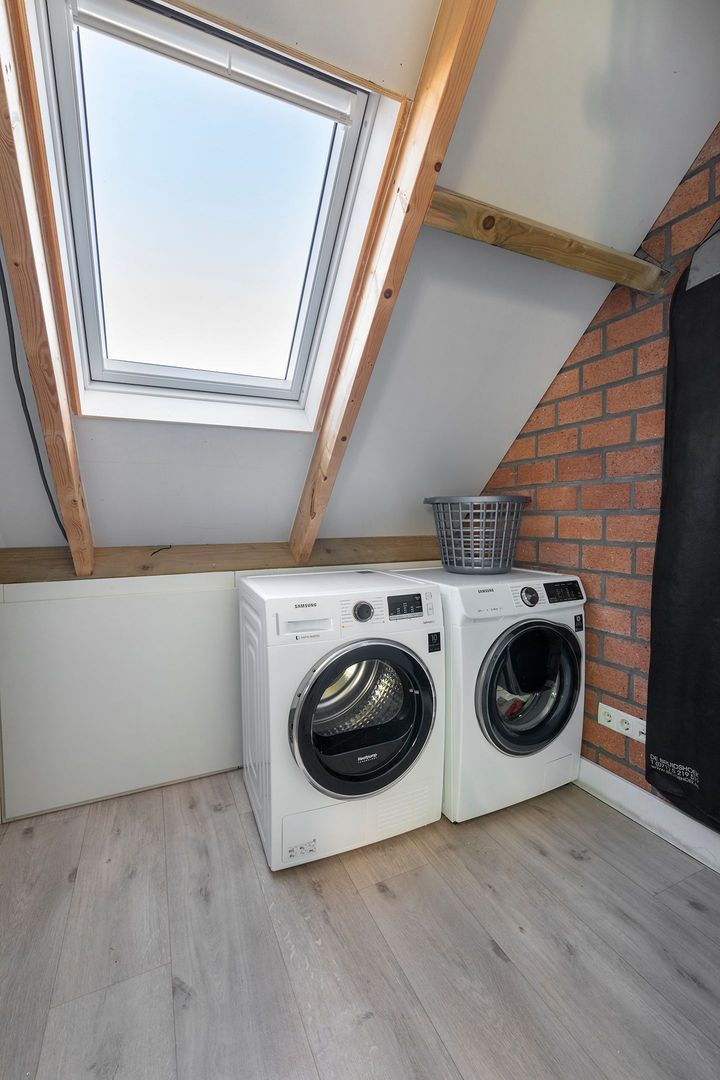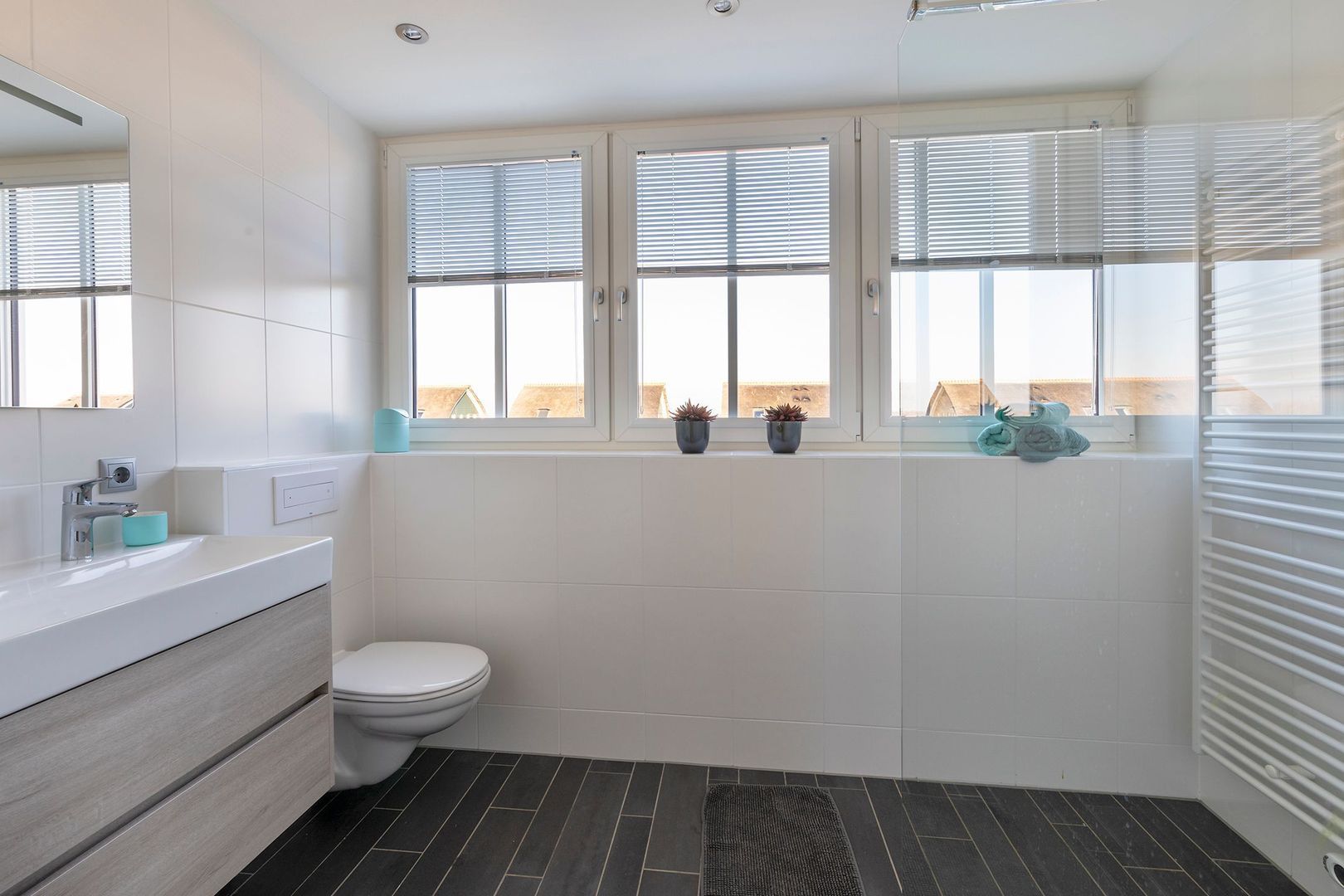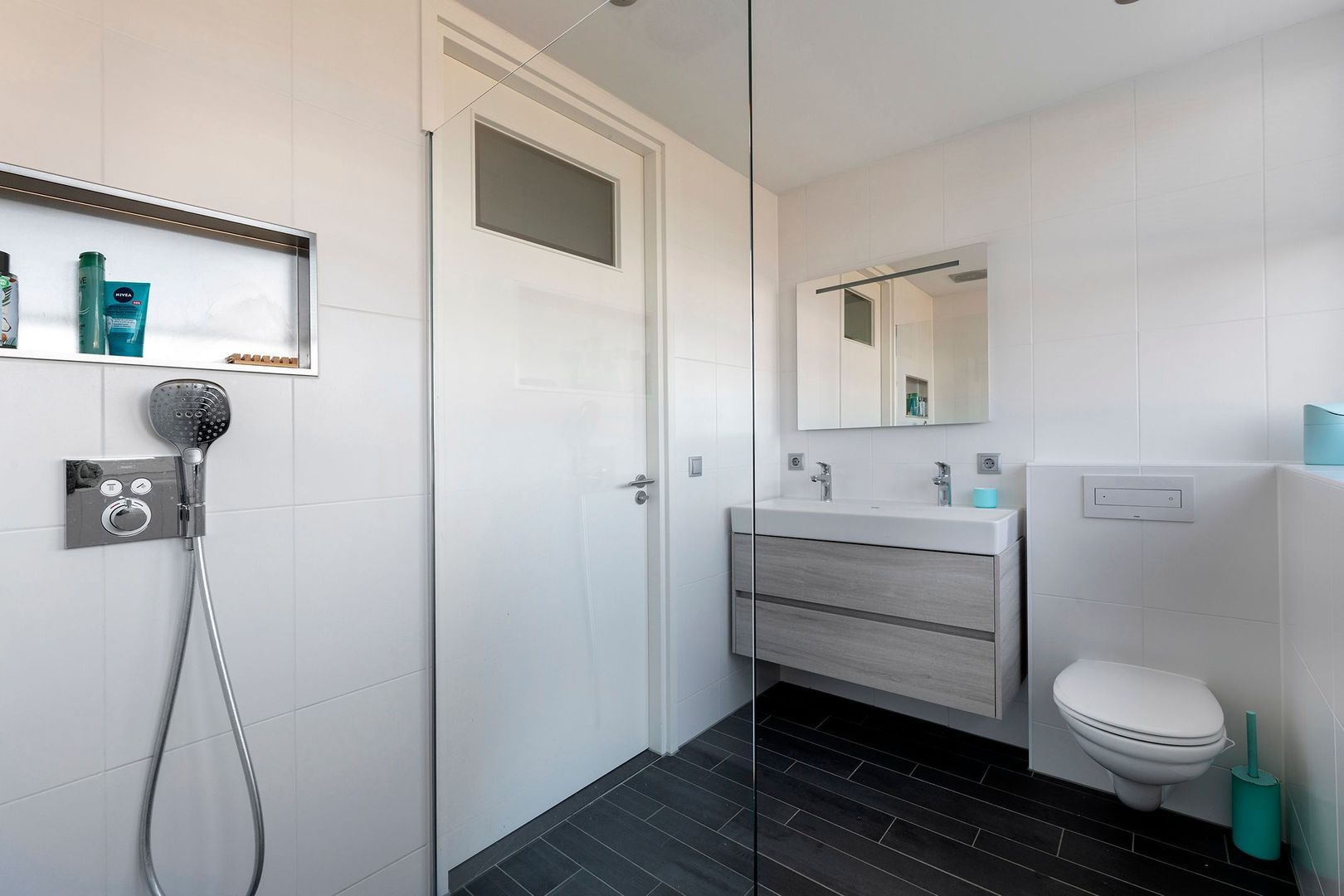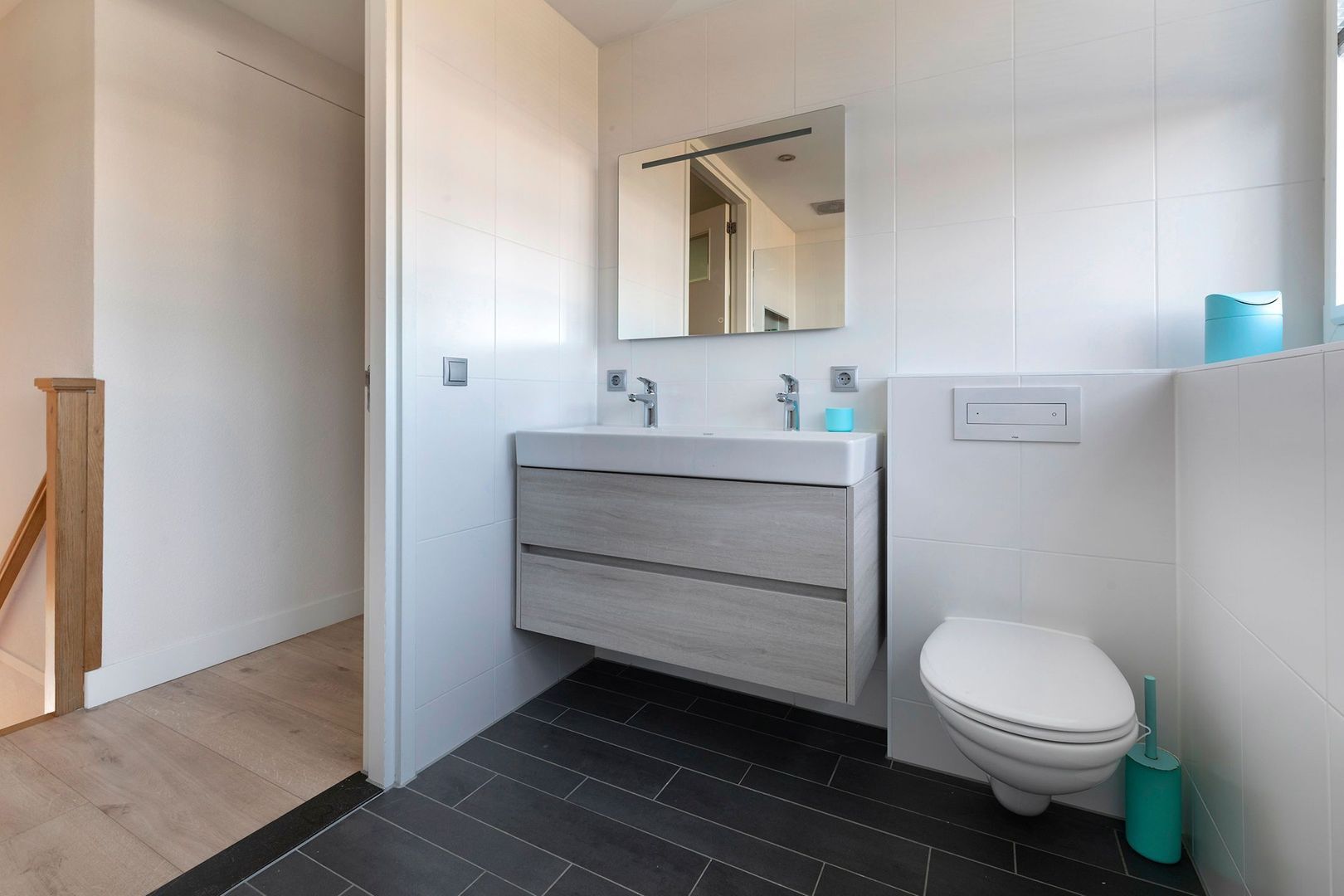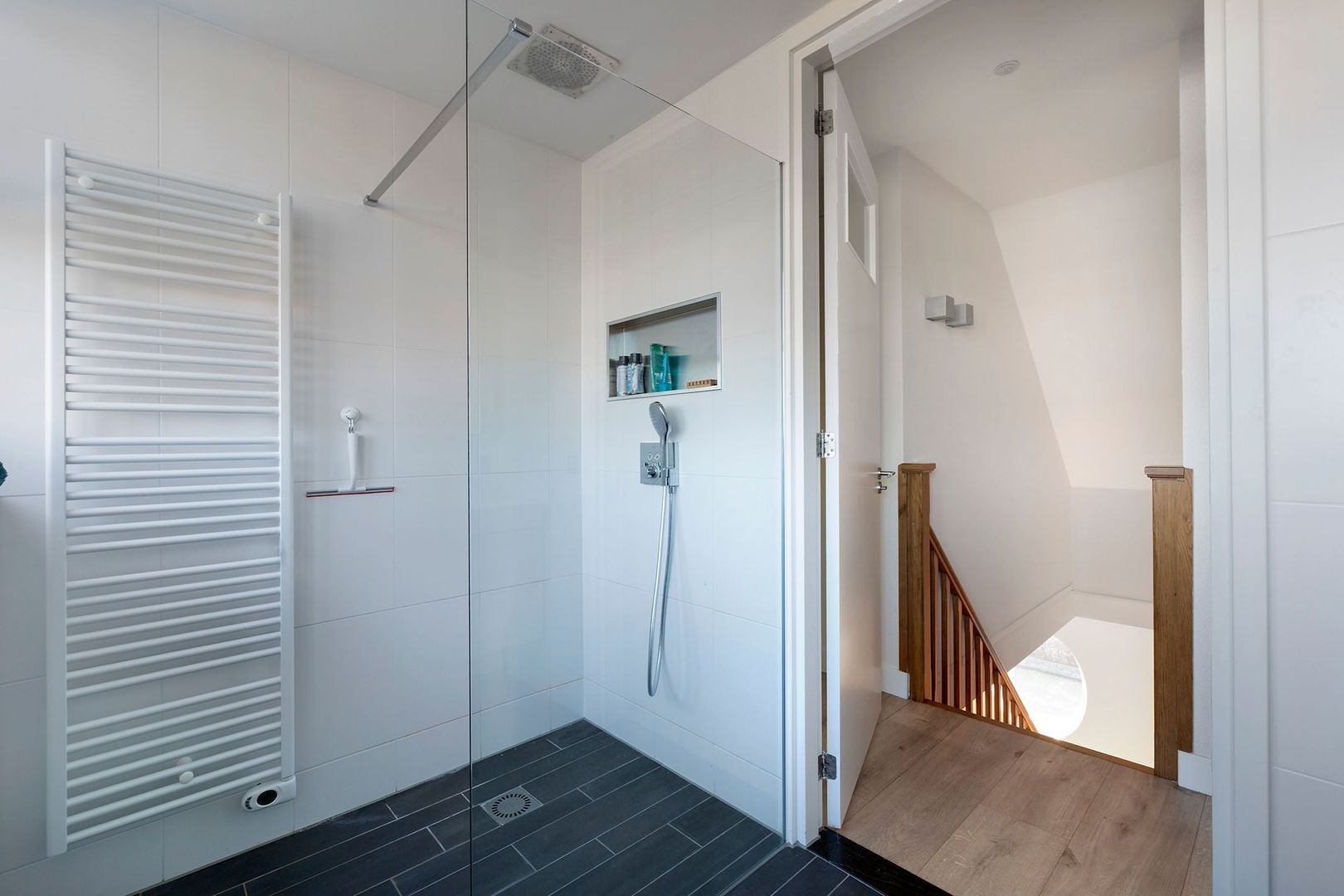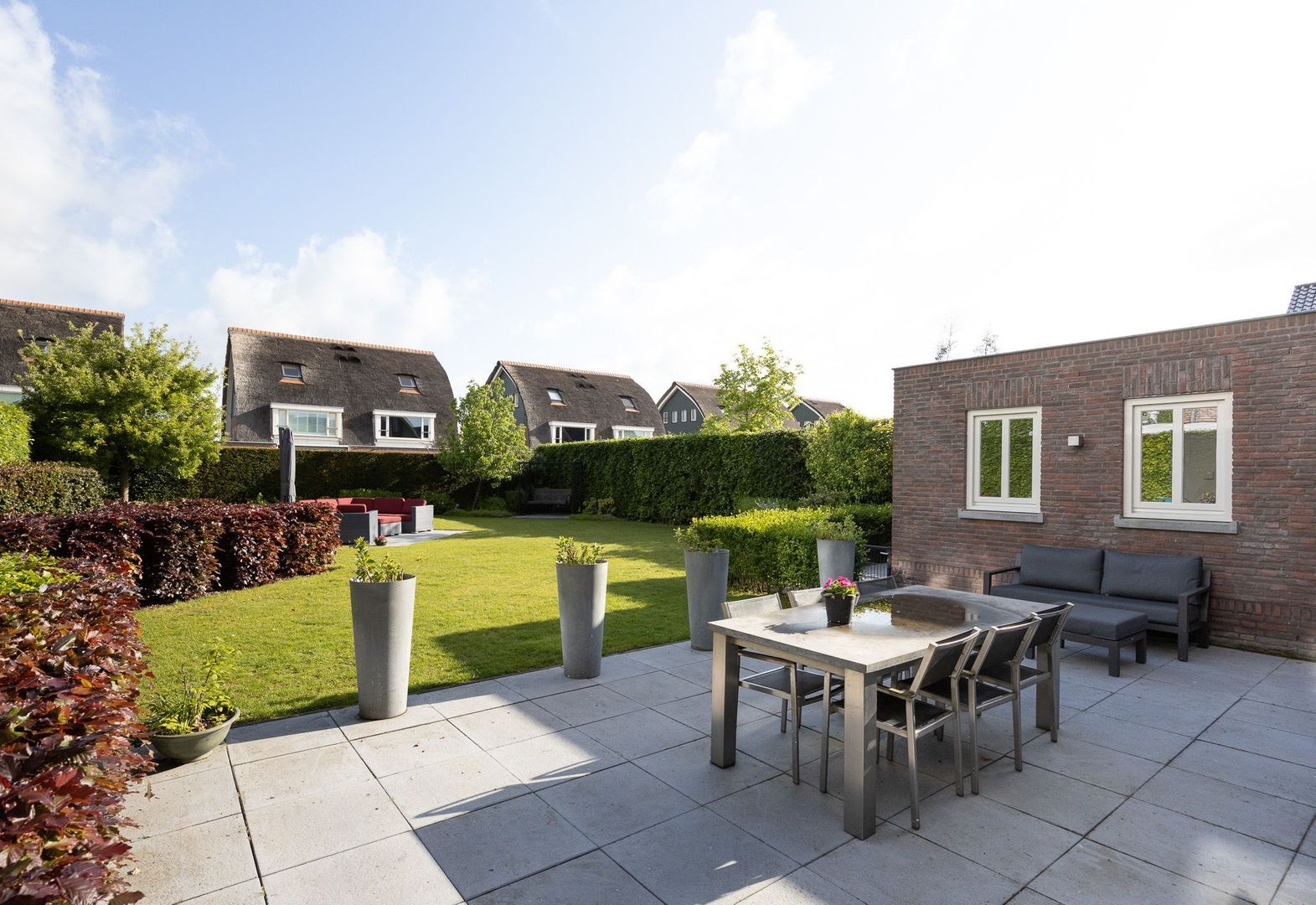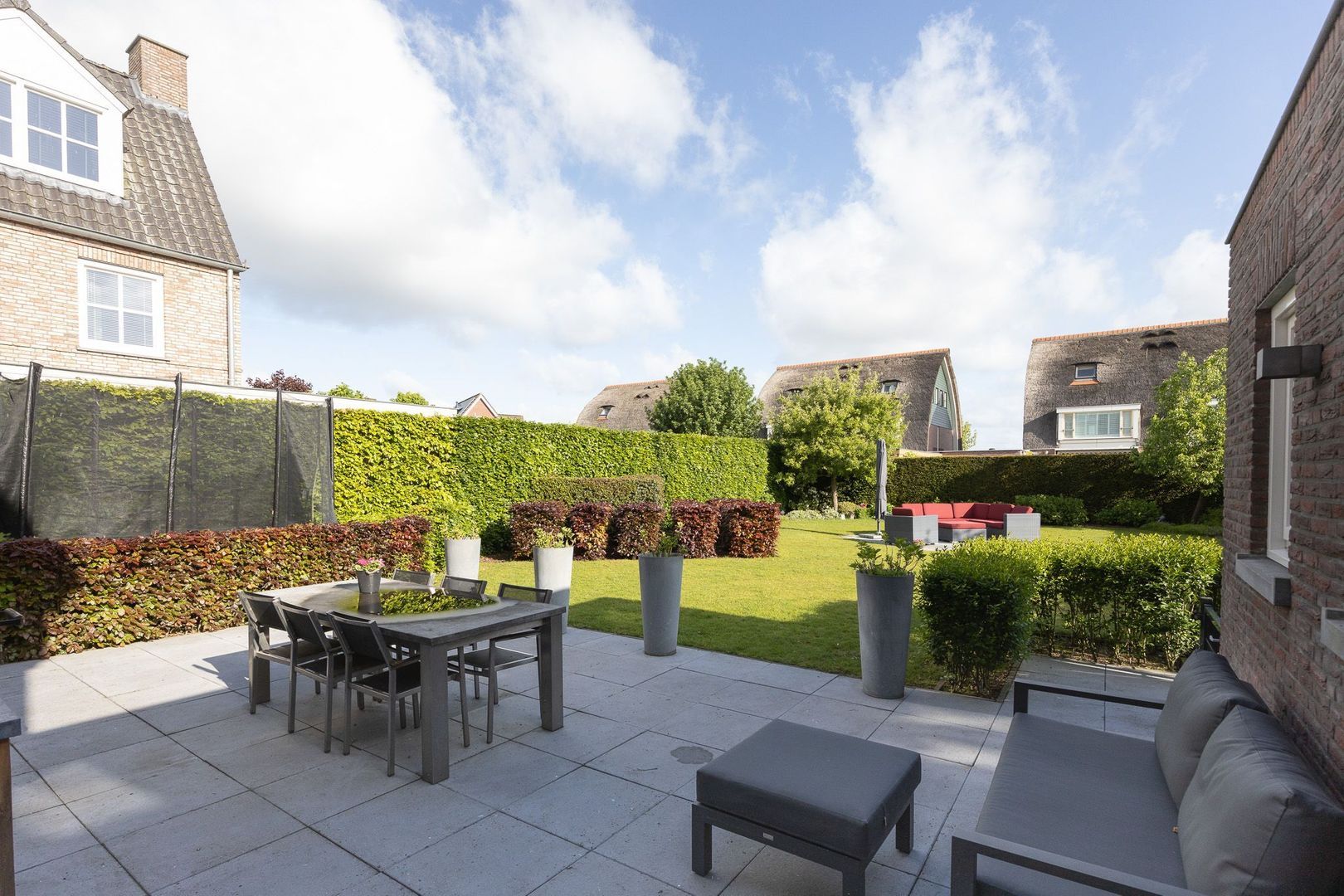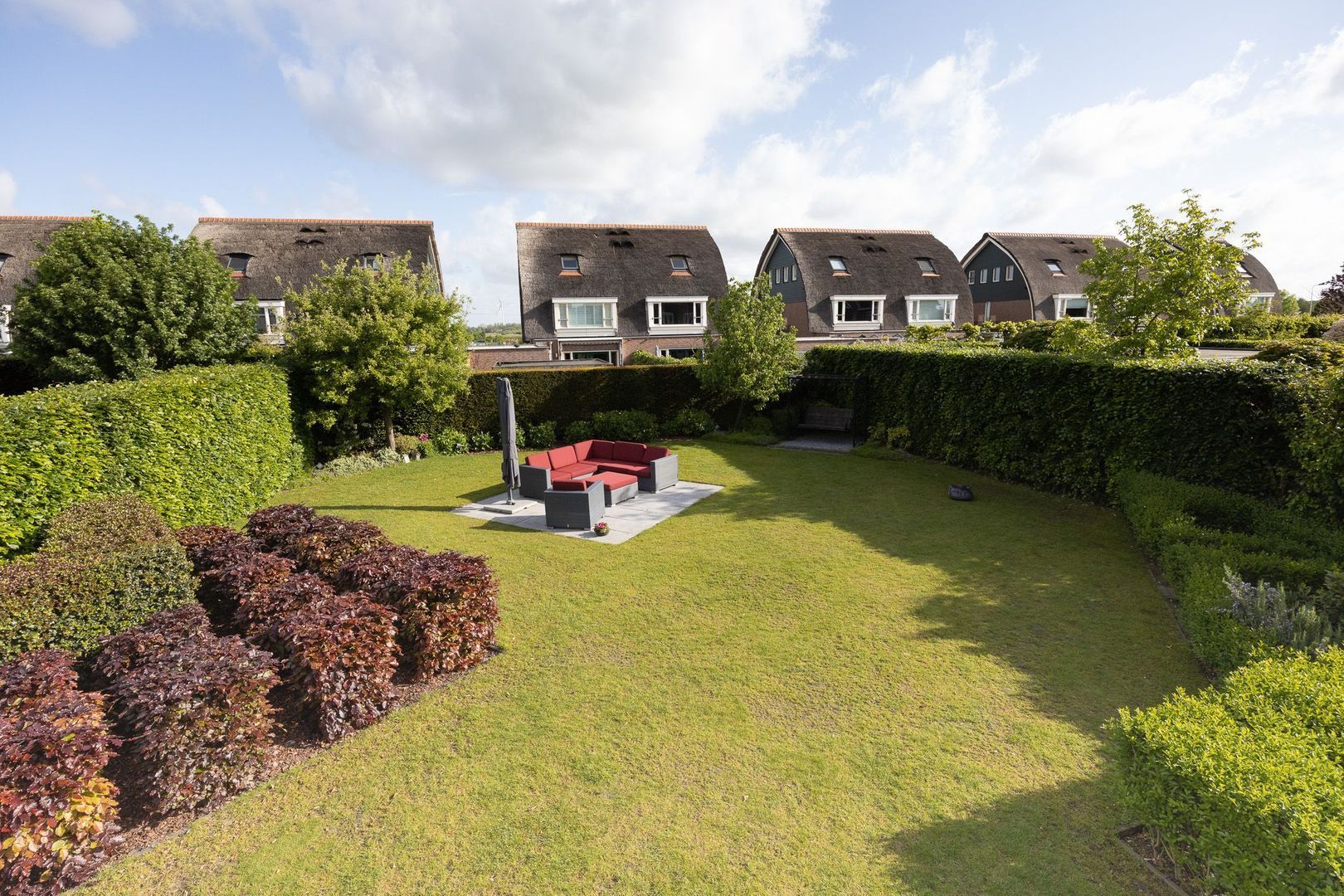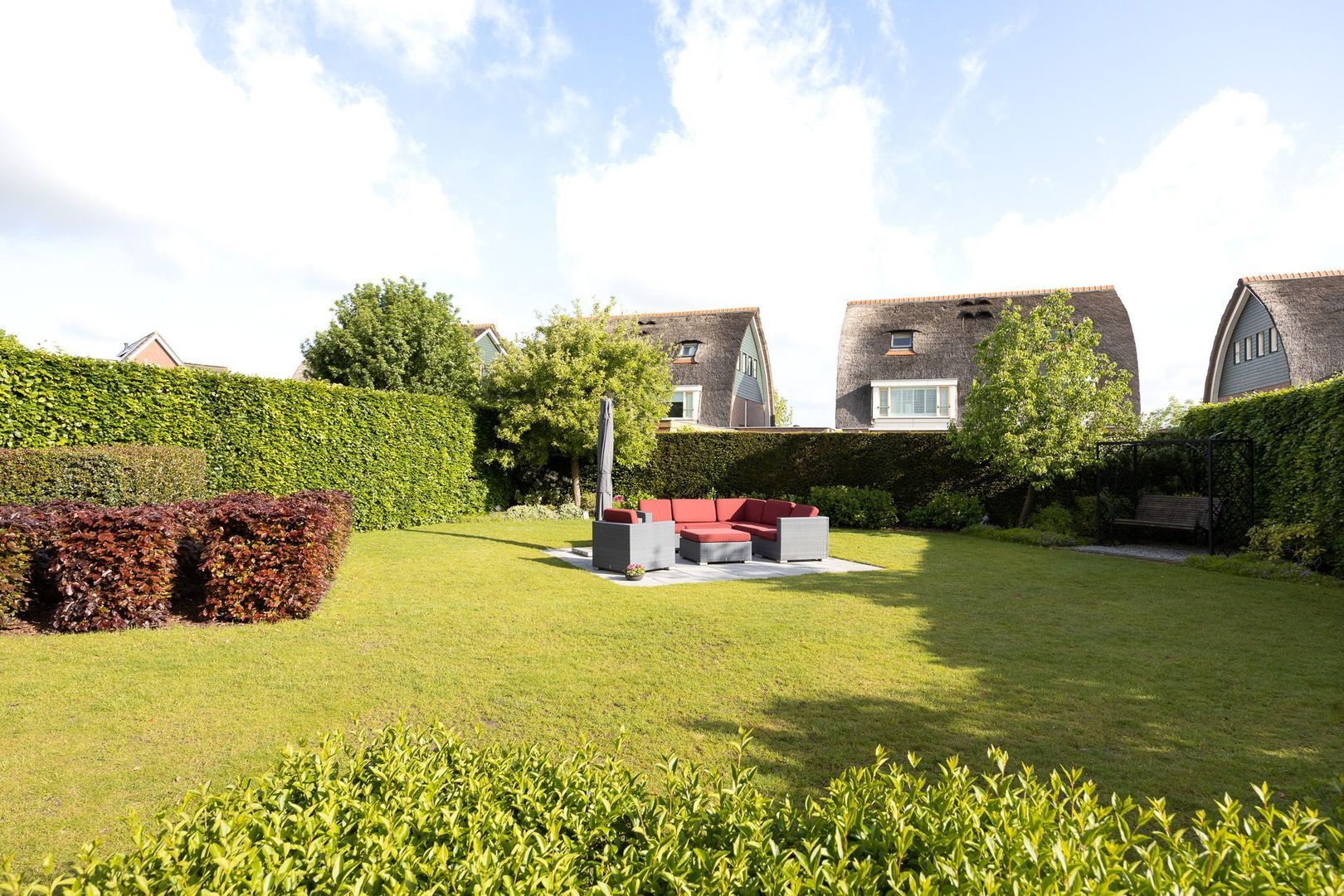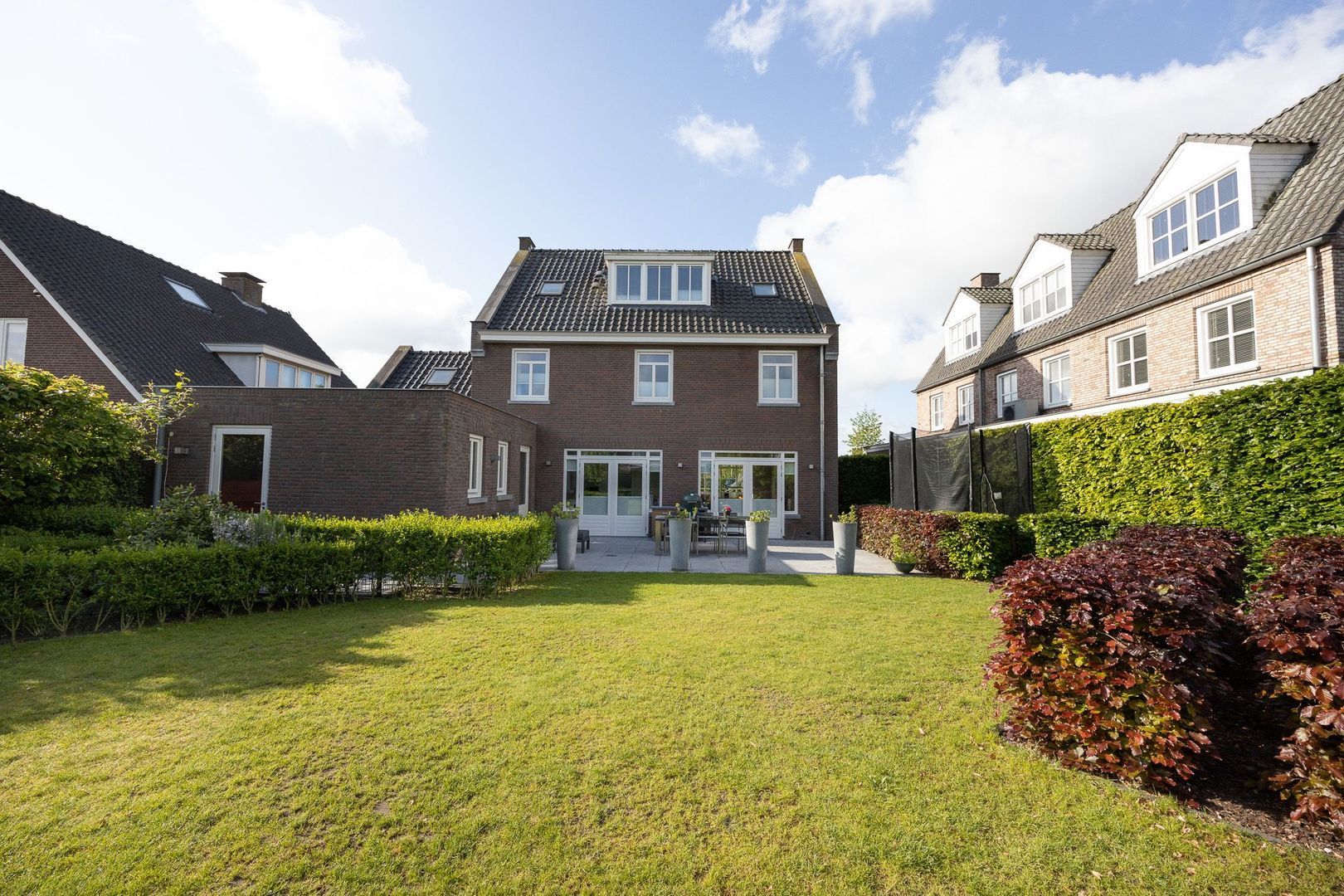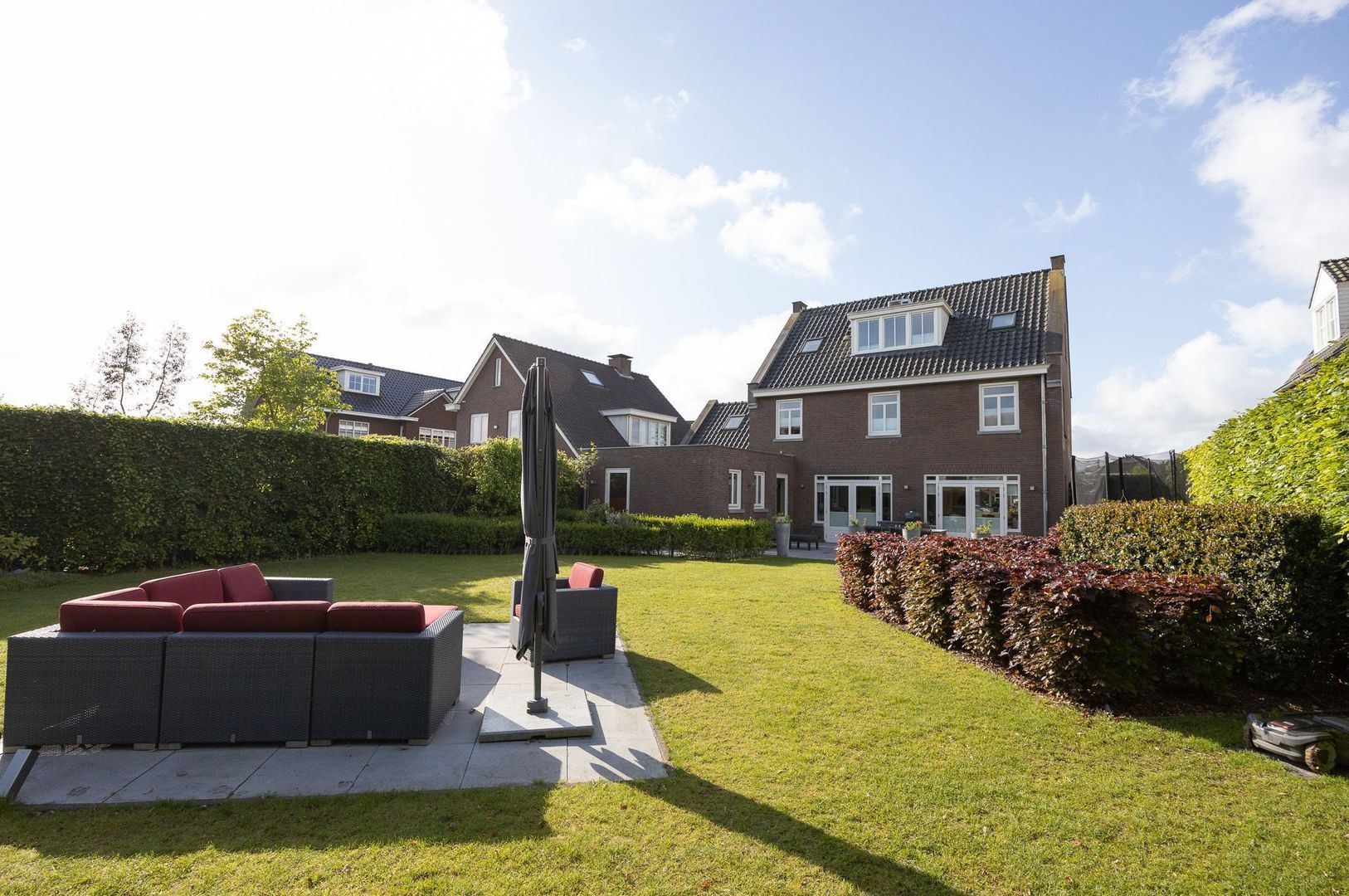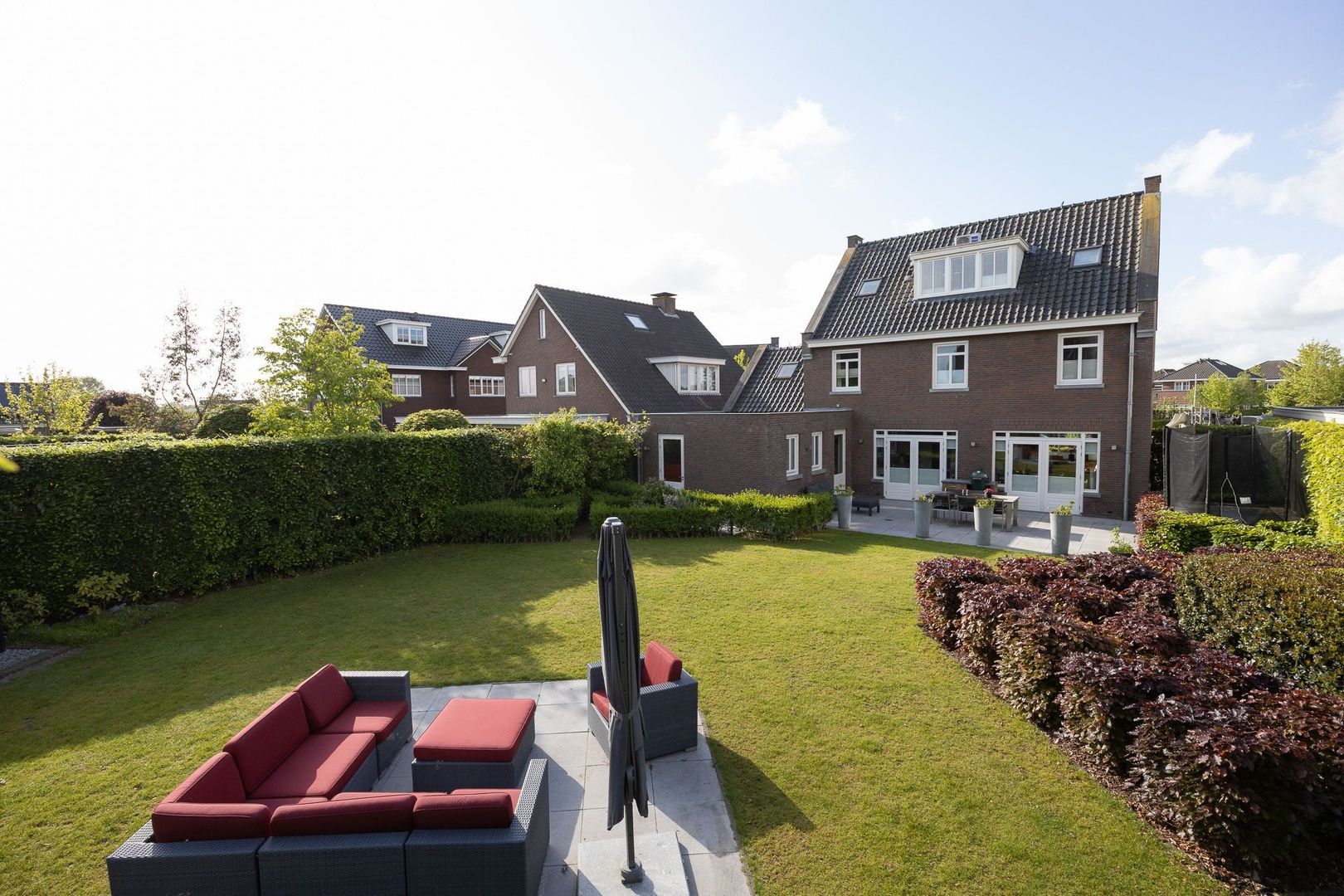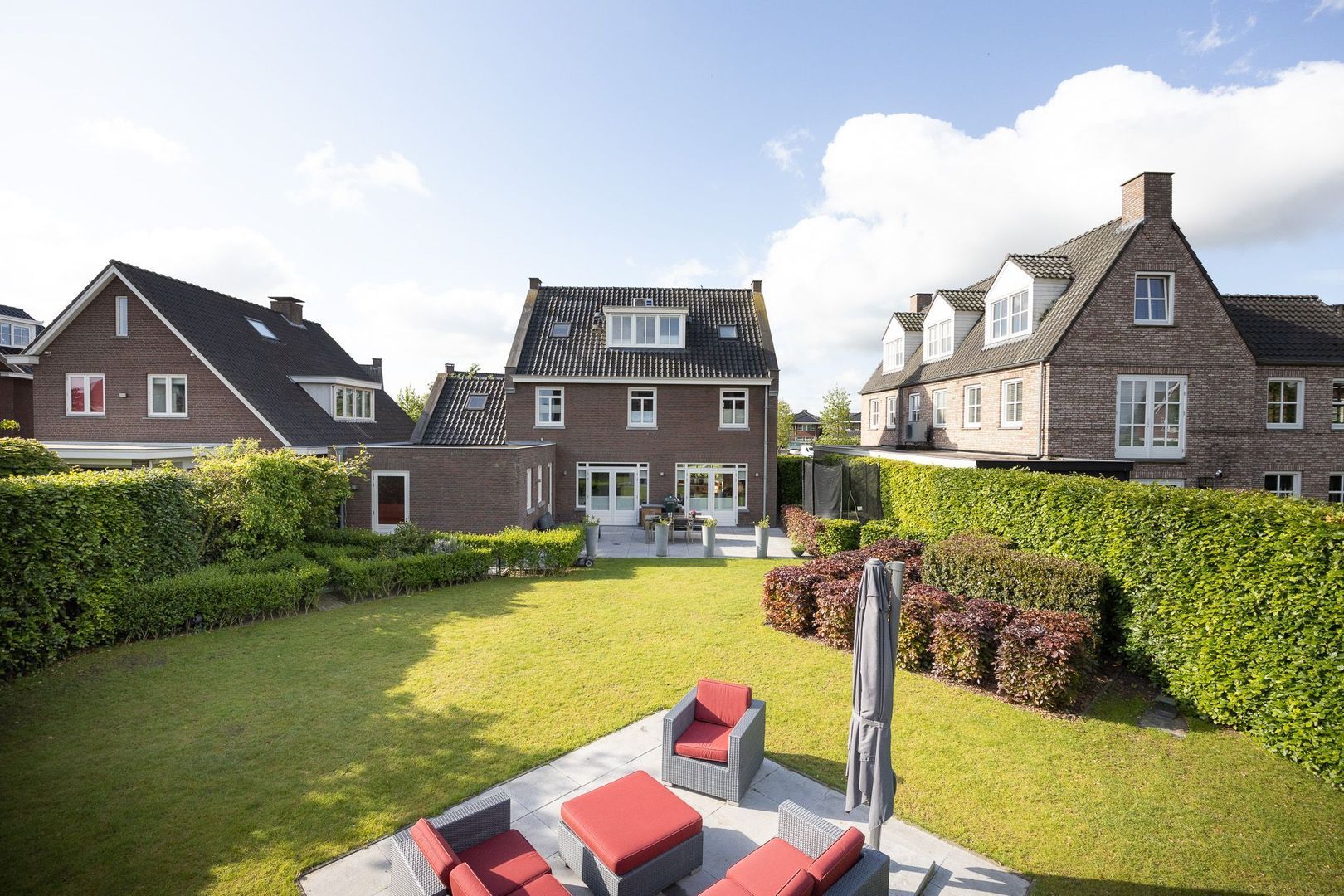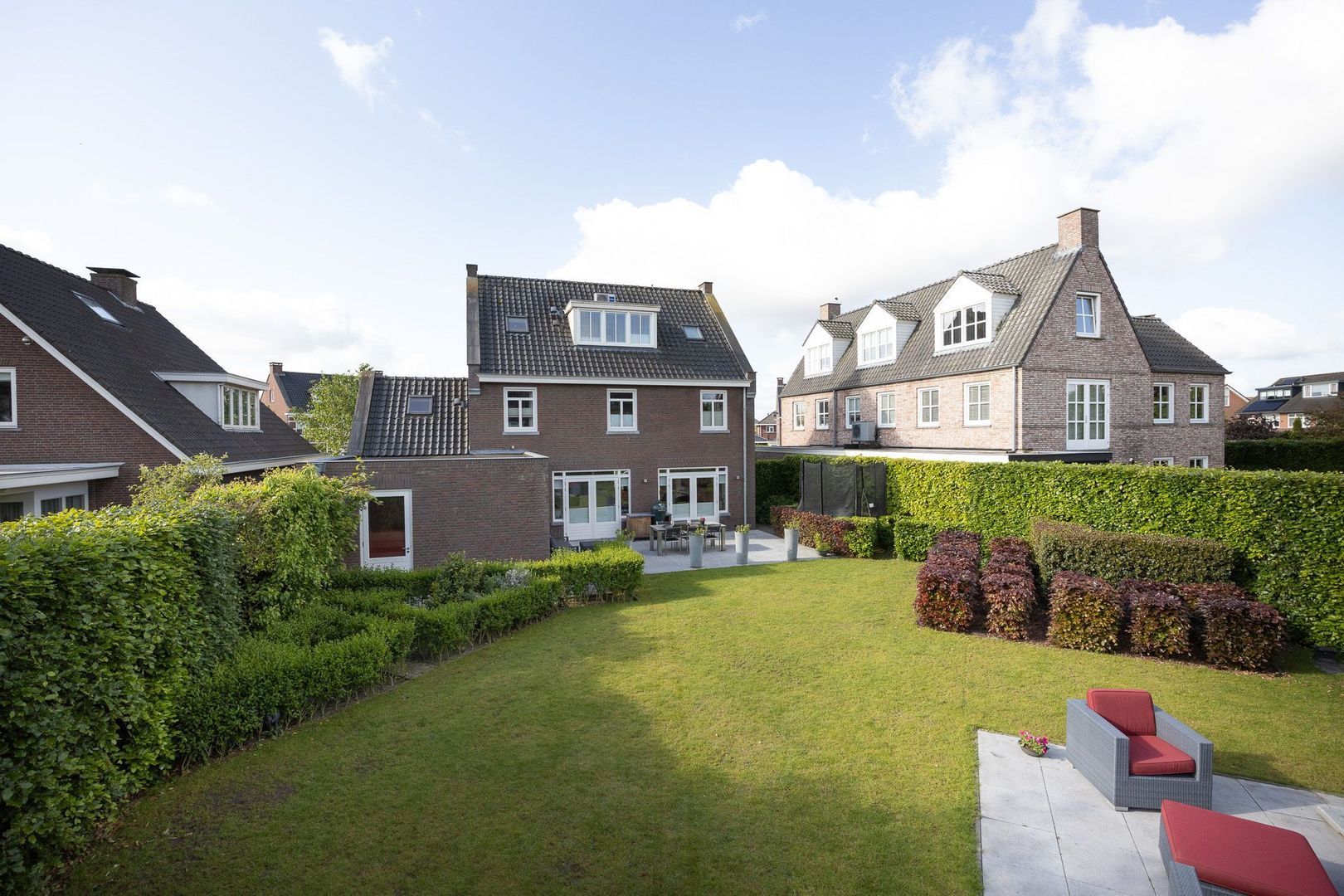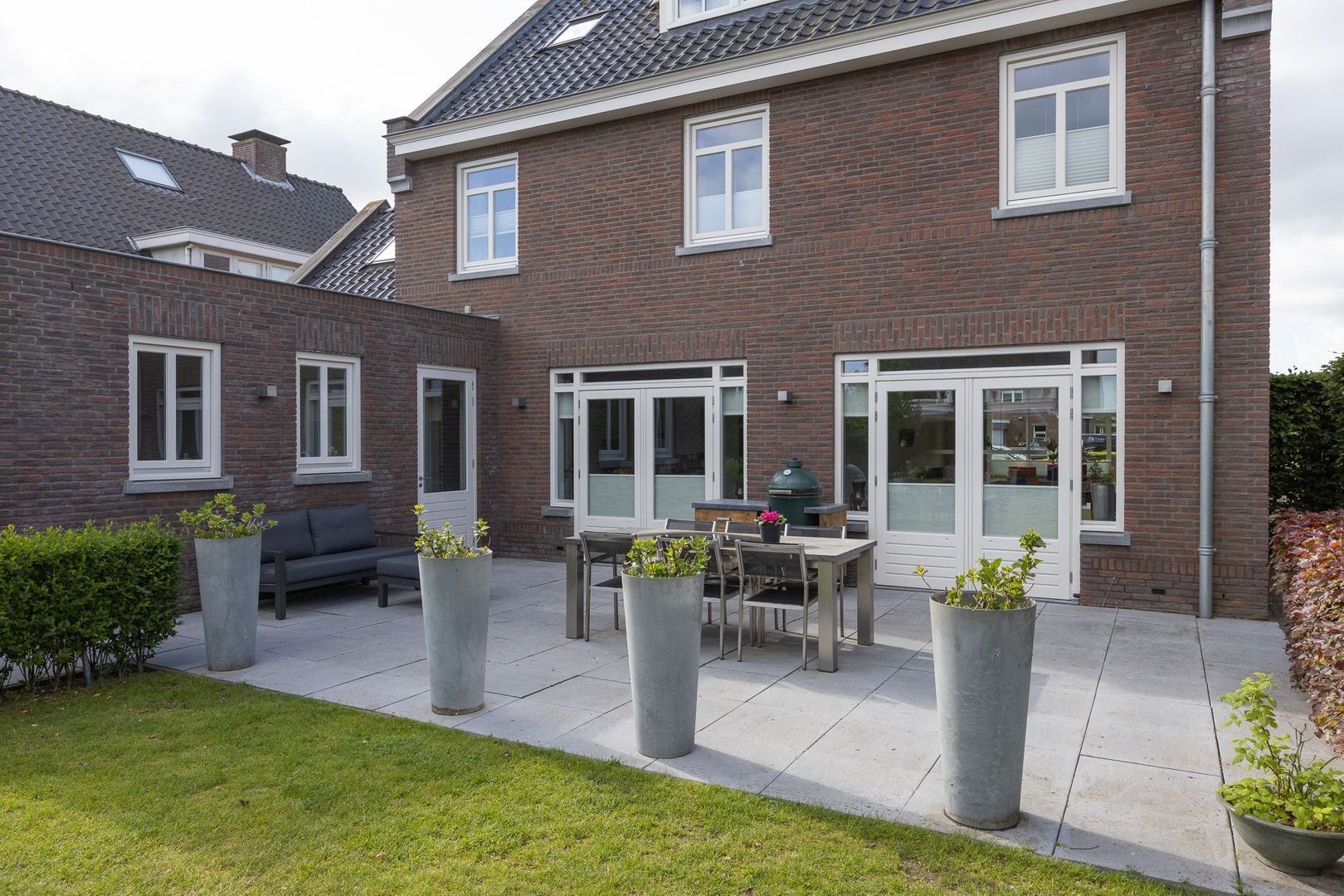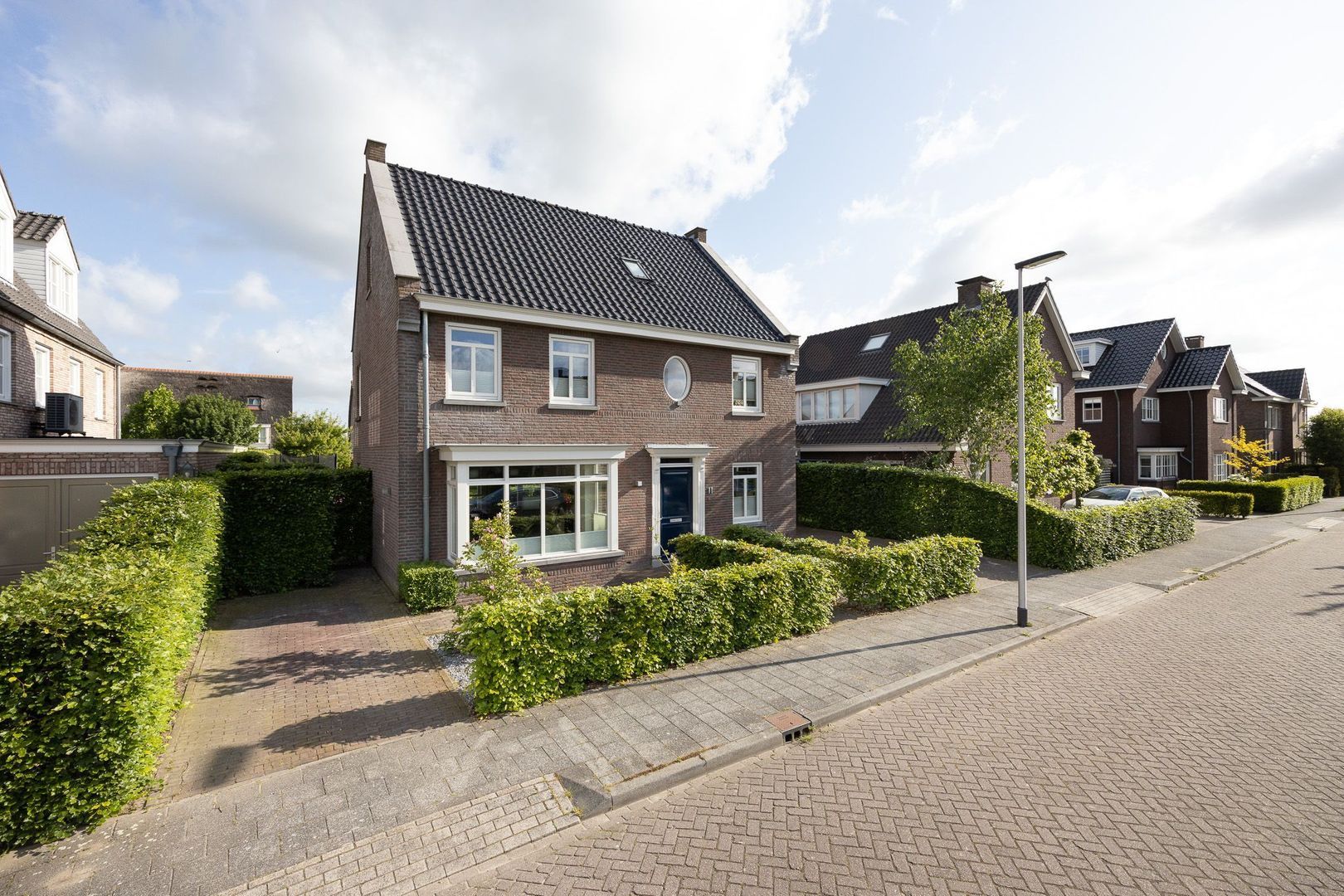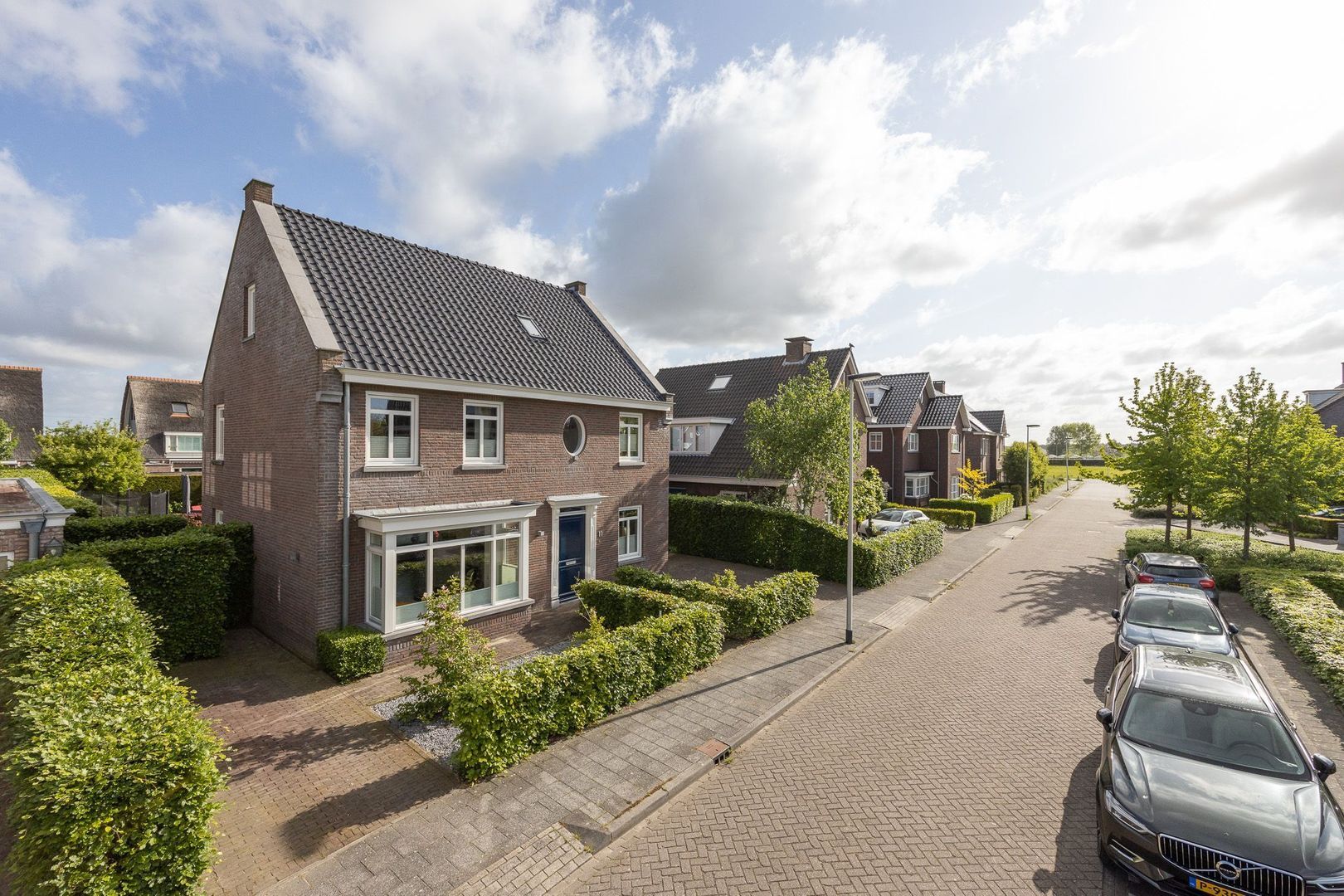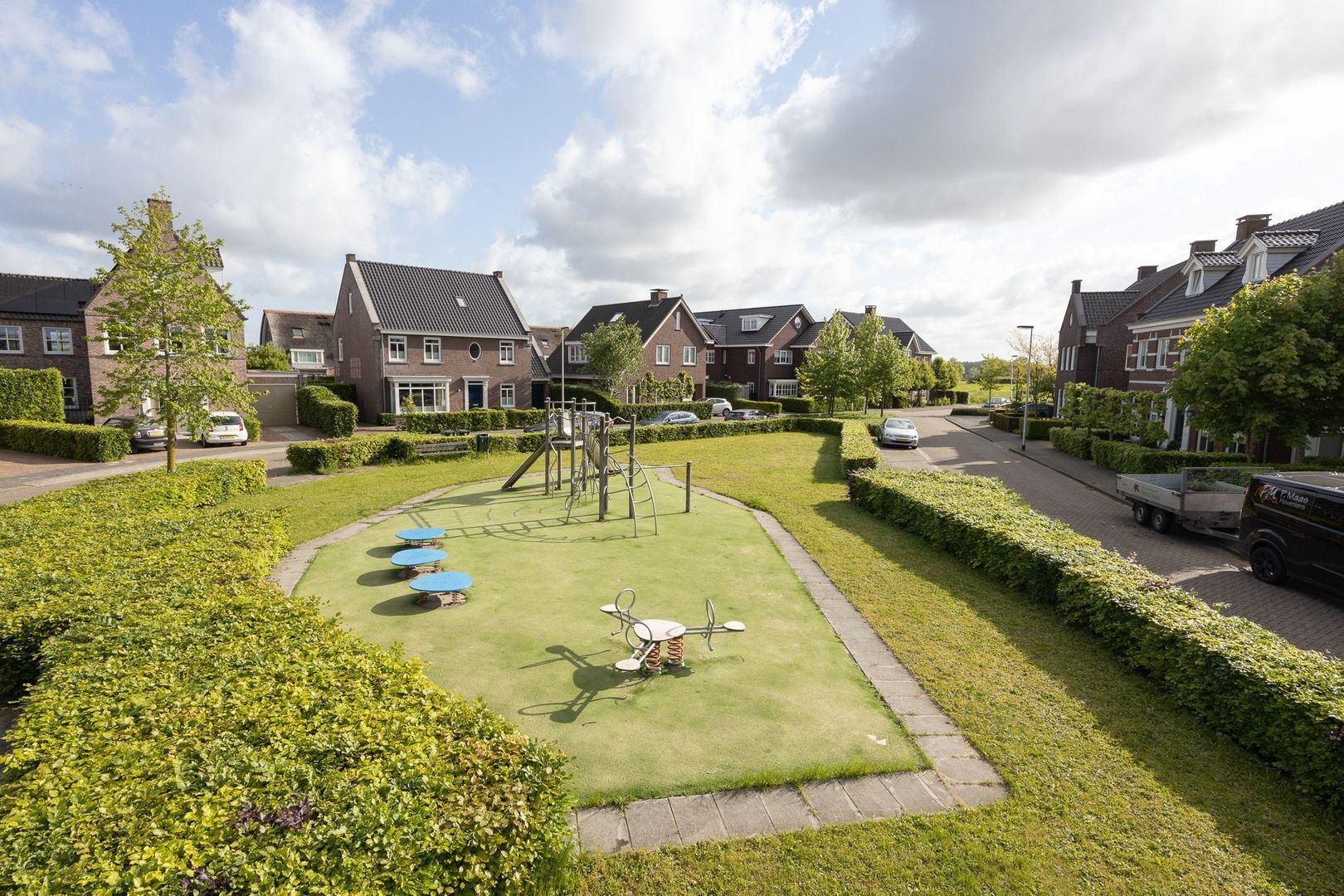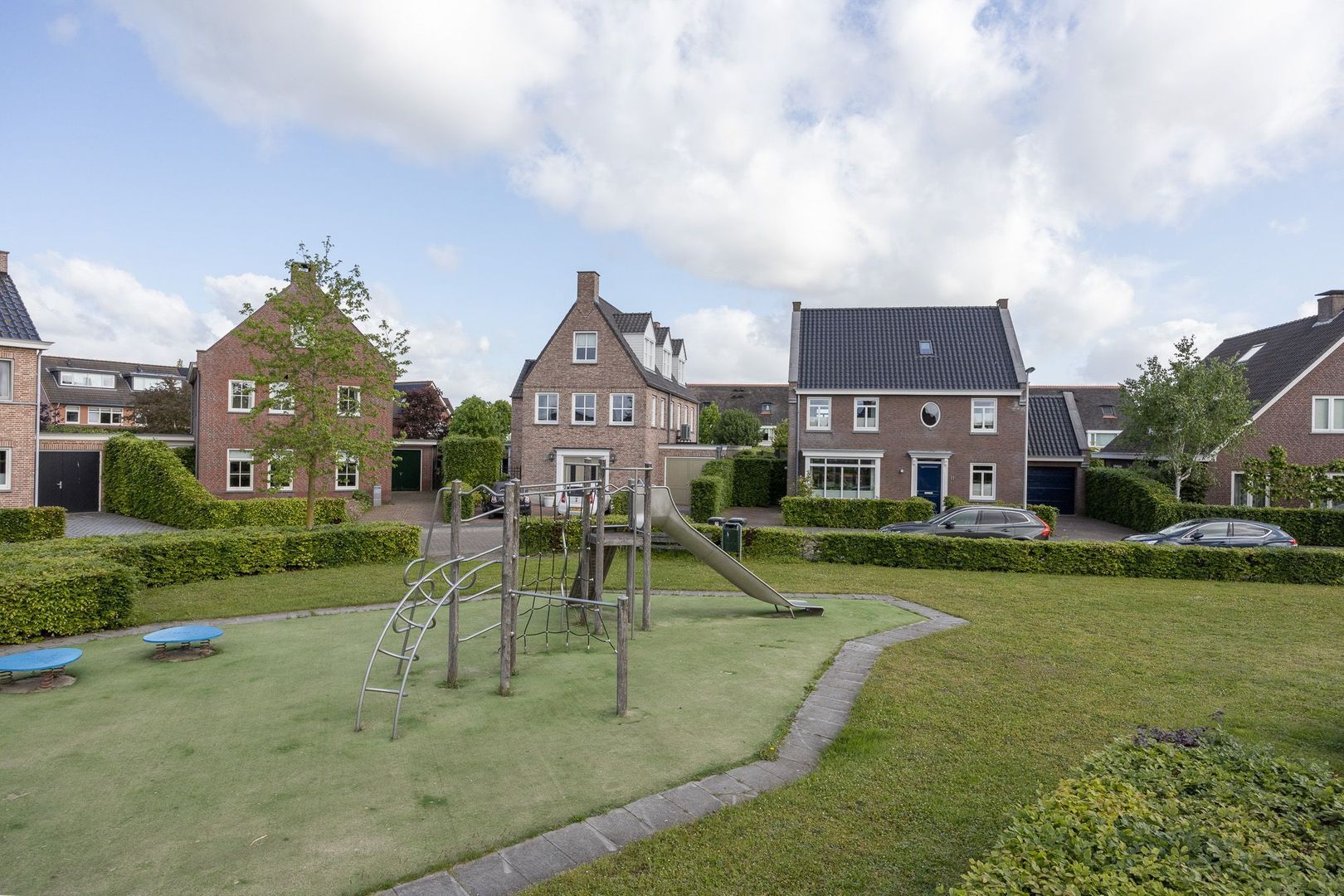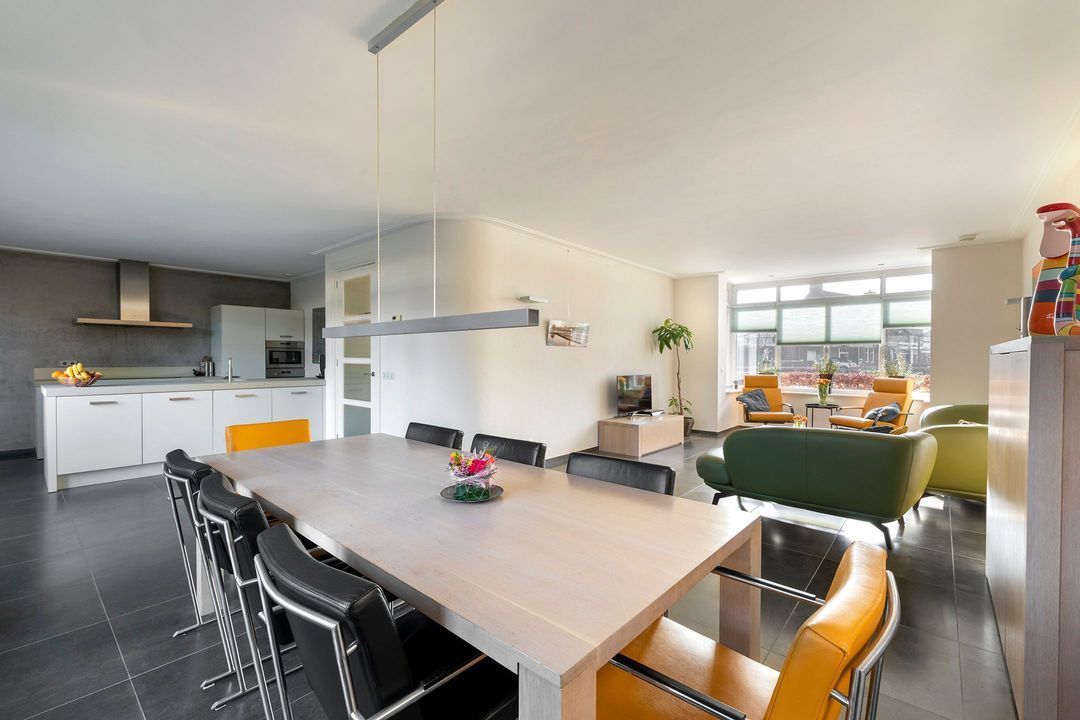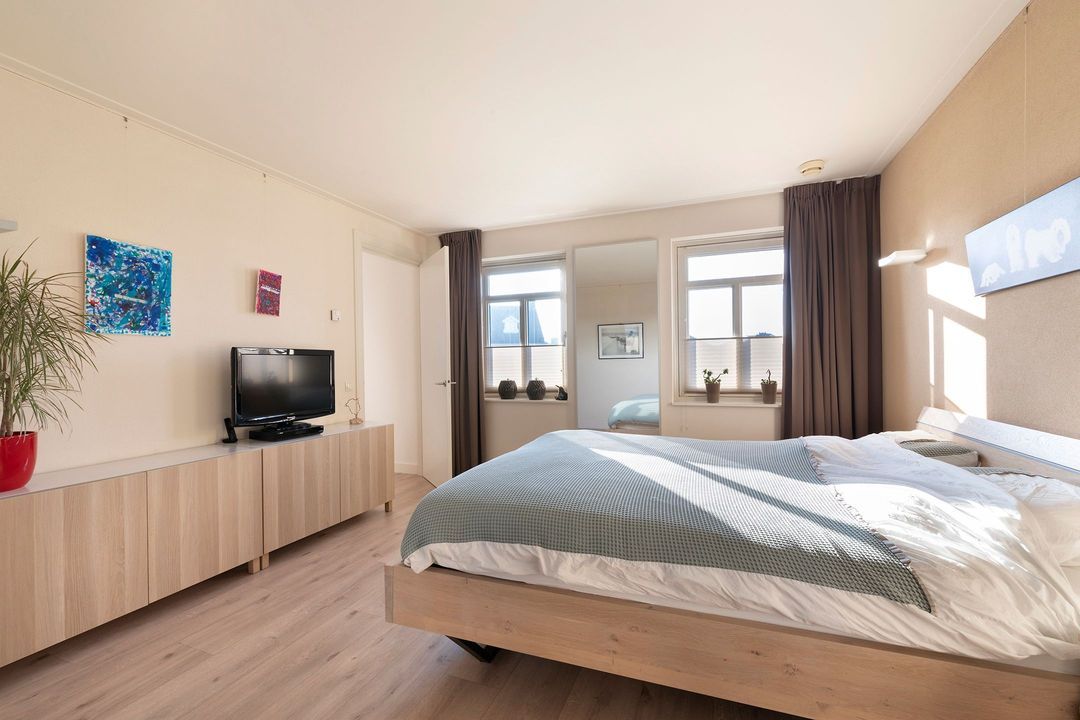 Modern family home with large garden in Etten-Leur

This traditionally -built, romantic family home is located at the edge of one of the loveliest public courtyards in the Schoenmakershoek neighbourhood of Etten-Leur. The important role that nature had to play in the design of the neighbourhood is manifest. Living here means residing in quiet surroundings while enjoying a spacious garden, with plenty of indoor space. The home has a heat pump which means it's energy efficient. At stone's throw from the countryside and yet the centre of Leur is also close at hand.


Bright and generously-proportioned living room.
The entrance hall exudes a welcoming feel. This is in part because of the sunlight that illuminates the entrance in a warm, subtle, and indirect way. Our house tour begins in the study. This space is very close to the front door making it an ideal work-from-home space where you can also receive clients. From sunrise onwards, it's lovely to work or study here in the natural light. Did you know that natural daylight improves concentration so it's good for productivity? There's a built-in cupboard for storing your books or files away neatly. But have you discovered its ingenious secret yet? This cupboard contains a clever fold-out desk! Although the space is designated as an office, it can equally serve as a playroom or an additional guest room or bedroom on the ground floor. Open the connecting door between the hall and living room and capture a beautiful view of the garden. The view is unobstructed and creates a feeling of peace. This living room is not only characterised by peace, but also by a feeling of space. The gorgeous daylight filters in through the windows, two sets of patio doors and the bay window, providing and emphasising feelings of peace, spaciousness and a connection with the outside.


Cook indoors and dine outdoors on the terrace extension.
The dining table is located in front of one of the two sets of patio doors. This table placement was a considered choice so that when the doors are opened, the terrace becomes an extension of the dining area inside. Dining outside and cooking indoors or vice versa. Whatever suits you best. In a house as young as this, a kitchen can hardly be anything other than contemporary. But this particular model also has a timeless feel. The light colour scheme, composite counter tops and stainless steel finishes all contribute to this. The kitchen is equipped with all the appliances you would expect. Including a Quooker tap for extra convenience when cooking. The amount of storage space, including within the kitchen peninsula, is another nice feature. You can never have too much storage! This is one of the reasons why this house has a utility room too. This has a built-in cupboard for the family to store their stuff and there's space for additional appliances. This is also the place for kids to leave their dirty shoes after an afternoon spent romping in the garden. This is also the entrance into the house after you've parked the car in the garage. The latter is equipped with electricity, water, underfloor heating, and an electric sectional door.


First floor with four bedrooms and a spacious bathroom
The spacious first floor landing is bright thanks to an oval window, which is a particular feature of this house. The current owners use three of the rooms as bedrooms. The master bedroom is located at the front of the house and therefore gets the most sun. This room benefits from an amazing walk-in wardrobe. This room is large and well lit so it could easily be used as another bedroom too, as it was in the original design. Bedroom 2 also faces the sunny south and is just a fraction more compact in form. The third bedroom is the coolest of the sleeping quarters and, just like the master bedroom, has a walk-in wardrobe or storage area, with a Velux window in the roof. The bathroom on this floor is very spacious and with two separate basins, you won't get in anyone's way while brushing your teeth. The bathtub is a lovely feature. There is also a walk-in shower for anyone who prefers to spend less time on their bathroom rituals. Despite the generous proportions of the bathroom, there is a separate WC.


Second floor with two bedrooms and an additional bathroom
The second floor landing opens on to a centrally-placed 2nd bathroom and 2 bedrooms. This bathroom contains a walk-in shower, a two-person vanity unit and a WC. The bedrooms to the left and right of the stairs are both generously proportioned. They are both have Velux windows in the roof and air conditioning. The bedroom to the right opens onto the laundry room with connections for a washing machine and tumble dryer and the heat pump installation, providing hot water to the 2nd bathroom, and the heat recovery system. This laundry room also has a Velux window.


Spacious garage with indoor access
The fully-insulated, indoor garage is accessible from inside the house. It is a very spacious garage with electricity, water, underfloor heating and an electric sectional door. It has a back door opening onto the garden.


Deep back garden with several terraces
'Save the best for last'. It wasn't just a popular song in the 1990s; it applies to this beautiful garden too. Don't expect a formal masterpiece, but rather a version with several beautiful borders, lots of grass, several terraces and a sprinkler system. This is a low-maintenance and child-friendly garden where children can play freely outdoors. The almost 25-metre-deep garden is on the north side of the house. This means that there are always areas of both sun and shade.


General:
• The house is fully insulated and fitted with floor, wall and roof insulation;
• The house has wooden window frames with double glazing except for the dormer window and skylights which are PVC;
• The house has concrete upper floors;
• The ground floor has a natural stone floor;
• A water filter/softener was installed in the meter cabinet in 2019;
• Virtually the whole house has built-in picture rails so you never need to put another nail in the wall;
• The 1st and 2nd floors are fitted with Novilon flooring with the exception of the bathrooms which are tiled;
• The house is heated and cooled with a highly energy-efficient water pump. It's delightfully warm in the winter and pleasantly cool in the summer. There's a separate heat pump for hot water for the 2nd bathroom;
• The 2nd floor is air-conditioned;
• There is underfloor heating in every room in the house (except the small storage attic above the garage), so there's no need for radiators;
• There's parking space for several cars on-site thanks to the double driveway. In addition, there is ample on-street parking too;
• Schools and the centre of Leur, with its many shops and restaurants, are within walking distance. The roads to and from Etten-Leur are also close at hand;
• A building survey has been performed on the house and is available for consultation from our office.


How the heat pump works:
The heat pump is in fact a reverse refrigerator, converting low-temperature level heat into higher-temperature level heat. A heat pump takes the place of a traditional heating boiler and supplies heat and hot tap water without you having to do anything; it can also provide cooling. The big advantage of a heat pump is that the net heat provided is greater than the added energy used to run it. This leads to noticeable savings on your energy bill, as heat pump systems do not use natural gas.


Schoenmakershoek:
Schoenmakershoek is Etten-Leur's newest quarter. It is located to the northeast of the centre. Water and nature play an important role here, not least because of the elongated Schoenmakerspark that runs right through the area, which is unusual for a contemporary new housing estate. It's a lovely place to go for a walk and enjoy nature.
The area was first created around the turn of the century and is undergoing further development. You can walk to the port of Leur, called 'De Turfvaart', and to the harbour basin where there's a harmonious blend of old and new buildings. It's full of character. Incidentally, the port is named after a historical event. It was from here that Adriaan van Bergen boarded a peat ship (peat is 'turf' in Dutch) to liberate Breda from the Spaniards. There's a modern-day 'Turfschip' (Peat Ship) in this neighbourhood. This is a contemporary building housing a cultural centre, a hotel, a restaurant and a sports hall. So everything is to hand, including the shops on Van Bergenplein, where a weekly market also takes place on Friday mornings.
You can walk from the Lidl and the Jumbo to Gruiterstraat where you'll find a community school with a children's daycare in the De Pijler building.
Schoenmakershoek is a very special and forward-looking neighbourhood. As such, there are no natural gas provisions and the houses are heated with heat-pumps and all cooking is electric.
The area is easy to access both by public transport and by car. You'll be on the motorway to Breda, Roosendaal, Rotterdam or Antwerp in no time, thanks to the excellent road connections. Schoenmakershoek is an environmentally friendly neighbourhood that you'll just love living in!


Etten-Leur:
Etten-Leur is a growing municipality with about 44,000 inhabitants, spread over 15 neighbourhoods. It arose from the linear villages of Etten and Leur. After the main road was moved from the core area to the outskirts in 2000, space was created for a new centre and Etten-Leur became a close-knit community. Its central location near highways and cities such as Breda, Rotterdam and Antwerp make it an attractive place to live and work.

On the outer ring road, business parks are located where a number of large, well-known companies are based, but there are also lots of local and regional industries. All in all, Etten-Leur is a healthy place to live with plenty of employment opportunities.
Character-wise, Etten-Leur can best be described as a large village, but with characteristics of a city. For instance, it has a wonderful shopping centre, good schools, excellent sports venues and numerous entertainment venues, including its own theatre and a cinema. Moreover, it has a marina and a train station within the municipal boundaries.

Etten-Leur is nestled in rural West Brabant, where forests and nature are literally close at hand. In the surrounding area, there is plenty of opportunity for cycling, walking and recreational pursuits. You can sail to the Biesbosch from the harbour.


Conditions of sale:
NEN2580 Measurement Guidelines
The Measurement Guidelines are based on the NEN2580. The Measurement Guidelines are intended to provide a more uniform method of taking measurements in order to give an indication of the usable area. The Measurement Guidelines do not fully rule out any discrepancies in measurement results, due to differences in interpretation, or rounding off, or limitations in the carrying out of measurements, for instance. The basic premise is always "what you see is what you buy" and the object information has a lower priority.

The purchase agreement is only legally valid after it has been signed
A verbal agreement between the private seller and private buyer is not legally binding. This means that there is only a legally valid purchase once the private seller and private buyer have signed the purchase agreement. This stems from Article 7:2 of the Dutch Civil Code. A confirmation of the verbal agreement by email or a forwarded draft of the purchase agreement is also not considered a legally valid agreement.

Security deposit or bank guarantee
As Agnes Tomesen Makelaardij is affiliated with the NVM, use is made of the purchase agreement model as formulated by the NVM, VBO, the Dutch Consumers' Association (Consumentenbond) and the Vereniging Eigen Huis (Homeowners' Association). Included as standard in this deed of sale is a security deposit or a bank guarantee amounting to 10% of the purchase price.

Sales documentation
This documentation has been carefully prepared by us, however, as a rule we are largely dependent on third parties for the accuracy of the information provided and therefore neither the seller nor we accept any liability.


In conclusion:
We appreciate that you are taking the trouble to read through the information about this property. If you wish to view the home, you are, of course, welcome to do so. Then we will show you around the house as it is currently furnished and laid out. The tour will take you through the present situation, but you may have other ideas. We are more than happy to listen to these. And we will talk to you about what you can do with the rooms and the layout so that they can be put to a new use that suits you. A lot can be achieved with limited means. This is something we are keen to make clear during the viewing.

If you have any questions, then please do not hesitate to contact us. You can do this by email or telephone. We are happy to be of service!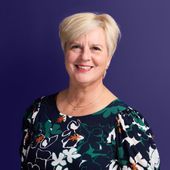 Your Qualis-broker
Agnes Tomesen
Agnes Tomesen Makelaardij
Contact with the agent
Transfer
Price

€ 995.000 k.k.

Status

Available

Acceptance

in consultation

Objectcode

12058
Build
House type

Villa, Detached house

Build type

Existing

Build year

2007

Maintenance inside

Good

Maintenance outside

Good
Surface and volume
Living surface

224 m²

Plot surface

654 m²

Other surface

31 m²

Volume

930 m³
Layout
Rooms

8

Bedrooms

6

Floors

3
Energy
Energy label

A

Isolation

Roof insulation, Insulated glazing, Wall insulation, Floor insulation, Fully isolated

Hot water

Central supply, Electric boiler owned

Heating

Heated floor, Heat recovery installation
Exterior areas
Garden

Backyard, Frontyard, Side garden

Backyard

North, 418 m&sup2, 1670×2500cm
Garage
Garage type

Indoor, Parking spot
Objectdetails
• Mechanical ventilation
• Air conditioning
• Skyline
Location
Tamboerhof 11, 4871 LP Etten-Leur
• Near quiet road
• In residental area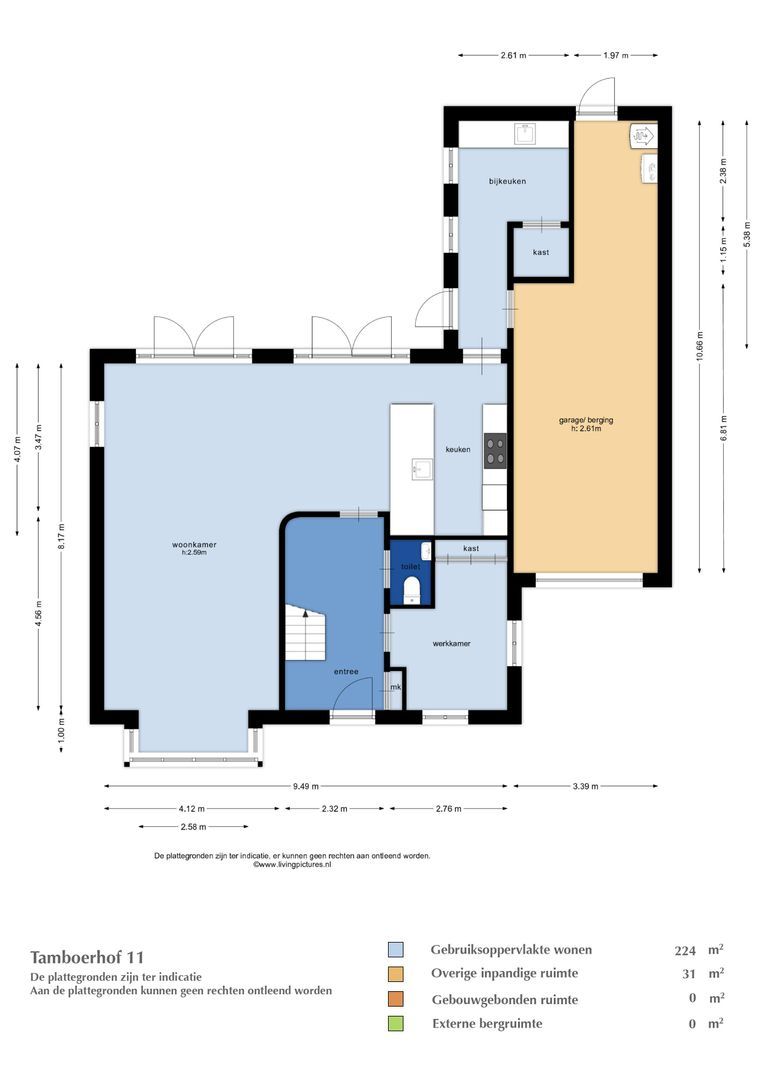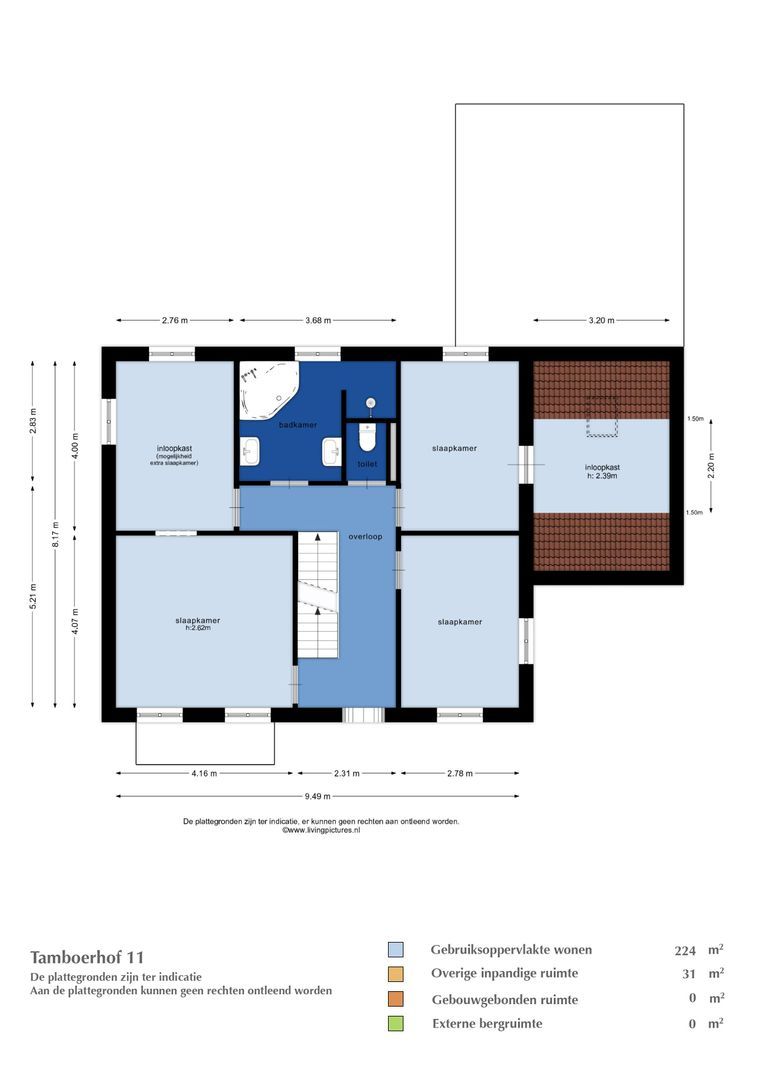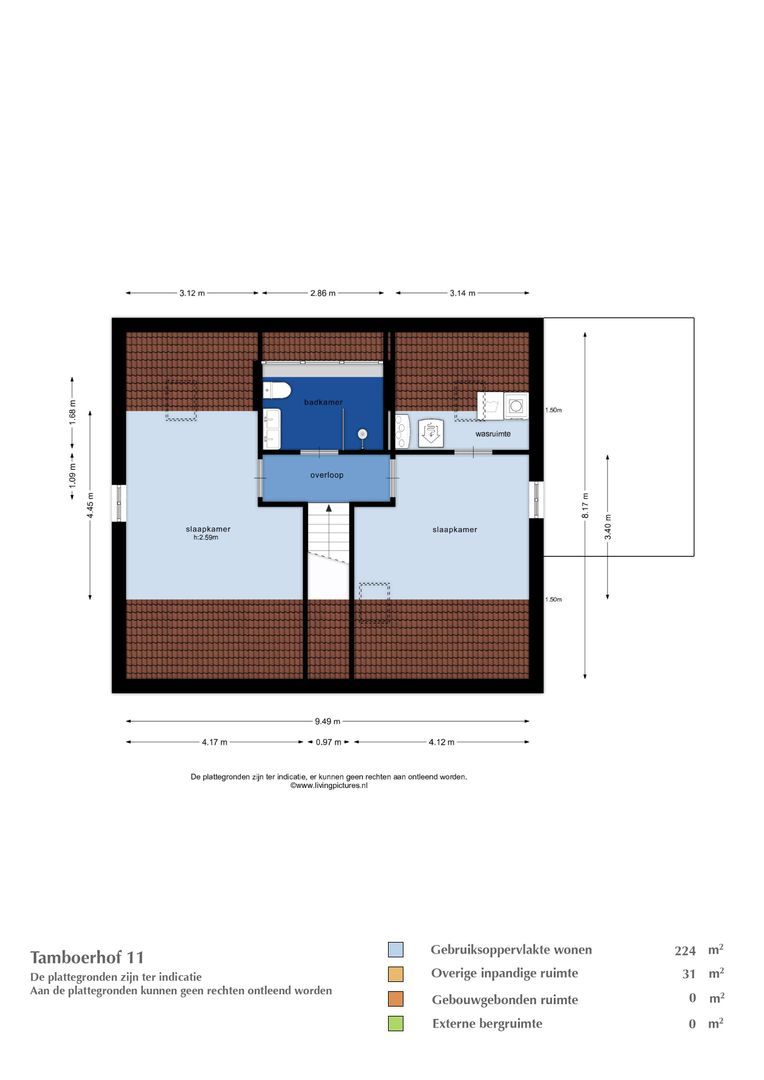 Travel time
Points of interest
Calculate your travel time
Choose your transportation
Maximum travel time
Show results
Indicate which points of interest you want to show on the map.
Choose your points of interest
School
Doctor
Pharmacy
Restaurant
Gym
Transportation
Supermarket
Hospital
Church
Dentist
Cinema
Barber
Show results
I am interested in
Tamboerhof 11
Would you like to plan a viewing or do you have a question?
Please fill in your details below so the Qualis agent can contact you.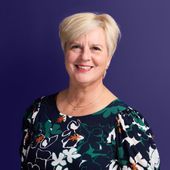 Your Qualis-broker
Agnes Tomesen
Agnes Tomesen Makelaardij
---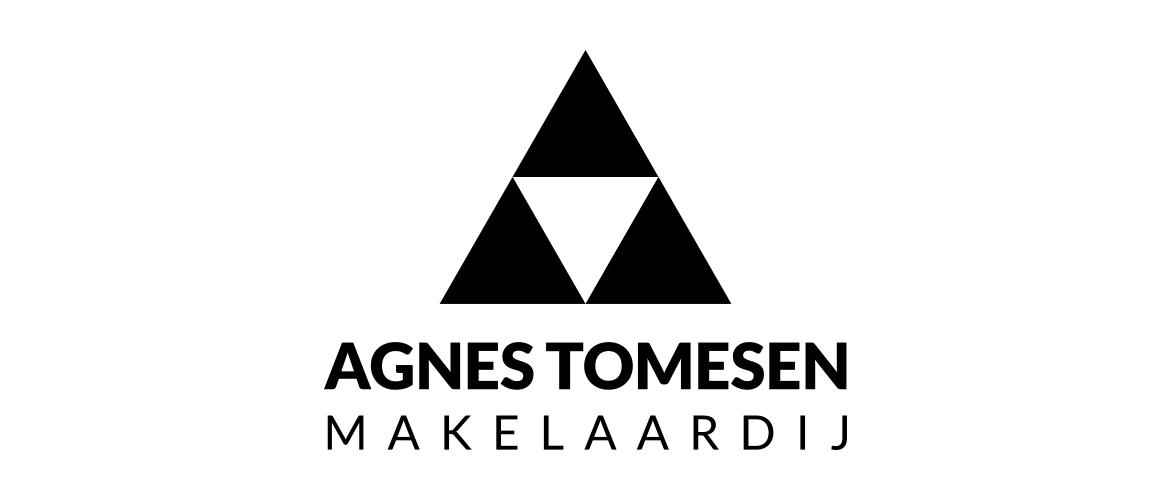 Living extra­ordinarily
Spacious homes with character, located where you feel at home. Discover our exclusive listings.
View all our listings